WPA Health Services - 1938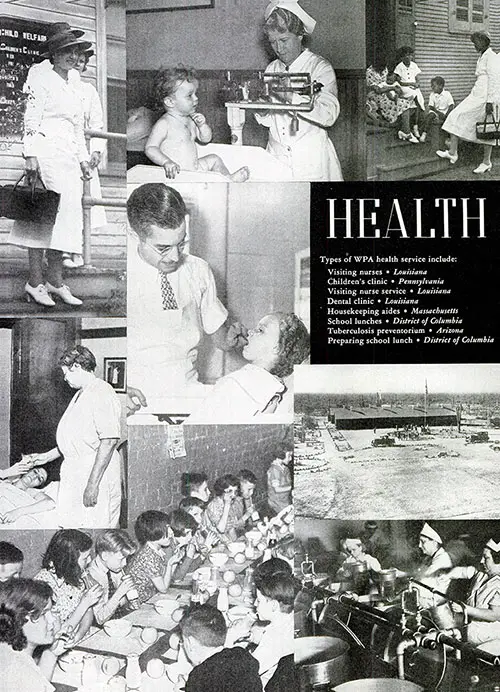 Types of WPA Health Services Include Visiting Nurses (Louisiana), Children's Clinic (Pennsylvania), Visiting Nurse Service (Louisiana), Dental Clinic (Louisiana), Housekeeping Aides (Massachusetts), School Lunches (District Of Columbia), Tuberculosis Preventorium (Arizona), Preparing School Lunch (District Of Columbia). Inventory: An Appraisal of Results of the Works Progress Administration, Washington, DC: US Government Printing Office, 1938. GGA Image ID # 1520454f5d
Through a wide variety of WPA health projects, millions of needy men, women and children are able to obtain both preventive and curative medical assistance, ranging from personal care to broad public health work such as malaria control.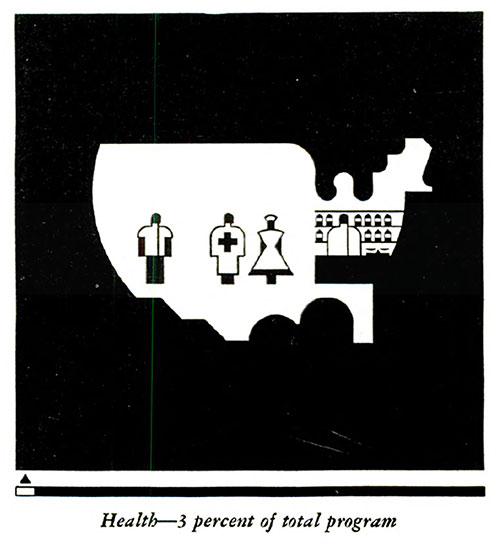 Health—3 Percent of Total Program. Inventory: An Appraisal of Results of the Works Progress Administration, Washington, DC: US Government Printing Office, 1938. GGA Image ID # 15209d01cc
Aside from the actual hospital construction listed previously, the broad public-health pro- gram of the WPA falls in three major types: Professional medical, dental, and nursing care: non-medical activities to preserve health, such as school lunches and household aides; and preventive campaigns such as the drive against malaria in the South by means of swamp drainage.
Doctors, dentists, and nurses, when taken from the relief rolls and given WPA jobs, found local officials eager to establish projects which would employ them at their professions in the service of the millions of unemployed who could not pay for medical care. Such projects, always operated under the supervision of local public health authorities, performed these services on an impressive scale.
Nearly 2,000 medical clinics and dental clinics have been conducted or assisted by WPA workers at which almost 1,000,000 persons have received free treatments. Medical examinations have been given by WPA doctors outside of clinics to over 1,300,000 persons who had no money to pay for them. Well over a million of them were children.
WPA nurses have made 213,450 group inspections and examined over 2,000,000 persons, in addition to which they have made over 2,450,000 visits to the homes of the needy. A total of 3,053 such nurses have assisted in the clinic program, while nursing aid was given at 638,972 immunizations.
The WPA's school-lunch program is not so much a professional as a practical health serv- ice, though dieticians have been employed in it where they were found on relief rolls. It was begun because, at the same time that many hungry children were thronging the public schools, there were also many needy women seeking WPA jobs whose only previous experience had been as housewives.
These women were, however, well qualified to prepare and serve hot, nourishing noon lunches to school children. Local communities, organizations of parents, and even the more fortunate children were glad to supply foodstuffs. In some places, any child was free to bring whatever his home larder afforded. Under this plan, over 129,000,000 hot lunches have been served—enough to provide every elementary school child in the Nation with lunches for a month.
In many homes, when sickness, injury, or other misfortune overtakes the housewife, there is no money to hire someone to help—someone to hold the home together. Yet there were available on the WPA rolls thousands of women whose only training had been homemaking.
Local agencies have utilized their services under the supervision of home economists or nurses and sent them out to meet acute human needs. The WPA calls such women "housekeeping aides." They have aided 663,513 families in distress and made a total of 4,020,548 visits to families facing serious emergencies.
One of the important construction campaigns in the interest of public health has been the construction by WPA workers of 865,955 sanitary toilets to replace unsanitary ones. Many entire communities have welcomed such facilities to help rid themselves of filth-born disease.
Another has been the drainage of 1,097,001 acres of mosquito-breeding swamps, mostly in 16 southern States, to combat malaria. A small army of WPA workers has accomplished this under the direction of the United States Public Health Service, by digging almost 6,000 miles of ditches and spraying over 1,200,000 gallons of oil.
Of this activity Surgeon General Thomas Parran has said: "WPA malaria control activities in the South affect the lives of 15,000,000 people. Their ultimate value will many times exceed the total of all relief expenditures in that area. It is not too much to say that the progress of malaria control has been advanced 30 years beyond the point it would have been without the WPA program."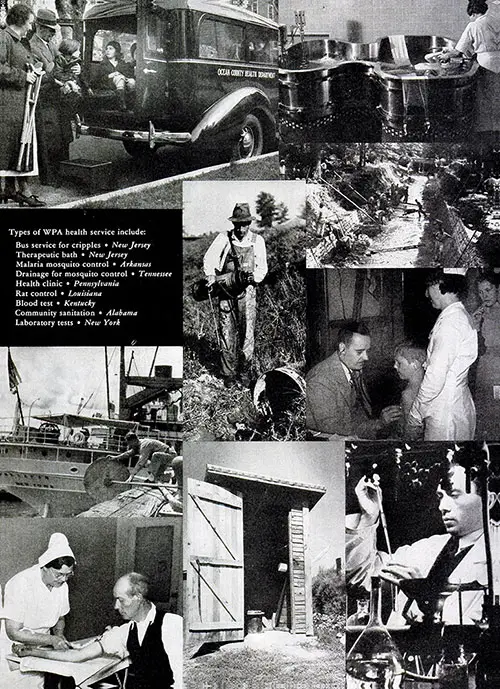 Types of WPA Health Services Include Bus Service for Cripples (New Jersey), Therapeutic Bath (New Jersey), Malaria Mosquito Control (Arkansas), Drainage for Mosquito Control (Tennessee), Health Clinic (Pennsylvania), Rat Control (Louisiana), Blood Test (Kentucky), Community Sanitation (Alabama), Laboratory Tests (New York). Inventory: An Appraisal of Results of the Works Progress Administration, Washington, DC: US Government Printing Office, 1938. GGA Image ID # 15208fe86c
ADDENDA
Under the CWA and FERA programs which preceded the WPA, the principal health contributions were large-scale drainage of malaria swamps and construction of sanitary toilets. More than half a million such toilets were built previous to the WPA, making a total for the three programs of 1,440,000.
CWA and FERA workers also ditched and drained over 250,000 acres of mosquito swamps, according to the Public Health Service, so that the three programs eliminated almost 2 million acres of malaria swamps.
"Health," in Inventory: An Appraisal of Results of the Works Progress Administration, Washington, DC: US Government Printing Office, 1938, pp. 41-44.