WPA American Guide Publications & Illustrations - 1938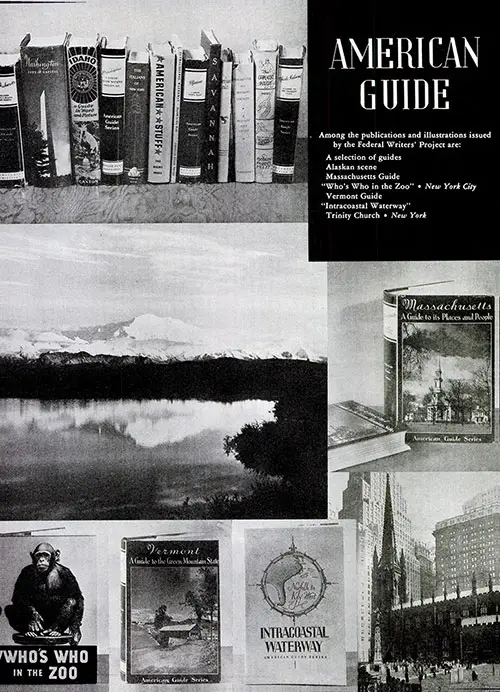 American Guide: Among the Publications and Illustrations Issued by the Federal Writers' Project are A Selection of Guides, Alaskan Scene, Massachusetts Guide, "Who's Who in the Zoo" (New York City), Vermont Guide, "Inttracoastal Waterway," Trinity Church (New York). Inventory: An Appraisal of Results of the Works Progress Administration, Washington, DC: US Government Printing Office, 1938. GGA Image ID # 1528523e85
A complete portrait of the United States is rapidly taking form in the books of the American Guide Series, main item of the WPA Federal Writers' Project, through the work and talent of jobless research workers, writers, and editors.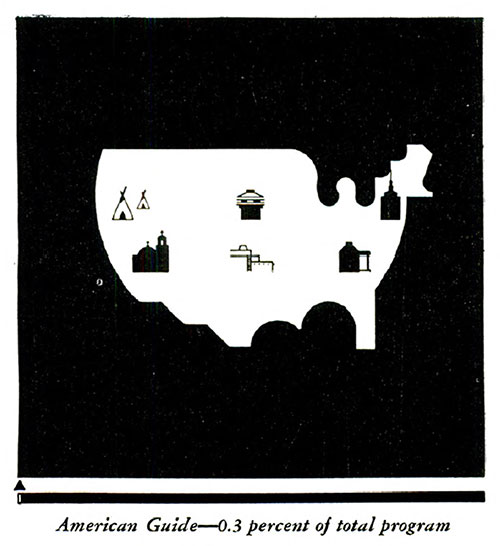 American Guide—0.3 Percent of Total Program. Inventory: An Appraisal of Results of the Works Progress Administration, Washington, DC: US Government Printing Office, 1938. GGA Image ID # 1528ab3e28
At its peak, the Writers' Project employed nearly 6,000 people trained in various phases of the literary field. Today it employs about 3,000.
The series will comprise separate volumes covering in detail the 48 States, the District of Columbia, Alaska, and Puerto Rico: and a national guide condensing this information into six volumes.
Supplementary and incidental publications will cover cities, towns, counties, regions, and travel routes of special interest, nationality groups, and folklore.
With completeness and accuracy, these State and local guides not only give data on points of interest, but survey history and life, geology, climate, racial elements, industries, folklore, social life, and ways, arts, crafts, and culture. 
Administrative and supervisory personnel in many sections of the country includes writers of national note such as Lyle Saxon, Vardis Fisher, George W. Cronyn, Edwin Bjorkman, Samuel Putnam, Vincent McHugh, and Harry Kemp.
WPA writers have gained prizes, prestige, and jobs. Four Guggenheim fellowships, the Avery Hopwood prize, and the Story Magazine award have been won by project workers.
Jobs in research and travel bureaus, libraries, educational institutions, and on many publications have come to project workers, in some instances because of their WPA training.
One hundred and sixteen volumes, of widely varying types, had been published up to October 1, 1937, and new ones are appearing every month. In all but a few instances, publication has been arranged by local nonprofit civic groups, without cost to the Government.
Since this broad cross section of the project's work is now in print, perhaps the best way to examine it is through the reception accorded by the public and the critics.
These books are selling well. New Castle on the Delaware, guide to a small historic community, sold 3,000 copies; the Lincoln (Nebraska) City Guide, 16,000; Massachusetts: A Guide to Its Places and People, 8,000 the first month; Vermont, 2,000 the first week; Almanac for New Yorkers, 20,000; U. S. One (travel route), is about to exhaust a run of 50,000.
The news weekly, Time, said on January 3, 1938, that "the first U. S. Guides evoked far more literary enthusiasm than official publications usually raise," and added, "Almost every book shows flashes of inspired writing."
Thousands of reviews, articles, and news items have dealt with the American Guide Series, and among them the dominant attitude expressed has been in agreement with that of Lewis Gannett, reviewer of the Herald Tribune, New York: "The American Guide Series is taking shape, giving a permanent dignity to the Federal Writers' Project that was originally conceived as relief work."
Lewis Mumford, nationally known author and critic, has written of the Project's chief task: "Of all the good uses of adversity, one of the best has been the conception and execution of a series of American guidebooks; the first attempt, on a comprehensive scale, to make the country itself worthily known to Americans. These guidebooks are the finest contribution to American patriotism that has been made in our generation."
Said the Publishers' Weekly: "The widespread research done by groups of writers working on these books has brought to light much material for future books. And it is likely that many of the writers will rediscover many important aspects of American life, a discovery the results of which will probably be reflected in American letters for years to come."
Of the New Orleans City Guide, Harry Hansen, World Telegram (New York), wrote: "Having read most of the entertaining essays and looked at the pictures, I am now going to take the evening and enjoy a tour of New Orleans, street by street, thanks to the admirable work of the Federal Writers."
The Book Review of the New York Times, reviewing Maine: A Guide Down East, said: "Here is a practical, beautiful, intelligent, and interesting guide to the State of Maine." The New Yorker said of the Italians of New York: "The first of a series of racial studies planned by the busy WPA Federal Writers' Project. A good, informative study of some New Yorkers you ought to know about."
Said Books, weekly literary supplement of the New York Herald Tribune, of U.S. One: "This well-stoked book is a motorist's guide, and a very good one . . . The book is succinct, informative, useful, and genuinely interesting, and it should be welcomed by all North-to-South motorists whose interest goes beyond their own speedometers."
The Los Angeles Times said of the Idaho Encyclopedia: "Tourists of the present day will revel in it. Students and historians will welcome it with proper gratitude, now and in the future. It will remain a source book of importance for the West."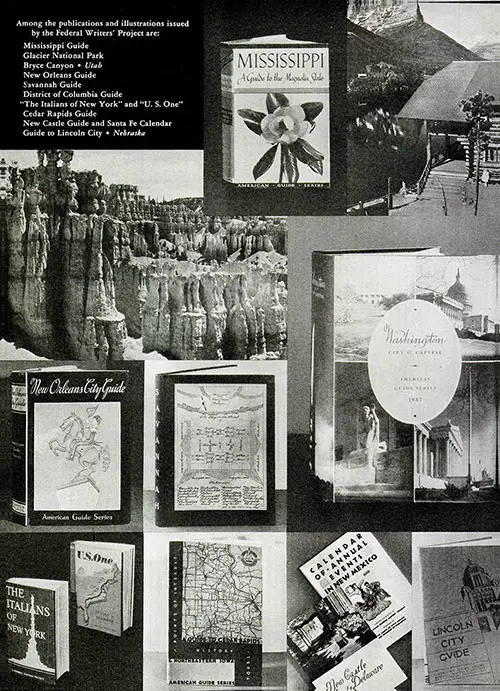 Among the Other American Guide Publications and Illustrations Issued by the Federal Writers' Project are Mississippi Guide, Glacier National Park, Bryce Canyon (Utah), New Orleans Guide, Savannah Guide, District of Columbia Guide, "The Italians of New York" and "U.S. One," Cedar Rapids Guide, New Castle Guide and Sante Fe Calendar, Guide to Lincoln City (Nebraska). Inventory: An Appraisal of Results of the Works Progress Administration, Washington, DC: US Government Printing Office, 1938. GGA Image ID # 15287af473
"American Guide," in Inventory: An Appraisal of Results of the Works Progress Administration, Washington, DC: US Government Printing Office, 1938, pp. 83-86.