WPA Water & Sewer Projects - 1938
Water & Sewer: Among the Water and Sanitation Facilities Constructed by WPA are: Retaining Walls (New York), Sewer (Ohio), Drainage Canal (New York), Sewage Disposal Plant (Louisiana), Water Main (New Jersey), Coagulating Plant (California), Sewer (Nebraska). Inventory: An Appraisal of Results of the Works Progress Administration, Washington, DC: US Government Printing Office, 1938. GGA Image ID # 151e411234
Ranking fourth among the categories of WPA construction is the program of water supply and facilities for the disposal of sewage, which aggregates slightly less than one-tenth of all the agency's work. Here, once more, is a type of work suited to the employment of large numbers of manual laborers, even after much machinery and equipment had been made available by the municipalities.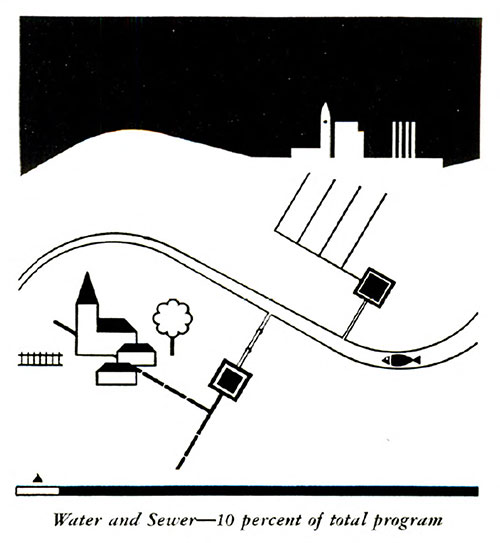 Water and Sewer -- 10 Percent of Total Prorgram. Inventory: An Appraisal of Results of the Works Progress Administration, Washington, DC: US Government Printing Office, 1938. GGA Image ID # 151e58d778
Chief benefits to the public, aside from convenience, have been more healthful communities and lower fire-insurance rates. WPA workers have constructed 1,272 new reservoirs, storage tanks or cisterns, and improved 329 others.
The total capacity of these facilities, slightly over four billion gallons, would be sufficient to supply water to a population of more than 4,000,000 at average load for 10 days, or to supply a city of 100,000 people for more than a year without replenishment.
They have built 4,295 miles of new water mains, aqueducts or distribution lines, and re- paired 1,458 miles additional, and 288,131 consumer connections have been installed or repaired. They have built 6,299 miles of storm and sanitary sewers and repaired 1,966 miles additional.
These range from six- to eight-inch laterals to trunk lines and outfalls 10 feet in diameter. Service connections provided or repaired: 180,030. This mileage of sewers would be adequate for the complete service of 100 towns of 10,000 population each.
Sewage treatment plants have been built to the number of 243, enough to serve a population of over 1,000,000, and 151 others have been improved. In addition: 37,938 new cesspools, 3,883 septic tanks, chiefly in rural areas where other disposal systems were not available.
Water plants constructed total 60, with improvements to 63 others. These can serve a total of 6,375,000 persons. Pumping stations—252 new, 103 improved. Manholes and catch basins—156,323 new, 88,912 repaired. Work in this general field relates, in its public significance, either to public health or conservation.
The improvements above, being urban in character, relate to health. The sealing of 7,777 abandoned mines, to stop pollution of American streams with acid from the shafts, is both a health and a conservation matter, which will be discussed under the latter heading, as will the construction of 3,504 storage dams, principally in drought areas.
For general drainage purposes, WPA workers have dug over 1,000 miles of new ditches and laid 700 miles of new drainage pipe, in addition to renovating 6,500 miles of existing ditches. The total area drained is in excess of 8,500,000 acres.
Perhaps the most dramatic benefits from WPA water supply and sanitation work have been gained by the small cities and towns, traditionally unable to construct such facilities or, at least, adequate ones. But with the WPA offering to pay the wages of their own needy local workmen, many officials hastened to pro- vide the necessary materials.
Water systems, in particular, offer little or no financial problem because of the local revenues they produce.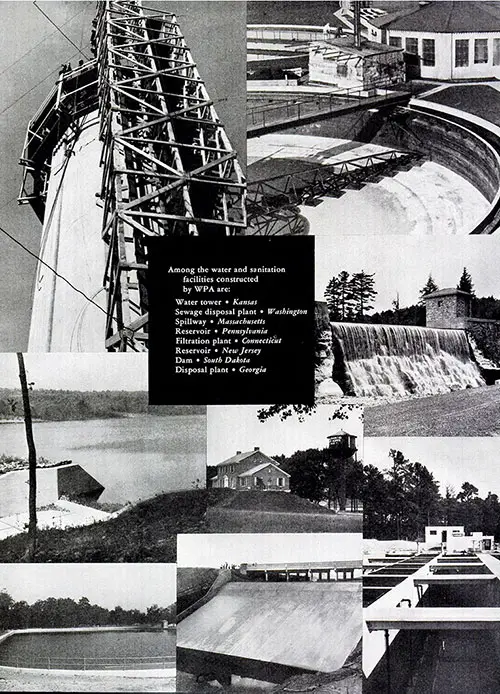 Among the Water and Sanitation Facilities Constructed by the WPA are: Water Tower (Kansas), Sewage Disposal Plant (Washington), Spillway (Massachusetts), Reservoir (Pennsylvania), Filtration Plant (Connecticut), Reservoir (New Jersey), Dam (South Dakota), Disposal Plant (Georgia). Inventory: An Appraisal of Results of the Works Progress Administration, Washington, DC: US Government Printing Office, 1938. GGA Image ID # 151e91a3f4
ADDENDA
The CWA and FERA work-relief programs, predecessors to the WPA, built or reconditioned almost as much additional mileage of sewers and water mains as is shown above.
The total for the three programs is over 15,000 miles of storm and sanitary sewers, 10,000 miles of water mains, 6,000 treatment plants (including sewage, water, garbage incinerators, and septic tanks), 1,100 pumping stations, nearly 12,000 storage dams, reservoirs, tanks, and cisterns, and the drilling of 9,500 public wells, principally in the drought areas.
For all types of drainage—roadside, mosquito control, and general—workers under the three successive programs have dug or rehabilitated a total of more than 104,000 miles of ditches.
"Water and Sewer," in Inventory: An Appraisal of Results of the Works Progress Administration, Washington, DC: US Government Printing Office, 1938, pp. 25-28.