Emergency Flood Relief Under WPA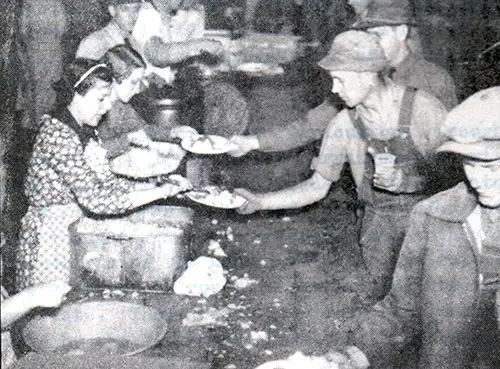 In addition to operating projects specifically designed to prevent flood conditions or to conserve water supplies, the WPA has been active emergency flood relief work.
WPA funds have been used to aid stricken communities in cases where unforeseen emergencies have arisen as a result of flood damage.
The services of WPA employees were utilized during periods of immediate danger from floods, and these workers also assumed a large share of the burden of clearing debris and repairing damage after the floods had subsided.

In the early summer of 1935, shortly after the WPA program had been approved, the first necessity for emergency flood activities arose.
On July 31, 1935, the President allocated $5,000,000 to the WPA for repair of damage caused by the 1935 floods, and almost before the flood waters had ebbed WPA workers were busy clearing debris from homes, public buildings, streets, and roads.
Dikes, levees, and dams were strengthened and repaired. In Jefferson and Arkansas Counties in Arkansas, for example, 160,000 cubic yards of earth were moved in restoring 3,600 linear feet of levee breaks. Bridges that had been wrecked by floods were repaired wherever practicable or replaced if too badly damaged.
In Colorado 309 bridges with a total length of 26,600 linear feet were repaired or rebuilt. Roads were cleared, regraded, resurfaced, and opened for traffic.
In the stricken area of New York State during the first days following the floods, roads were so impassable that local authorities had difficulty in reaching WPA offices to submit applications for projects for repairing flood damage.
Water systems and sewer systems required cleaning and repairing. Debris had to be cleared away and immediate action was necessary to prevent development of unsanitary conditions and to avoid the possibility of epidemics of contagious diseases.
During 1936 the activities of the WPA in connection with emergency flood conditions were even more extensive. Preparations had been made in advance of actual floods so that the WPA was ready to act promptly when emergency situations arose.
In anticipation of flood conditions, imminent because of the unusually early thaw following a severe winter, the WPA during the latter part of February 1936 requested its State Administrators to submit emergency flood work projects wherever there was danger of overflow.
The President approved approximately $18,000,000 worth of these projects on February 29, 1936. Such authorization did not allocate new funds to the States, but merely permitted the State Administrators to use previously allocated fluids for the prosecution of emergency flood control work should this become necessary.
As flood conditions became serious in the New England States, in Pennsylvania, and in the Ohio valley, crews of WPA workers went into action promptly and were engaged in a wide variety of activities during the height of the danger.
The first steps adopted by the WPA in meeting the emergency conditions were: to warn persons living in the path of the waters to move families, furniture/and valuables from danger tones; and to cable and rope down houses and small buildings to prevent the current from washing them away.
In some localities WPA workers were sworn in as special police to add in protecting life and property and in directing traffic Dikes, sandbag barricades, and abutments were built or strengthened to check the flood waters.
At grave personal risk many relief workers took a prominent and heroic part in rescue activities to save persons endangered or marooned by the waters.
Food, bedding, and clothing have been distributed to refugees through WPA surplus commodity projects. In the Ohio flood area 8,000 blankets and 6,000 mattresses were distributed in addition to thousands of pounds of food.
In numerous other communities WPA workers were engaged in strengthening dikes and dams, weighting down bridges with sandbags, and related activities. By these efforts the water was often prevented from reaching towns and cities which otherwise would have suffered.
In Allegheny County, Pennsylvania, as many as 30,000 WPA workers were rushed into the flooded areas, strengthening dams and dikes, patrolling roads, and protecting life and property.
Even before many of the unfortunate residents could return to their homes, WPA workers proved themselves indispensable in clearing roads and streets of debris.
Then came the task of cleaning out public buildings and homes. Wells and other sources of water supply and sewers were reconditioned, and chloride of lime was used in order to make the flooded areas sanitary and habitable.
In Johnstown, Pennsylvania, which had been severely affected, 5,000 WPA employees were set to work to clean up the city. More than 20 miles of streets were cleared of debris, nearly 100 tons of hydrated lime were spread, and water was pumped from a great number of cellars.
These measures successfully prevented the outbreak of post-flood contagious diseases. About $600,000 was spent in Johnstown by the WPA in the removal
of waste.
As the waters receded throughout the Northeast, tens of thousands of WPA workers began reconstruction and rehabilitation work. This work was confined to the reconditioning and reconstruction of public property.
The total cost of emergency flood relief operations through July 31, 1936, was slightly over #12,000,000, Approximately $3,500,000 of this total was spent for emergency relief work following the flood of 1935.
About $5,250,000 was used for preparatory work and emergency activities in the spring of 1936, and $3,250,000 went for reconstruction activities following damage caused by floods in the spring of 1936.