WPA Roads & Bridges

- 1938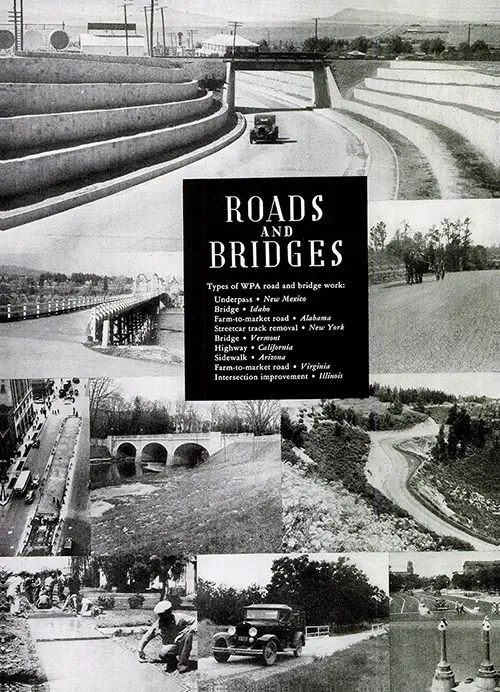 WPA Roads and Bridges, 1938. Types of WPA Road and Bridgework: Underpass • New Mexico Bridge • Idaho farm-to-market road • Alabama Streetcar track removal • New York Bridge • Vermont Highway • California Sidewalk • Arizona farm-to-market road • Virginia Intersection improvement • Illinois. Inventory: An Appraisal of Results of the Works Progress Administration, Washington, DC: US Government Printing Office, 1938. GGA Image ID # 151c73dfa1
Over one-third of the entire WPA program is devoted to roads, streets, bridges, and related facilities. The mileage of roads and streets, newly built or improved by the WPA, would reach eighteen times around the globe. Nearly every American community has requested WPA projects of this type.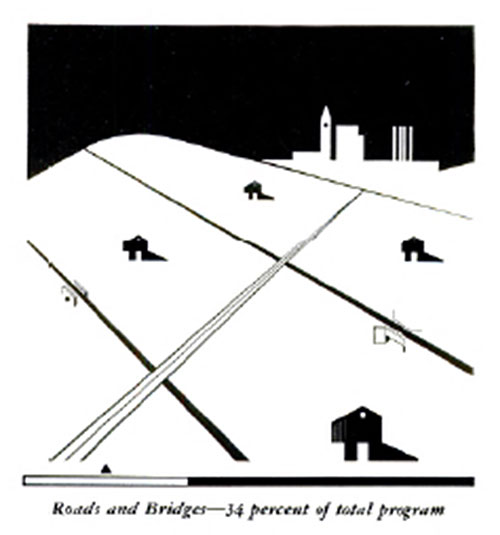 WPA Roads and Bridges -- 34 Percent of Total Program. Inventory: An Appraisal of Results of the Works Progress Administration, Washington, DC: US Government Printing Office, 1938. GGA Image ID # 151cd298e7
Such work is highly desirable from an employment standpoint. About four-fifths of those the WPA must employ are manual workers, unskilled or semiskilled. Road building is a type of work they can do. Moreover, road work can be spread widely through farm areas to employ rural workers and expanded or contracted to meet seasonal conditions such as the harvest. In many areas, such work has been virtually suspended during peak harvest seasons, to supply field workers, and resumed after the harvest layoffs.
Farm-to-market or secondary roads, falling outside both the Federal and State highway systems, have been the chief beneficiary of the WPA road program. Over 39,000 miles of such roads have been newly constructed— enough to span the country twelve times— while the mileage of existing rural roads improved (140,000) would reach five times around the globe.
While the bulk of this work in rural areas has consisted of building, improving, and draining dirt, clay, or gravel roads, a total of 4,400 miles of paved roads has been laid and over 4,000 miles reconditioned.
These roads usually are not eligible to share in either Federal or State highway subsidies, yet their improvement was too expensive to be undertaken entirely with limited local funds. 
To bridge streams and gullies, that these and other roads throughout the country may be usable in all weather, the WPA has built 19,229 new bridges. Though the majority of them are small and made of wood, 4,033 are of masonry construction, and 1,418 are of steel.
This is an average of over six new bridges for every county in the Nation. Their average length is slightly over 30 feet.
Besides, the WPA has repaired 18,035 existing bridges, an average of nearly six to every United States county.
Types of WPA Road and Bridge Work: Mountain Highway (California); Farm-to-Market Road (Massachusetts); Bridge (New York); Parkway (New Jersey); Street Sign (Nebraska); Retaining Wall (New York); Repaving (New York); Culvert (New York); Curb and Gutter (Alabama(; Roadside Embankment Work (Idaho). Inventory: An Appraisal of Results of the Works Progress Administration, Washington, DC: US Government Printing Office, 1938. GGA Image ID # 151d26985f
Other drainage for these roads was accomplished by the construction of 200,719 WPA culverts, whose combined length of pipe or box (1,000 miles) would reach from New York to St. Louis. Over 42,000 existing ducts have been repaired. Over 13,400 miles of roadside drainage ditches have been dug and 876 miles of lateral pipe laid.
To hundreds of thousands of farm families, these improvements mean the certainty that the doctor can reach them in time of crisis, the assurance that perishable crops can move to market when ready, reliable mail and school bus service, and, in general, a vast new social vista. Education, improvement and higher land values are the byproducts of getting the farmer out of the mud.
Cities and towns also have shared in the WPA road program to the extent of over 6,500 miles of new streets, of which almost 4,000 miles were paved, and 16,640 miles of street improvements.
WPA workers also have—
Built 4,480 miles of new curbs and 1,590 miles of gutter.
Equipped 203 miles of streets with 8,433 new streetlights and repaired 34,832 others.
Made 825,078 new street signs and erected 363,848.
Built 5,156 miles of new sidewalks and reconditioned 3,208 miles.
Removed 452 miles of abandoned streetcar tracks.
For greater safety and pleasure on the highway, they also have—
Eliminated 24 grade crossings.
Built 637 miles and reconstructed 369 miles of guardrails.
Painted 2,400 miles of highway centerline, parking zone lines, and curbs.
Landscaped 14,690 miles of highways.
ADDENDA
It must be borne in mind that all the above figures refer to the Works Progress Administration alone and cover roughly 2 years' work. If the accomplishments of the two previous agencies of work-relief (CWA and FERA) are included, the mileage of roads built or improved is 854,743, of which over 94,000 miles are new roads, about one-sixth of which were paved.
The total number of bridges and grade separations is increased to 55,964, and of culverts to 270,400. Even these figures do not include the road programs, from Works Program funds, of the Bureau of Public Roads and the CCC. These are summarized under "Other Agencies." 
"Roads and Bridges," in Inventory: An Appraisal of Results of the Works Progress Administration, Washington, DC: US Government Printing Office, 1938, pp. 13-16.