American Art by WPA Artists - 1938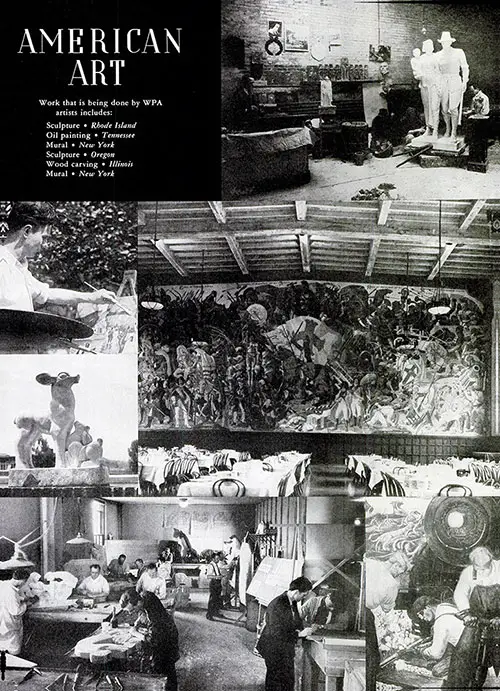 Work Being Done by WPA Artists Include Sculpture (Rhode Island), Oil Painting (Tennessee), Mural (New York), Sculpture (Oregon), Wood Carving (Illinois), Mural (New York). Inventory: An Appraisal of Results of the Works Progress Administration, Washington, DC: US Government Printing Office, 1938. GGA Image ID # 1527a0648c
WPA artists are interpreting America to Americans through almost every form of the visual arts—from vast mosaics and murals through sculpture and easel paintings to preservation of native decorative art by the Index of American Design.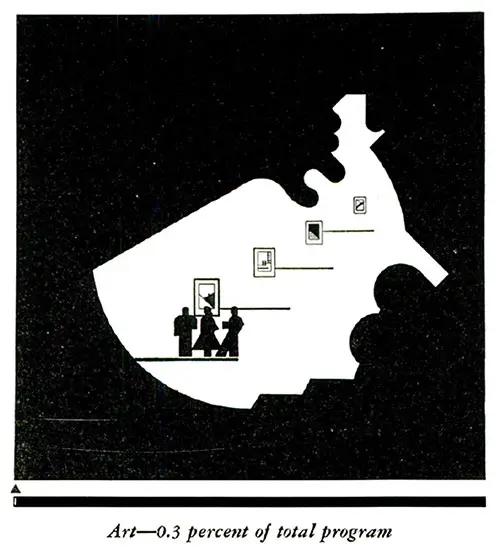 Art—0.3 Percent of Total Program. Inventory: An Appraisal of Results of the Works Progress Administration, Washington, DC: US Government Printing Office, 1938. GGA Image ID # 1528176a29
Professional artists of all types were hit as hard by the depression as any single group. The WPA Federal Art Project, set up to employ jobless mural and easel painters, sculptors, art teachers, and allied workers, has operated in 39 States, New York City, and the District of Columbia.
At its peak it employed 5,212 artists of all types, while the current employment is 3,689. On the walls of 11,325 schools, post offices, hospitals, and other public buildings all over the country hang the works of project artists— more than 95,000 murals, mosaics, sculptures, oils, water colors, and prints.
Other art workers have created 500 dioramas and models and 7,139 lantern slides for visual education, 39,692 arts and crafts objects, 251,000 photographs, 240 stage sets, and 349,900 posters for public safety, health, and other campaigns.
A striking instance of the frequent discovery of brilliant talent is illustrated by a Chicago artist who was employed on a work project, painting signs on park buildings. In his spare time he had completed drawings and sketches for murals which he hoped someday would be placed in public buildings.
Within 6 months after he was placed on the Federal Art Project, his work was so outstanding that it was reproduced on the cover of a prominent English art journal.
Among the numerous artists who have won prizes in the mural field is James Michael Newell, who received the Gold Medal of the Architectural League, which had not been awarded for 5 years because of lack of works deemed worthy of this honor.
Other honors won by WPA artists:
Robert W. Godfey's Portrait of My Wife was purchased by the Metropolitan Museum of New York for its permanent collection;
Lester Schwartz of Illinois was awarded the Edward L. Ryerson Traveling Fellowship of $2,500 by the Art Institute of Chicago;
Ralph Hume, Florida sculptor, won first prize in the Fifteenth Biennial Exhibition at the Corcoran Gallery for his Whippet;
Eugenia Everett of California won the grand prize for sculpture at the Fine Arts Exhibit of the Third Annual Southern California Festival of Allied Arts; and
Sidney Laufman captured top honors in the 1937 Annual Exhibition at the National Academy of Design with his The Farm, which won the $700 prize for a landscape by an American-born citizen.
The constant drift of talent away from home communities toward the great cities has been counteracted for the first time in American art history. Painters and watercolorists, working in almost every State of the Union, have produced thousands of works that truly reflect the vastness and variety of America rather than repetitions of themes from New York and Paris.
Instances of this new impulse:
John McCrady, whose vivid scenes of Louisiana life were reproduced in full color in Life;
Sam Brown, young Negro artist from Philadelphia, whose Portrait of Mrs. Simmons is included in a group of WPA work shown at a leading French museum;
Jack Levine, a twenty-three year old Bostonian, whose mature and brilliant work has attracted leading critics;
Louis Guglielmi, whose interpretations of out-of-the-way streets in Manhattan have won national acclaim; and
Joseph Vavak, who paints floods and dust storms of his native Middle West.
Of note in the Far West are Eugene Trentham, for his Colorado landscapes; and Dong Kingman, San Francisco artist of Chinese parentage, who paints the subtle beauty of the mountains and sea around him with a rare sensitiveness.
In print making, the Project studios and opportunities for fresh technical experiment have produced work that has been generally acclaimed. Probably the highest of the many honors that have come to this group is the inclusion of ten WPA print makers in the British Fine Prints of the Tear for 1937, a representation of nearly one-fourth of all the Americans included.
In sculpture, some 1,700 works for public buildings have been created to harmonize with architectural plans and to give the general public a wider popular interest in this art.
The works produced range from a delightful Alice in Wonderland series for the public schools of Ohio to the huge diorite figure of an Aztec Indian by Donal Hord, installed this spring at the San Diego State College; from animal figures for Brookfield Zoo in Chicago to the remarkable carvings in native Pino wood in which Patrocino Barela of New Mexico, a former teamster, creates symbolic figures that are gothic in their intensity of form and feeling.
In addition to this creative art program, other millions of people have been reached through Federal Art Project exhibitions and teaching activities in all sections of the United States.
Fifty community art centers and galleries have been established, many of them in the South, Middle West, and Far West. The purpose of the Index of American Design, which is now recording material in 30 States, is to make a pictorial record of our native decorative, provincial, and folk arts from the early Seventeenth Century to the close of the Nineteenth.
The artists employed in this work have already completed 7,500 facsimile renderings, both in color and black and white, which form the groundwork for a portfolio of our very rich heritage in the decorative arts.
Exhibitions of index work have been shown in most of the Nation's leading museums. Typical of many critical comments on the program are the statement of Alfred Barr, of the Museum of Modern Art, New York City, that it "has made possible a great advance in the art of our country;" the opinion of Dr. Irwin Edman of Columbia that "it is really making art the popular theme of public discussion and reflection;" and the declaration by Lawrence Vail Coleman, director of the American Association of Museums, that "it is one of the most important things that has happened to American art in a hundred years."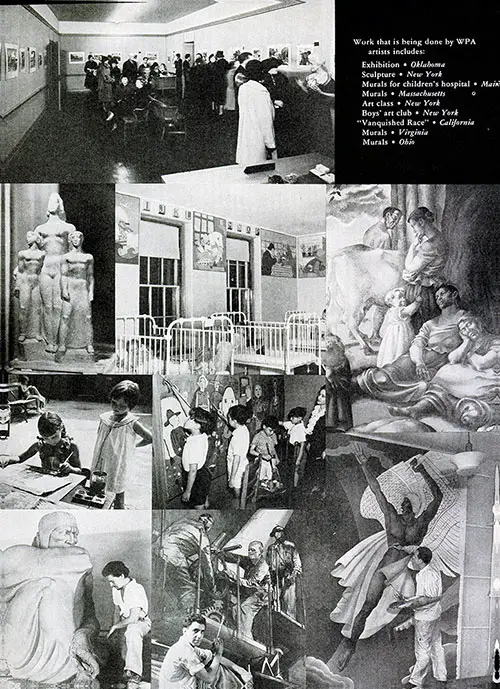 Additional Work that is Being Done by WPA Artists Include Exhibition (Oklahoma), Sculpture (New York), Murals for Children's Hospital (Maine), Murals (Massachusetts), Art Class (New York), Boys' Art Club (New York), "Vanquished Race" (California), Murals (Virginia), Murals (Ohio). Inventory: An Appraisal of Results of the Works Progress Administration, Washington, DC: US Government Printing Office, 1938. GGA Image ID # 1527ae3ba7
"American Art," in Inventory: An Appraisal of Results of the Works Progress Administration, Washington, DC: US Government Printing Office, 1938, pp. 79-82.