Adjustment of Grains; Meat Imports; Slaughter of Animals (1935)
The Drought and Current Farm Imports - 1935 - Section 3
Section three from the 1935 Booklet Issued by the WPA covers topics on the Yields of Oats, Barley, and Rye, Imports of Hay, Meat - Pork and lard and how the drought forced the slaughter of livestock.
No Adjustment of Oats, Barley, and Rye
All of the reduction in the 1934 yields of oats, barley, and rye is attributable to drought, since no adjustment programs were in effect for those crops. Part of the increased• imports of barley and rye were due to increased demand in brewing and distilling industries, following repeal of the eighteenth amendment.
Imports of hay during the 8-month period were 49,000 short tons, the equivalent of approximately two-tenths of 1 percent of the loss due to the drought. Severe drought loss in hay and forage crops was partly offset by the planting of hay and pasture crops on areas in the 36 million contracted acres which had been shifted from major crop production through the 1934 A. A. A. programs.
In addition to this, the Adjustment Administration underwrote the harvesting of 76,000 tons of corn fodder and stover and 18,000 tons of soybean hay for forage.
Meat Imports
While a large exporter of meat products, particularly pork and lard, the United States has been also an importer of certain amounts of meat products. These include specialty products of different types, and a considerable amount of canned beef from South American countries, particularly Uruguay and Argentina. Importation of fresh and frozen meats from South America is prohibited by United States sanitary regulations.
Importation of canned beef is due to the fact that little beef is canned in the United States, while a considerable portion of Uruguay and Argentina beef is so prepared. Thus much of the demand for canned beef in the United States is supplied by South American imports. (Meat imports are analyzed in greater detail in later pages.)
The average amount of beef and veal imports during the 10 years preceding 1934 was 56,468,000 pounds. (See table 3.) The average United States production of beef and beef products is over 7 billion pounds, so that imports of edible beef, allowing for the concentrated volume of the canned product, are normally less than 2 percent of the quantity domestically produced.
TABLE 3.-Meats and products: Average exports and imports, 1924-33, and exports and imports, 1934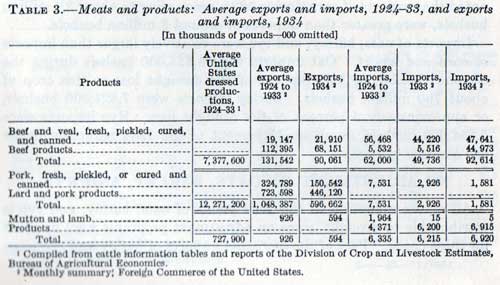 Compiled from cattle information tables and reports of the Division of Crop and Livestock Estimates, Bureau of Agricultural
Monthly summary: Foreign Commerce of the United States.
Imports of edible beef and veal during 1934 were less than the average imports of the last 10 years, amounting to 47,641,000 pounds. Imports during January and February of 1935 were likewise not above the average of previous years, approximately 9 million pounds having been received during this period.
A considerable increase in imports of non edible beef products occurred in 1934, approximately 45 million pounds having been received as compared with average imports of 5% million pounds. The major item in this amount was beef tallow, a low-value product of which over 40 million pounds were imported last year.
This product is used in soap-making, and its increased importation is caused by the reduction in imports of whale oil used for the same purpose, brought about by the excise tax imposed on this commodity by the last Congress.
Pork imports are practically negligible, the small amounts received being specialty products. One and one-half million pounds—half the average yearly imports—were imported last year. This represents less than two-hundredths of 1 percent of our domestic production of more than 12 billion pounds yearly.
Imports of mutton and lamb are mostly of non edible oils and greases. Approximately 7 million pounds were received in 1934.
Drought Forced Slaughter of Animals
Supplies and consumption of meats in the United States were high in 1934 because of the forced slaughter of animals due to the drought. Reduction in supplies since then may cause an increase in imports during 1935 and until stocks are replenished.
Meat supplies during 1935, however, will be larger than they would have been had there been no drought relief programs by the Agricultural Adjustment Administration. These programs conserved for future use meat of animals which would otherwise have perished from the drought.
They also enabled farmers to retain on farms and ranches a larger number of good breeding animals and other livestock of good quality by making available a larger supply of feed during the period of acute shortage, and through the prompt disposal of inferior animals.
United States exports of meat and meat products, in the aggregate, continue to exceed imports by a very large proportion. Total exports of beef and products, pork, lard and pork products, and lamb and mutton in 1934 were 688,317,000 pounds as compared with imports of 101,115,000 pounds.
Through the reciprocal trade agreement with Cuba, exports of lard to that country were approximately 16 1/2 million pounds during the 6 months through February 1935, since the agreement went into effect, as compared with less than 43 million pounds for the same period a year earlier, an increase of 12 million pounds.
Index to Part I of the Current Farm Imports 1935 Booklet