What New England Hello Girls Are Doing "Over There" - 1918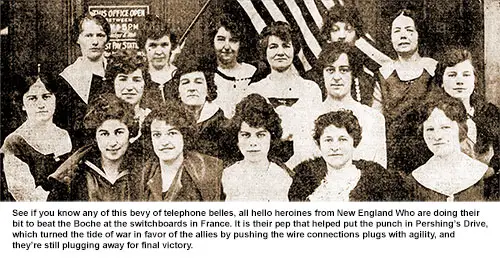 See If You Know Any of This Bevy of Telephone Belles, All Hello Heroines from New England Who Are Doing Their Bit to Beat the Boche at the Switchboards in France. It Is Their Pep That Helped Put the Punch in Pershing's Drive, Which Turned the Tide of War in Favor of the Allies by Pushing the Wire Connections Plugs with Agility, and They're Still Plugging Away for Final Victory. Boston Sunday Post, 6 October 1918. GGA Image ID # 19bbf54681
The telephone girls of New England "over there" have put pep into the hello service for General Pershing.
French Way Slow Many of the American girls work within hearing of bombardments. They are always on the job at the switchboards, so different from how the French hello Mademoiselles used to handle the communications. According to letters from over there, the latter were in the habit of leaving their posts and sitting around the room, where regular knitting bees were held. When a call happened to come along, then one of the girls would leisurely arise and go and attend to it.
Then, too, they did not respond at first with "Number, please." says Misa Sara A. Fecteau of White River Junction, Vt., now with the New England contingent over there, but they murmured this greeting: "I'm listening." Then, Misa Fecteau declares, the party at the other end of the who would reply. "Are you there?" And with time, the connection would be negotiated, provided; however, some heinous [German] did not meanwhile been in and spoiled the fun.
But it's altogether different now. A complete American telephone system has been installed, poles and all, for the service of the American army, and even the ability to speak French is no longer essential on the part of the telephone operators.
Cannon Disturb Slumbers
The last contingent of girls to go across were not all French linguists. There were 75 In all, of which number 14 were from New England. They were sent over to function as toll operators, and Miss Marlon C. Swan of Fall River is in charge of all these long-distance girls as acting chief operator. Now, another force of about 60 more Is being organized to fill the posts created by the extension of the system as the American military force Increases.
In addition to the American telephone system at the front, Miss Fecteau says in her last letter home. "We have leased lines from the French through our switchboard.
"I have a great many occasions." she adds, "to go to the French central to make out reports, straighten out bills, etc., and on entering you see this line of girls, all with Mark bungalow aprons on, all over the room, so they never stay at the board.
"When a light comes on, they very slowly lay down their sewing or reading and answer this one light. They never think of going to work unless they have either something to read or sew between minutes."
Some of the girls are pretty near the front, and some are not Miss Melina I. Adam, formerly of Fall River, says in an epistle to her hello girlfriends at home: "I am sorry to disillusion all of you girls, but I am nowhere near the front or in any danger whatever." Then she tells all about what a good time she is having.
On the other hand, another girl writes, "Sometimes we hear the cannon roar, for the dear enemy likes to bombard us with big Hertha by day and give us air raids at night, but we object to the night attacks because they disturb our slumbers."
Wants More Active Service
When someone asked this miss if she was not afraid of being near the front, she laughed. Through Zeppelin raids, she had been a passenger twice through the submarine danger zone, worked in an American munition plant, and had helped recruit for the United States Navy as a yeowoman.
Still, she wanted more active service and was delighted with the chance to get back at the switchboard when the opportunity was offered to her to go to France as a hello girl in the United States army signal service.
The girls over there, as a rule, are having a good time and are not overworked. "We have our chief operator, one supervisor. one information operator, four local positions, four long-distance, and one French board." Says Miss Rose Langaller of Lynn, writing from "somewhere in France" to her home friends.
"We are on duty seven hours a day and have three different tricks. We change around every week, the first being 8:30 to 5. then 9 to 5: 30. and then 9:30 to 6. besides an hour and a half for lunch and 30 minutes' relief. We never have to work after 6 o'clock. Sundays we work from 9 until 12 and 1:30 to 4:30."
She also says: "We have a beautiful car for our use to take us to and from work, for the distance would be too great to work."
"If you only knew how many boys feel when they a letter," said Miss Ida Trahan of Providence, who is doing her bit at the board over in France, in a letter to her father, "you would write three or four times a week," I never have a spare minute when I am not writing."
She has gotten in touch with three lads fighting at different points on the western front, and she keeps in touch with them. In all of her letters home, she tells the folks what Edie, Hector, and Rudolph are doing and urges all of their friends to keep writing to them.
"We are living in an apartment," she states, "and it sure is living deluxe. We have real American cooking and a YMCA hostess to look after us, so we feel very fortunate, let me tell you."
In one letter, she tells about the death of a brother of Miss Emma Riendeau, another Providence girl who is with her, who was killed in the fighting around Chateau-Thierry after winning a Croix de Guerre for exceptional bravery in action.
Now here's a solemn warning to all girls over here who have boys over there, don't let any stay-at-home lad steal you away from that soldier boy who is fighting for you during his absence.
Here's just what one of those telephone girls over there has to say about it: "You do not know what it means to a fellow over here if his sweetheart throws him over for someone else because he is over here, and I do not think much of a girl who would do that either.
Take it from me, no matter what comes your way, always stick to James, write him often and cheer him, for once a fellow is over here; he sure needs it. Life is so different."
Miss Riendeau, whose brother was killed at Chateau Thierry, writes that she is visiting the American boys in the hospitals during her spare time. "They are wonderful," she says, "I never realized our boys had such grit, but I am now convinced more than words can express, especially on paper!"
Of her brother, she says: "He was decorated, or rather, awarded, the medal of distinguished service and the Croix de Guerre and was also awaiting his commission.
I am happy to have the privilege of visiting the hospitals," she adds, "as we can do many little things that our boys appreciate."
Proud to Be in the Service, American Telephone Operators near the Front in France. They're Keeping the American Army Going in France, These New England Telephone Girls, by Maintaining the Communication. a Complete New American Telephone System Has Been Installed for the American Expeditionary Force, Which Expedites the Service and the Military Movements. Approved by Committee on Public Information. The Telephone Review, September 1918. GGA Image ID # 19240635c1
Stockings Come High
"I would like to tell you about the work here, "writes Miss Albertine Belhumeur, also a Providence girl, "but all I can say is that our Americans have done wonders here. You have no conception of it."
Miss Yvonne M. Gauthier of Lowell conveys the glad tidings that the telephone girls have had a raise of $30 in their pay in a message to her mother; the $29 raise is per month presumably, although Miss Gauthier doesn't say so.
According to Miss Gauthier, the increase was needed, for she says stockings are 15 and 16 francs a pair over there with an extra tax for silk ones.
"They are not as good as our $1 ones at home," she declares. The girls can't wear them more than once or twice. The lisle stockings are 7 and 8 francs a pair.
"Regular pics, pumpkin pies, we couldn't believe our eyes, and Oh, how good they tasted." It was a celebration some of the boys had at the home of the telephone girls where Miss Gauthier lives, she explains, to show their delight at promoting their lieutenant-colonel to full command as colonel.
"One might think we do not get enough to eat, but we certainly do; as the maids say, we live like queens." Then the joy makers mingled in a dance. "It was 17 boys to one girl. We did have a wonderful time."
According to her letters, Miss Gauthier is one of the most enthusiastic of the New England hello heroines in France. She fizzes with delight in all of her messages to her mother.
And most of the other girls, too, tell-all about the good times they are having. Pershing Goo—this is the latest thing in fudge. It was served one evening at a kimono party given by a bevy of girls in honor of Miss Gauthier's birthday anniversary, and the Lowell lass says it was lovely.
Based On "What N.E. Hello Girls are Doing 'Over There.'" In the Boston Sunday Post, October 6, 1918, p. 26.