Miss Helen Carey, Telephone Operator Off for France - 1918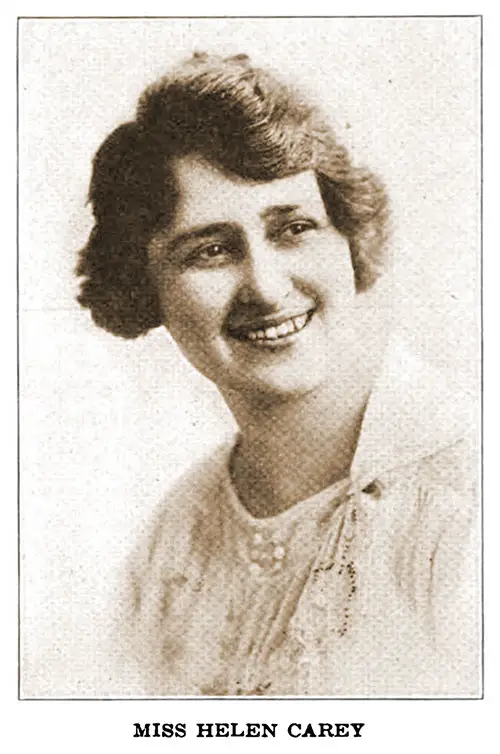 Miss Helen Carey, Signal Corps Telephone Operator. Bell Telephone News, August 1918. GGA Image ID # 19ad4a7a56
Miss Helen Carey, supervisor, Toll office, who has been with the Chicago Telephone Company seven years, has volunteered for telephone service with the American Expeditionary Force in France, and is on her way there with a group of other telephone girls who have responded to the call from different parts of the United States.
Miss Carey will be missed, not only in her office, but by the Strolling Players Club in South Park, of which she has been a member for some time.
On July 29th, four volunteers from the far west came through Chicago on their way to New York. They were Miss Margaret Mahoney, evening chief in San Francisco; Miss Jessie Brown, assistant chief in the long lines department, San Francisco; Misses Grace Knall and Laura Gridley, supervisors from Los Angeles.
They were met by Mrs. Moore, Mrs. O'Hara, Miss Young and Mrs. Dewhurst, who introduced them to Miss Carey, who was to join their party in New York in a few days. After lunching at the LaSalle Hotel, they resumed their journey to New York. The visit was short, but it was long enough, for those who met them, to observe the fine spirit of the girls, who had responded with such fine patriotism to serve "Over There."
A Letter from Miss Carey – October 1918
"A wonderful experience/' writes Miss Helen Carey, of the Telephone Operators' Unit "Over There," in a recent letter to Mrs. M. O'Hara, chief toll operator, Chicago. Miss Carey was formerly a toll supervisor in Chicago and has been in France several weeks. The letter reads in part as follows:
"Have been traveling continually since I left. I don't think I skipped a city. We are now stationed at a small town named ________. I started to work yesterday and think it is great. I work from eight-thirty to six, with two hours for lunch.
"Of course, the equipment is old. We are working on the old magneto boards— drop system, but we expect our new office to be opened within a week, with all new boards.
"We are living with a French family. Everything is great, but I certainly have some time telling our hostess what we want to eat. I say Wee-Wee to everything and haven't missed my step yet.
"I have been with the California girls ever since I left New York and find them dandy company. When we were given definite posts, we were separated. I have visited almost every ruin imaginable and have carved my name in a great many of the church towers.
"I have met a number of Chicago boys and they are all glad to see an American girl. This evening while walking along the street we girls were busy talking and passed several boys in uniform. They stopped and said, 'Well, I'll be darned if there aren't some American girls; don't it sound good.' I could look up many brothers of the girls back home if I had their names.
"We can buy any amount of things here, but prices are very high. Everything has to be paid for a week in advance, as the people need the money. There is only one drawback. We can't get water. I never could imagine such a shortage. Wine is very popular, but we are forbidden to drink it.
"You would never imagine there was a war until you get over here. The boys are doing wonderful work. We are all proud to say we are in the army.
"This is a wonderful experience, and J certainly shall never be able to thank the company enough for giving me this opportunity. There are many things I would like to tell about, but I must keep them until I return.
"Our trunks arrived to-day. It is the first time we have seen them since we left and believe me, they look like it. They certainly must have been through the front lines.
"It is about 11:30 p. m. and my roommate is on one side of the bed writing and I on the other, and as we are careful about the light, I will close.
"Best regards to Mr. Ham, Mr. Rutgers, Mr. Layton, Mr. Cooper, yourself and all the girls. Will write again soon."
A Letter from Miss Carey
Miss Helen Carey, formerly a supervisor in the toll office, Chicago, tells interestingly of her experiences as an operator "Over There" in a letter to Mrs. O'Hara of the traffic department, Chicago. Miss Carey wrote from St. Nazaire, France, as follows:
"We had a wonderful Thanksgiving dinner. We thought we would have to do without cranberries, but one of the naval officers sent us enough from the boat for Thanksgiving and Christmas. Then we found an American ice cream freezer and had some ice cream. It is the first I have tasted since I have been in France.
"Last night we gave our Thanksgiving dance. About twelve officers attended, and we had a band from one of the other camps. "Everyone has broken loose since the armistice was signed. The boys are sailing for home every day. There was another unit of girls on their way over here, but they received word to go back.
"My recommendation has gone in for supervisor, but I am afraid I won't get it before I am sent home. We were told we would go home the first of the year, but some of the girls are enlisting again to serve in different places."
Popular Signal Corps Girl
Helen Hunt Carey Carries Off Honors at Chicago With Actress as Opponent.
Motion Picture Actresses are alluring to Chicago members of the American Legion, but when it comes to a showdown, they vote for their ex-service comrades. This was demonstrated when Miss Helen Hunt Carey, a former signal corps girl, was voted the most popular girl in Chicago at the Legionnaire club show.
Miss Carey's total of votes was 46,254, which was 8,000 more than her nearest rival, a well-known movie actress got. When Miss Carey returned from France, after serving 14 months in the A.E.F., she was elected commander of Sig-Yeo post of the American Legion, composed of former signal corps girls and yeomanettes.
Bibliography
"Off for France," in Bell Telephone News, Detroit Edition, Vol. 8, No. 1, August 1918, pp. 21-22.
"A Letter from Miss Carey," in Bell Telephone News, Detroit Edition, Vol. 8, No. 3, October 1918, pp. 21-22.
"A Letter from Miss Carey," in Bell Telephone News, Detroit Edition, Vol. 8, No. 6, January 1919, pp. 21-22.
"Popular Signal Corps Girl," in The Roanoke Rapids Herald, Roanoke Rapids, NC, 24 June 1921, p. 6.