Application for Membership in Telephone Unit in France - 1918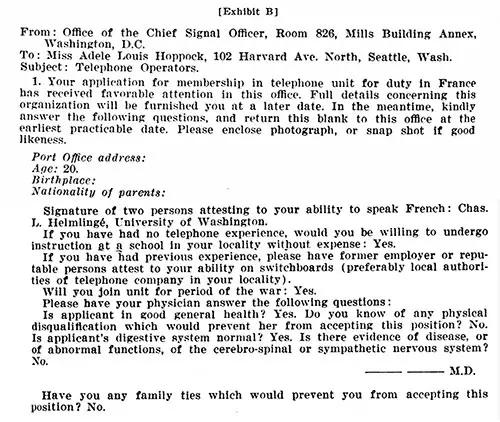 Exhibit B: Application for Membership in Telephone Unit, Adele Hoppock, 1918. Recognition for Purposes of VA Benefits, 1977. GGA Image ID # 19ab71dc01
Exhibit B includes some of the responses to the application question by Miss Adele Louis Hoppock. Adele completed her training and was part of the Third Unit of telephone operators to arrive in France.
From : Office of the Chief Signal Officer, Room 826, Mills Building Annex, Washington, D.C.
To: Miss Adele Louis Hoppock, 102 Harvard Ave. North, Seattle, Wash. Subject : Telephone Operators.
1. Your application for membership in telephone unit for duty in France has received favorable attention in this office. Full details concerning this organization will be furnished you at a later date. In the meantime, kindly answer the following questions, and return this blank to this office at the earliest practicable date. Please enclose photograph, or snap shot if good likeness.
Post Office address:
Age: 20.
Birthplace:
Nationality of parents:
Signature of two persons attesting to your ability to speak French: Chas. L. Helmlingé, University of Washington.
If you have had no telephone experience, would you be willing to undergo instruction fit a school in your locality without expense: Yes.
If you have had previous experience, please have former employer or reputable persons attest to your ability on switchboards (preferably local authorities of telephone company in your locality).
Will you join unit for period of the war: Yes.
Please have your physician answer the following questions :
Is applicant in good general health? Yes.
Do you know of any physical disqualification which would prevent her from accepting this position? No.
Is applicant's digestive system normal? Yes.
Is there evidence of disease, or of abnormal functions, of the cerebro-spinal or sympathetic nervous system?
Have you any family ties which would prevent you from accepting this position? No.
"[Exhibit B]": Application for Membership in Telephone Unit in France - 1918, Miss Adele Louis Hoppock, in Hearing before the Committee on Venteran's Affairs, United States Senate, Ninety-Fifth Congress, First Session on S. 247, S. 1414, S. 129, and Related Bills, Washington DC: US Government Printing Office, 25 May 1977, pp. 362-363.