Affidavit of M. Olive Shaw - 1977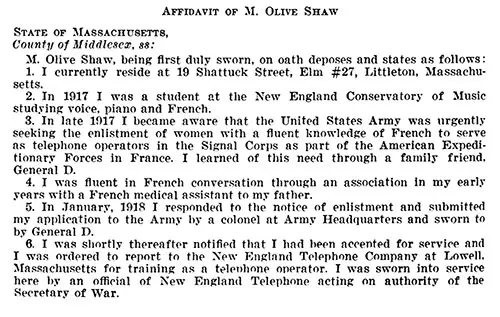 Page 1 of the Affidavit of M. Olive Shaw, Recognition for Purposes of VA Benefits, 1977. GGA Image ID # 19aac57064
Affidavit of M. Olive Shaw
State of Massachusetts,
County of Middlesex, as:
M. Olive Shaw, being first duly sworn, on oath deposes and states as follows:
1. I currently reside at 19 Shattuck Street, Elm #27, Littleton, Massachusetts.
2. In 1917 I was a student at the New England Conservatory of Music studying voice, piano and French.
3. In late 1917 I became aware that the United States Army was urgently seeking the enlistment of women with a fluent knowledge of French to serve as telephone operators in the Signal Corps as part of the American Expeditionary Forces in France. I learned of this need through a family friend. General D.
4. I was fluent in French conversation through an association in my early years with a French medical assistant to my father.
5. In January, 1918 I responded to the notice of enlistment and submitted my application to the Army by a colonel at Army Headquarters and sworn to by General D.
6. I was shortly thereafter notified that I had been accented for service and I was ordered to report to the New England Telephone Company at Lowell, Massachusetts for training as a telephone operator. I was sworn into service here by an official of New England Telephone acting on authority of the Secretary of War.
7. Soon I was ordered to report to American Telephone & Telegraph headquarters in New York City and quartered at Hoboken to await sailing. While in New York, we were fitted for uniforms which were dark blue in color.
We wore regulation Army Signal Corps bronze devices on our collars and overseas caps, as well as the regulation "U.S." on our collars. These were the same as were worn by male Army Signal Corps officers.
Our broad-brimmed so-called "campaign hat", later discarded, had an orange and white Signal Corps hat cord and our overseas cap. A picture of me in my uniform is attached to this Affidavit. I was sworn into the Army again while at AT&T. I was assigned in Lowell to the Second Unit.
8. In March 1918, I arrived in France. I received orders, a copy of which is attached to this Affidavit, to proceed to the port of embarkation, the first step on the journey to France. I was also issued war risk insurance (later rescinded), the same as any male soldier. A copy of my insurance certificate is also attached to this affidavit.
9. Upon arrival in France, I was sent, with a detachment of operators, to St. Nazaire, then to Brest ; I became hospitalized after 4*4 months there.
10. After I recovered, I was ordered to Tours where I served as an operator and interpreter. I was hospitalized again while in Tours from a bad cold contracted while standing 2 hours in formation in a cold rain waiting for inspection and review by General Pershing.
11. At all times I can recall we were considered as soldiers in the United States Army. And we were always reminded of that fact by our officers. For instance, I was granted a seven-day leave after 13 months, but we were required to wear our service uniforms while on leave.
12. I was returned to the United States as a causal in August 1919. Soon after I arrived home it was discovered I had tuberculosis and pernicious anemia and I spent the next years in a veteran's hospital and sanitorium.
13. I never signed any contract with the Army. I did not enlist as a contract civilian and I certainly did not consider that to be my status. No other operator whom I knew ever did either. We always assumed that we were female soldiers and were always treated as such.
One girl was court-martialed for going AWOL.
M. Olive Shaw.
Subscribed and sworn to before me this 1st day of May, 1977.
George W. _____________.
Notary Public in and for the State of Massachusetts, residing at Littleton.
Exhibits attached hereto :
Exhibit A : Orders to point of embarcation.
Exhibit B: War risk insurance certificate.
Exhibit C: Photograph of M. Olive Shaw in Signal Corps uniform. [Not Shown]
[Exhibit A]
War Department,
Office of the Chief Signal Officer,
Washington, March 21, 1918.
From : Office of the Chief Signal Officer.
To: M. Olive Shaw, c/o American Tel. & Tel. Co., 195 Broadway, New York City.
Subject : Orders.
1. In accordance with the authority of the Secretary of War, dated April 7, 1917, you will proceed from New York City to Hoboken, New Jersey, reporting upon arrival to the Commanding General, Port of Embarkation, for temporary duty, awaiting transportation to France. Upon arrival in France, you will report to the Commanding General, Expeditionary Forces, for duty as Telephone Operator. While on temporary duty at Port of Embarkation awaiting transportation you will be given a per diem allowance of $4.00.
2. Transportation will be furnished by the Quartermaster Department.
3. The travel directed is necessary in the military service.
By authority if the Chief Signal Officer.
E. J. Wesson,
Captain, Signal Corps, TJ.S.R.
Exhibit B: War risk insurance certificate.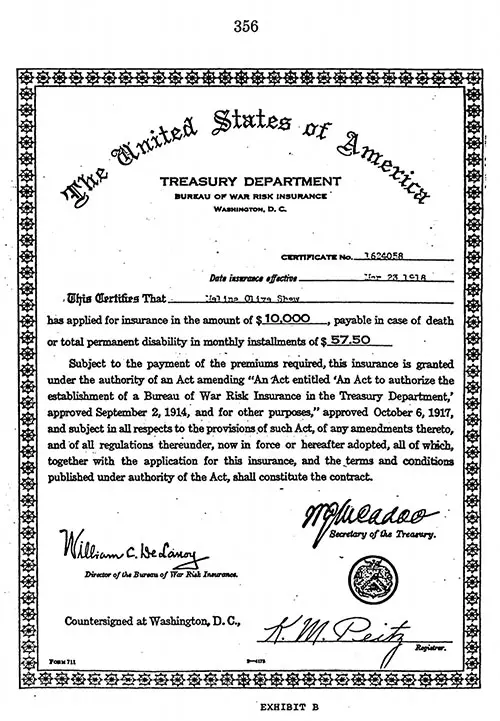 Exhibit B, War Risk Insurance Certificate for Maline Olive Shaw, 23 March 1918. Recognition for Purposes of VA Benefits, 1977. GGA Image ID # 19aaf2f979
"Appendix B: Affidavit of M. Olive Shaw," in Recognition for Purposes of VA Benefits, Hearing before the Committee on Veterans' Affairs, Unted States Senate, Ninety-Fifth Congress, First Session on S. 247, S. 1414, S. 129, and Related Bills. Washington, DC: US Government Printing Office, 25 May 1977. pp. 354-355