First Washington Girl Arrives in French Territory - 1918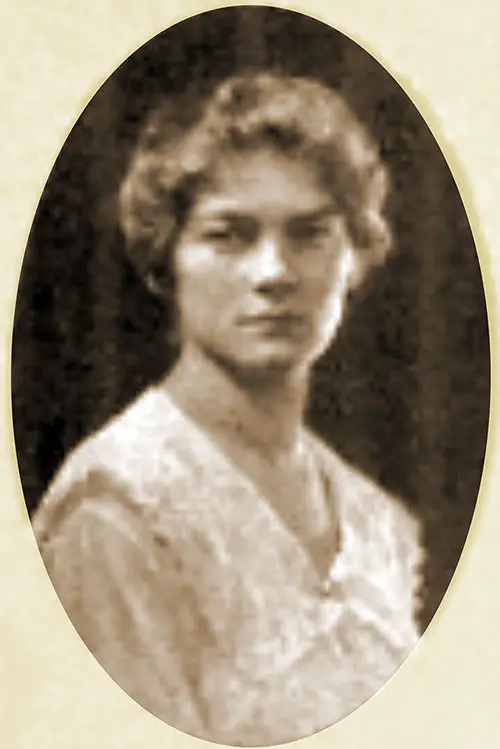 Adele Louis Hoppock, University of Washington Coed at the Time She Enlisted into the US Army Signal Corps as a Telephone Operator. GGA Image ID # 19ac43734f
Several brief articles from 1918, courtesy of the University of Washington Daily and The Seattle Times capture the adventures of Miss Adele L. Hoppock, Miss Eleanor Hoppock, and fellow student Miss Helen Hill in France.
First Washington Girl Arrives in French Territory
Adele Hoppock Safe on Other Side, Says Communication to Student -- First Telephone Unit Is Shipped Across -- Picture of First Girl to Leave Is Published in New York Bulletin
May 14, 1918.—Miss Adele L. Hoppock, who left the University three months ago for San Francisco, where she has been receiving training for telephone operator, has arrived in France.
While the 28 girls who comprise this third unit of the Signal Corps of the United States Army are awaiting orders, they are being billeted by the YWCA
From the "War Work Bulletin," which is published in New York and which shows a picture of this unit in which Miss Hoppock serves the following is taken :
"Beds were fitted up in every conceivable space to make room for them, Even the drying-room on the twelfth floor was turned into an emergency dormitory, which the girls have christened the barracks."
The Uniforms
They wear navy blue uniforms with Norfolk style coats, blue "trench caps" for everyday and sailor shapes of blue felt for "dress". Around their hat brim is the official orange and white hat cord of the Signal Corps.
The brassard on the left sleeve of the coat is of white whipcord of doeskin, bearing small devices indicating the status of chief operator, supervisor and operator.
On one comer of their coat collar they have the two metal letters, "U.S." of the Army and on the other comer are crossed flags that form the insignia of the Signal Corps.
Girls Are Efficient
"It would be impossible to brigade an American troop without these girls," Captain Wessen, who has recruited the unit, said. '"They are going to astound the people over there by the efficiency of their work. In Paris it takes from 40 to 60 seconds to complete one telephone call.
"Our girls are equipped to handle 300 calls an hour. The American system of telephony has always been better than the European one, and the importance of their work cannot be over-emphasized. The morale of the unit is the finest; they did not come into it without facing the possibility of danger. There is no question that these girls are there."
Seattle Army Phone Girls Prove Heroines
With the American Army northwest of Verdun, Thursday, Oct. 81.—American telephone girls, on duty here, have won the admiration of the whole American Army. They remained at their posts in burning wooden barracks in the Moselle region until ordered to quit.
They were Miss Grace D. Banker of Passaic, N.J., chief operator, and the first telephone girl to join the American Expeditionary Force, and the Misses Marie Flood of Chicago, Louise J. Barrow of San Antonio, Tex. ; Adele Hop- pock of Seattle, Wash. ; Helen Hill, also of Seattle ; Marie Cooper, Marian Lange, Miss Hunt and Julia Russell of the YMCA, attached to the telephone girls' dormitory.
Misses Cooper, Lange and Hunt live in San Francisco. Miss Russell lives in Detroit, Mich.
Miss Hoppock and Miss Hill Former U. of W. Students
Miss Adele Hoppock and Miss Helen Hill were students at the University of Washington last year. Miss Hoppock is the daughter of Mr. and Mrs. Arthur W. Hoppock, 102 Harvard Ave. N., and took her examinations for graduation in February after completing the liberal arts course in three years.
She was one of the most prominent girls in college, taking an active part in the Women's League, Tolo Club, the senior honorary sorority, and in both the Spanish and French Club.
A recent letter from Miss Hoppock to her parents says that the barracks mentioned in the above dispatch are but thirteen miles from the front. Miss Hoppock has been in several bombardments.
Miss Hill is the niece of Judge Everett Smith and Mrs. Smith and came to Seattle from New Haven, Conn. She was a junior at the university last year and the leader of the "sports for sports' sake" movement for girls.
Leaves University To Serve In France
Eleanor R. Hoppock, teaching fellow in French at the University of Washington with sophomore standing in the college of education, has been accepted as telephone operator with the signal corps in France, and is now waiting orders to proceed to San Francisco.
Three years of travel in Europe, including a year at the University of Paris, give Miss Hoppock experience of unusual value in this line of work.
She is the second daughter of Mr. and Mrs. A. W. Hoppock, 102 Harvard avenue north, to enlist as telephone operator ; her sister, Adele Hoppock, went to the training school at San Francisco several weeks ago.
Miss Hoppock makes the tenth girl from this university to be accepted in this branch of service. She can speak fluently in French, Italian, Spanish and German. Before coming to Seattle
Eleanor Hoppock Follows Sister
College Girl Enters Phone Service and Will Soon Leave for Work in France
March 22, 1918.—Eleanor Hoppock, sister of Adele Hoppock, is also to become a telephone operator in the United States service. She has just sworn an oath of allegiance to the government.
Miss Hoppock expects to be instructed to leave on or before next Tuesday for San Francisco, where she will train for several weeks before leaving for France. Her sister, now in California, has been preparing herself to serve as an operator since she left the university last month.
French Teacher
During the past two quarters Miss Hoppock has been a teaching fellow in the French department. She resigns the presidency of the French Club. She is a junior in the College of Education.
Miss Hoppock holds a teacher's certificate from the University of Parts. She has traveled considerably in Europe, and was in Italy when the war began. She speaks French, Italian and German. It is because of her knowledge of French, she says, that she was chosen to serve as a telephone operator in the United States service.
There are now nine University of Washington girls at San Francisco who are training for telephone service. They are given a course of instruction which covers a period of from two to four weeks, according to the number of units leaving for work in France.
Thirty Years Ago, March 24, 1918
Miss Eleanor R. Hoppock, teaching fellow at University of Washington, appointed army telephone operator for service in France.
Bibliography
First Washington Girl Arrives in French Territory, University of Washington Daily, 14 May 1918
Seattle Army Phone Girls Prove Heroines, Seattle Times, 31 October 1918
Eleanor Hoppock Follows Sister, University of Washington Daily, 22 March 1918
"[Exhibit Q]: Affidavit of Gertrude Hoppock: Termination of Services - [Several Articles cited above]," in Recognition for Purposes of VA Benefits, Hearing before the Committee on Veterans' Affairs, Unted States Senate, Ninety-Fifth Congress, First Session on S. 247, S. 1414, S. 129, and Related Bills. Washington, DC: US Government Printing Office, 25 May 1977. p. 372-373.