Three More Michigan Girls For "Over There" - 1918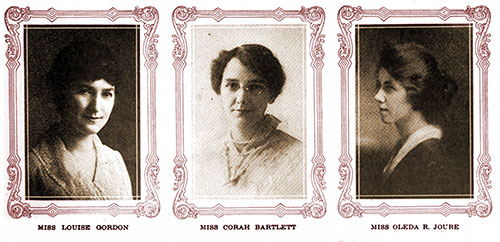 Miss Louise Gordon, Miss Corah Bartlett, and Miss Oleda R. Joure. Bell Telphone News, October 1918. GGA Image ID # 19a68aeaa5
Three more young women of the Michigan State Telephone Company have entered the Woman's Telephone Unit for service in France.
Miss Louise Gordon of Detroit has been in the employ of the company for fifteen years.
She was for a number of years manager at Litchfield, and for two years chief operator at Hillsdale. When she volunteered to go overseas she was an instructor in the Detroit toll training department. After reaching New York Miss Gordon was made an operator in charge.
Miss Corah Bartlett has had 'nine and a half years of service with the company, and has been chief operator at both Hillsdale and Jackson.
When she enlisted in the unit, she was district traffic supervisor of the Eastern district, State division, but had been on a leave of absence for some time on account of the illness and death of her mother.
Miss Oleda R. Joure has been with the company nearly four years and was chief operator at Marine City. When she left there, a delegation of Marine City business men presented her with a purse of fifty dollars.
"Three More Michigan Girls For 'Over There,'" in Bell Telphone News, Detroit: Bell Telephone Company, Vol. 8, No. 3, October 1918, p. 5.