Company of Switchboard Soldiers See Service in France - 1918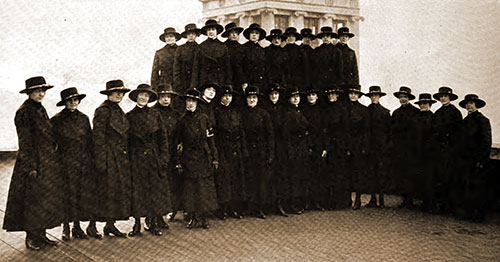 A Company of "Switchboard Soldiers" in Uniform Girls Who Will See Service in France as Auxiliaries of the Signal Corps. The Mountain States Monitor, April 1918. GGA Image ID # 1985abcd04
They may return with a decoration bestowed by the French Government, even the croix de guerre, but in the meantime Misses Kathleen Mitchell, Albertine Aarrents, Mary Marshall, and Emelia Lumpert, the four representatives of the Mountain States Company who will serve with the American Signal Corps in France, will wear the emblem of our Courtesy Club.
Membership was conferred upon the young ladies for their uniform courtesy in association with fellow employees during their months spent in the operators' training schools, Miss Mitchell and Miss Aarrents in Denver and Miss Marshall and Miss Lumpert in Salt Lake City.
They will be worthy representatives of the Company and the Club in the land of "la politesse." Miss Aarrents is a native of Belgium and formerly lived near Antwerp.
At the time of the German on rush into her country, she abandoned her home hastily and fled to Paris, later going to South America. She spent some months in Chile, whence she came direct to New York and on to Denver.
There is a quiver in her voice and moisture in her eyes when she speaks of a sister who lived in Brussels, and from whom she has not heard since leaving the country. Her great fear is that this sister has become one of the many victims of the [Germans].
Miss Aarrents is a musician as well as a linguist. It is her keen desire to be of all possible assistance in the cause of world freedom, which will mean the restoration of her country.
The four young ladies spent a few weeks in the East prior to sailing, and Camp Dix, near Trenton, New Jersey, has been a sort of "finishing school" in their training.
They are probably by this time on, duty in France. It is no pleasure trip which they are taking. The duties are important and exacting, and they will manipulate the plugs oftentimes to the accompaniment of booming guns.
But the telephone follows the flag and operators must needs follow the telephone. though it leads them over the sea and far away.
"The Courtesy Club Will Be Represented in France," in The Mountain States Monitor, Denver: The Mountain States Telephone and Telegraph Company, April 1918, p. 22.