Affidavit of Merle Egan Anderson - 1977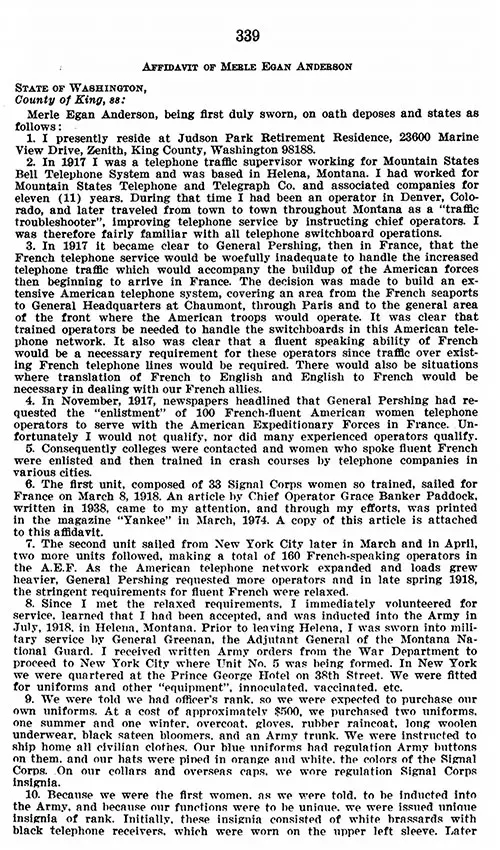 Page 1, Affidavit of Merle Egan Anderson in Recognition for Purposes of VA Benefits, 1977. GGA Image ID # 19aa824974
Affidavit of Merle Egan Anderson
State of Washington,
County of King, as:
Merle Egan Anderson, being first duly sworn, on oath deposes and states as follows:
1. I presently reside at Judson Park Retirement Residence, 23600 Marine View Drive, Zenith, King County, Washington 98188.
2. In 1917, I was a telephone traffic supervisor working for Mountain States Bell Telephone System and was based in Helena, Montana. I had worked for Mountain States Telephone and Telegraph Co. and associated companies for eleven (11) years. During that time, I had been an operator in Denver, Colorado. I later traveled from town to town throughout Montana as a "traffic troubleshooter," improving telephone service by instructing chief operators. I was, therefore, fairly familiar with all telephone switchboard operations.
3. In 1917, it became clear to General Pershing, then in France, that the French telephone service would be woefully inadequate to handle the increased telephone traffic which would accompany the buildup of the American forces then beginning to arrive in France.
The decision was made to build an extensive American telephone system, covering an area from the French seaports to General Headquarters at Chaumont, through Paris, and to the general area of the front where the American troops would operate.
It was clear that trained operators be needed to handle the switchboards in this American telephone network. It also was clear that a fluent speaking ability of French would be a necessary requirement for these operators since traffic over existing French telephone lines would be required.
There would also be situations where a translation of French to English and English to French would be necessary in dealing with our French allies.
4. In November 1917, newspapers headlined that General Pershing had requested the "enlistment" of 100 French-fluent American women telephone operators to serve with the American Expeditionary Forces in France. Unfortunately, I would not qualify, nor did many experienced operators qualify.
5. Consequently, colleges were contacted, and women who spoke fluent French were enlisted and then trained in crash courses by telephone companies in various cities.
6. The first unit, composed of 33 Signal Corps women so trained, sailed for France on March 8, 1918. An article by Chief Operator Grace Banker Paddock, written in 1938, came to my attention, and through my efforts, was printed in the magazine "Yankee" in March 1974. A copy of this article is attached to this affidavit.
7. The second unit sailed from New York City later in March, and in April, two more units followed, making a total of 160 French-speaking operators in the AEF. As the American telephone network expanded and loads grew heavier, General Pershing requested more operators, and in late spring 1918, the stringent requirements for fluent French were relaxed.
8. Since I met the relaxed requirements, I immediately volunteered for service, learned that I had been accepted, and was inducted into the Army in July 1918. in Helena, Montana. Prior to leaving Helena, I was sworn into military service by General Greenan, the Adjutant General of the Montana National Guard.
I received written Army orders from the War Department to proceed to New York City, where Unit No. 5 was being formed. In New York, we were quartered at the Prince George Hotel on 38th Street. We were fitted for uniforms and other "equipment," inoculated, vaccinated, etc.
9. We were told we had officer's rank, so we were expected to purchase our own uniforms. At a cost of approximately $500, we purchased two uniforms, one summer and one winter, overcoat, gloves, rubber raincoat, long woolen underwear, black sateen bloomers, and an Army trunk.
We were instructed to ship home all civilian clothes. Our blue uniforms had regulation Army buttons on them, and our hats were pined in orange and white, the colors of the Signal Corps. On our collars and overseas caps, we wore regulation Signal Corps insignia.
10. Because we were the first women, as we were told, to be inducted into the Army, and because our functions were to be unique, we were issued unique insignia of rank. Initially, these insignia consisted of white brassards with black telephone receivers, which were worn on the upper left sleeve.
Later the brassards were replaced by blue insignia patches. Operators had a gold telephone transmitter; supervisors had the transmitter with a laurel wreath beneath it; chief operators had the transmitter and laurel wreath surmounted by a streak of lightning.
I recall that some insignia had a bar beneath them, although I do not recall the significance of the bar. Upon the adoption of shoulder sleeve insignia by the American Expeditionary Forces, Signal Corps women were authorized to wear the insignia of the unit to which they were attached.
Although I was authorized to wear the insignia of the Services of Supply, I never did. Signal Corps women were also authorized to wear wound and service stripes.
11. Since we were aware that we were among the first women ever to be enlisted into the American Army, the fact that some of our orders read "Signal Service at Large" did not seem illogical.
We were aware that the Army Medical Corps had formed the Army Nurse Corps. Many of our official orders specified status, treatment, transportation, billeting, and the like, as "same as Army Nurses."
12. We were at all times under the command of male Army Signal Corps officers and constantly reminded by them that we were in the Army. We were expected to and did follow all applicable military regulations.
In addition, we were required to follow a special code of conduct pertaining to young women. Discipline was strict, and we were subject to court-martial for violation of Army regulations.
I recall, while in France, that one woman was tried for some minor infraction, dismissed from the service, and sent home. Lights-out in "quarters was at 10:00 p.m. except that we were allowed one pass per week, which entitled us to stay out until midnight.
Special YWCA chaperones were billeted with us as housemothers in the hotels or barracks supplied by the Army for our exclusive use.
Before sailing for France, gathered into a room at Bell Telephone Company headquarters in New York City, we were sworn into Army service by a Mr. Darling of the telephone company who informed us, "I have orders from the Army to swear you into the Army.
Hold up your hands." This was actually my second swearing-in, and the oath we took was identical to that by which male personnel were sworn into the Army.
13. On August 5, we marched from the Prince George Hotel to the Hudson River Dock and boarded the Aquitania, a troopship carrying 7000 enlisted men, 200 officers, and 30 Signal Corps women. We landed in Liverpool, England, seven days later.
14. We boarded trains in Liverpool bound for Southampton. When we arrived there, I was sent to a nearby American Army hospital for treatment of an infected toe caused by my ill-fitting Army shoes. While at that hospital, I was quartered with the Army nurses stationed there, sharing their rations and cots.
15. Upon my recovery, I proceeded with a group of Army nurses to my destination, Paris. Our headquarters there were at the Hotel Ferras. Soon I was ordered to duty with the Service of Supply at Tours. Barracks 66 were our headquarters, and, as in Paris, the Army "took over" a small hotel for the exclusive use of Signal Corps Telephone Operators. La Central was the name of that hotel.
16. Because I had extensive telephone company experience, I was soon assigned to equate peg counts as well as occasional operating tasks.
Since the type of switchboard used by the Field Signal Battalions in front-line telephone operations was the magneto type with which I was familiar, I was assigned to train soldiers in the operation of these sets.
Invariably they asked, "Where are our skirts? "When I explained that any soldier could carry a gun, while the safety of whole regiments might depend on their switchboard, I soon had willing pupils.
During one period in September 1918, I accomplished the seemingly impossible task of training 60 men in only three days. I continued in this assignment until the Armistice was signed on November 11. 1918.
Meanwhile, I was generally aware of the activities of the other Signal Corps women. Seven operating units had been formed by the end of the war (the seventh unit was preparing to sail from New York City when the war ended).
The total strength of the six units in France was 223 women. Women operators served at American Expeditionary Forces General Headquarters at Chaumont, Services of Supply Headquarters at Tours, at First Army Headquarters at Signy and Souilly, at Second Army Headquarters at Toul, and later at the Coblenz Bridgehead in the Army of Occupation. They also served at the French ports of LeHavre, Brest, St. Nazaire, and Marseilles.
17. The group of fifteen operators on duty at Signy and Souilly during the Meuse Argonne offensive were officially commended for their work, and their chief operator, Grace Banker Paddock, was awarded the Distinguished Service Medal for her services (see "Yankee" magazine). 4
18. Pictures exist which show the Signal Corps women at General Headquarters drawn up with other male military units for inspection by General Pershing. Many pictures exist which show the Signal Corps women in uniform, and these pictures clearly show the regulation Army insignia and buttons and shoulder sleeve insignia worn by these women.
Some of these uniforms and pictures and insignia are now located at the Army Signal Corps Museum at Fort Monmouth, New Jersey.
19. Two days after the Armistice was signed, Major Stannard, my commanding officer, informed me that I had been assigned as the Chief Operator for the American Legation to the Paris Peace Conference.
I proceeded to Paris, where I served President Wilson and all members of the American Peace Commission through a switchboard in the Hotel Crillon, where the American Legation was housed.
While on duty there, I was issued and wore the insignia authorized for American Peace Commission personnel. It was a light blue brassard embroidered with a gold scale of justice, surrounded by a gold laurel wreath.
My insignia is now on display at the Army Signal Corps Museum, as are other valuable souvenirs, including minutes of the Peace Commission Opening Sessions and the introduction of the League of Nations.
Hotel facilities for Signal Corps women assigned to the Crillon and LaBelle Epigene exchanges were Hotel Trianon and, as was Army custom, for our exclusive use.
20. With the signing of the peace treaty and the phasing out of the Crillon offices, I requested a return to the United States. My request was granted, and I sailed for home in late May 1919.
Upon arrival in New York, the transportation officer there prepared my travel orders for Denver, Colorado. Since I had entered the service at Helena, Montana, I asked that they be changed to Helena.
He snapped, "Young lady, you are still in the Army." I replied, "Yes, sir, but I have been in the Army long enough to know that I am entitled to be discharged from the point of my enlistment. "I was subsequently returned to Helena.
21. While in training and in France, I always considered myself as a member of the Army, as did every other Signal Corps woman I knew. We were very proud of our status.
Our officers treated us at all times as if we were in the Army and were also proud of us. We were aware that there were contract civilian clerks working for the Quartermaster and Ordnance Corps as well as the Signal Corps.
They did not wear uniforms and insignia, and we knew, and they knew that they were civilian employees only. At no time did we consider ourselves as having the same status as these civilian employees, nor did they treat us as if we had the same status.
22. I was married shortly after my arrival home and my husband, who was very proud of my service, wrote one day to the Army to obtain my victory medal.
We were astounded to receive the Army's reply that I was not entitled to the medal because, in the Army's view, I was a civilian employee.
This, I believe, was my first indication that my former military status was in question. This was an even greater shock since I had just a few weeks earlier received a citation from General Pershing for Meritorious Service.
23. I soon discovered that several states had granted the Signal Corps women from those states Veterans' bonuses. I also knew that the American Legion had voted to offer the Signal Corps women membership privileges at the initial founding caucus of the American Legion in Paris in 1919.
Later I found out that these privileges were reluctantly rescinded when the Army officially announced its position that the Signal Corps women had not been enlisted into the Army. (A copy of an article from the American Legion Magazine is attached to this affidavit.)
24. In 1928, we moved to Seattle, Washington. There I learned for the first time that women had been enlisted into the Navy and met several that had served at the Bremerton Navy Yard.
Although they had never served overseas and many of them had never even left their homes, they were accorded veteran's status and received veteran's benefits, including hospitalization.
My understanding from these Navy women was that they had been accorded veteran's status while we had not because Naval and Army regulations differed in that Naval regulations referred to "persons" while Army regulations referred to "men."
25. Thus began my activities through which I have sought to have the military status of the Signal Corps women officially recognized by the Army.
I joined the Women's Overseas Service League, a national organization of women who have served in various capacities with the American Armed Forces overseas.
This group of outstanding women, unable to obtain a charter from Congress, had incorporated under the laws of the State of Indiana. I became involved in their national movement to provide facilities for nurses in veterans' homes which facilities were eventually provided.
I also served on a committee that urged passage of several bills in Congress which would have granted veteran status to all women who had served with the American Army overseas.
The first bill was introduced to the 71st Congress, the third session, on March 2, 1931. It read: "Female citizens of the United States, who were taken from the United States by the US Government and served overseas as employees of the War Department during the World War, shall be held and considered to have been enlisted, enrolled or drafted into the active service of the military forces of the United States."
In 1949 when I became National Legislation Chairman for the Women's Overseas Service League, I contacted American Legion posts in all sections of the United States regarding our efforts.
These contacts resulted in very favorable results, such as the front-page editorial in the Stars and Stripes and the National Tribune. We also obtained the enthusiastic support of Pulitzer Prize winner Hoding Carter in his Greenville, Mississippi newspaper.
We had five bills introduced in Congress during this period, including one in the Senate by Senator Robert Taft, Sr. The hearing before the Armed Services Committee was arranged by our good friend Ancil Payne who was then Executive Assistant to Congressman Hugh Mitchell of Washington. Unfortunately, the outbreak of the Korean War canceled that hearing. My son was seriously wounded in that war, and I temporarily abandoned our legislative efforts.
26. In January 1961, through the efforts of Christy Newbert, my 1918 roommate in France, Congressman Mclntire of Maine, her home state, introduced HR 2916.
This bill covered the Signal Corps only in order to obviate previous Army objections to legislation that "such legislation would open the floodgates for all civilian employees."
Despite support from such members of Congress as Hubert Humphrey and Margaret Chase Smith, as well as the support of General Mark Clark, the bills introduced by Congressman Mclntire, Rogers and Garland were buried in committee. I lost interest—the odds were too great!
27. Then, in November 1968, I was reading a historical article on World War I written by Brigadier General Franklin M. Davis, Jr. and published in the American Legion Magazine. No mention was made in the article of the Signal Corps women.
I wrote to General Davis about his oversight, and he wrote back saying that he had "never heard of this fascinating group." Once again, I got busy, and bills were introduced in Congress by Congresswoman Edith Green of Oregon and by Congressmen Floyd Hicks and Brock Adams of Washington. Congresswoman Edith Green continued to introduce similar bills in each session of the legislature, despite Army opposition, until she retired in 1974.
28. The most recent attempt at legislation in HR 9601, introduced in the House of Representatives on September 17, 1975, by Congressmen Adams, Delems, Harris, Talcott, and Wilson, and Congresswomen Holt and Mink. This bill, to my knowledge, has not been reported out of committee.
29. Throughout the years, the Army has maintained its position that the Signal Corps women were merely contract employees and never members of the Army.
However, I signed no contract, and none of the other Signal Corps women whom I knew signed contracts. The Army itself has admitted in response to an inquiry by Brock Adams that they can find no records of any contracts ever having been signed.
30. There were only 223 Signal Corps women. There are but a small fraction of that number alive today. While veterans' benefits would have been of great value to the Signal Corps women at some time, because of the small number of women who are still alive, the cost of any such benefits to these women would be inconsequential. It would, however, be of considerable solace to have our military service finally officially recognized.
31. I am aware that the Russian Railway Service Corps veterans recently achieved their recognition as members of the United States Army. They received their honorable discharges in 1972, however, only after a court battle, including an appeal which the president of the veteran's association estimates to have cost $50,000 in costs and legal fees.
Their struggles with the Army are apparently not over. The Army lias recently denied them any veteran's benefits, asserting that requests for such benefits were not timely made.
32. Perhaps we should have instituted legal proceedings years ago when we were strong enough financially and in numbers to have done so. We did not.
Today such a suit would be economically impossible for us. It seems to be terribly offensive that we should be faced with the possibility of expending several thousands of dollars to vindicate rights that were so clearly ours 58 years ago.
33. I suppose that it is possible that the top military officials in the Army originally considered us to be civilian employees only. It is also conceivable to me that they never fully considered the question.
In any event, such an opinion as to our status never filtered down to the level we operated on, nor to that of bur commanding officers. They always expressed the understanding that we were members of the Army, and we certainly understood that among ourselves.
Merle Egan Anderson.
Subscribed and sworn to before me this 29th day of March, 1970.
Notary Public in and for the
State of Washington residing at ______.
"Appendix B: Affidavit of Merle Egan Anderson," in Recognition for Purposes of VA Benefits, Hearing before the Committee on Veterans' Affairs, Unted States Senate, Ninety-Fifth Congress, First Session on S. 247, S. 1414, S. 129, and Related Bills. Washington, DC: US Government Printing Office, 25 May 1977. pp. 339-343