Telephone Operators Insured - 1918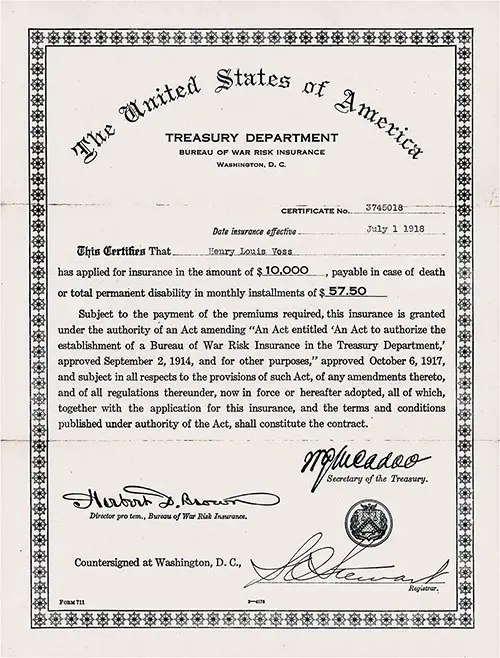 Example of a War Rick Insurance Certificate the the Hello Girls, Female Telephone Operators Attached to the Signal Corps of the United States Army Would Be Able to Obtain. GGA Image ID # 19a2af42fe
An amendment to the War Risk Insurance Act now before Congress, which provides for proper war insurance for telephone operators has received the hearty endorsement of the War Work Council of the National YWCA
A resolution embodying this endorsement has been sent to Senator F. M. Simmons, chairman of the Finance Committee of the Senate, and to Hon. Thetus W. Simms, chairman of the Interstate and Foreign Commerce Committee of the House of Representatives.
The rating of telephone operators who are with the American Expeditionary Forces in France, as "civilian employees with no military status," was responsible for their not coming under the provision of the War Risk Insurance Act, and for their not being entitled to any of its benefits. Although this situation exists, the women telephone operators are being sent within twenty-three miles of the firing line and are subject to all dangers that follow the line men, engineers and other types of Signal Corps workers.
A unit of twenty-eight telephone girls headed by Miss Nellie Snow of Lowell, Massachusetts, chief operator, remained for several days previous to their sailing, at the National Training School of the YWCA, which adjoins the National Board building, in New York City.
War Work Bulletin, New York: Young Womens Christian Associations, No. 32, 31 May 1918