223 Women of the Signal Corps Telephone Operators that Served Overseas
In particular, 223 American women came over from the States in six operating units. An army report says: "It is only fair to state that the good service rendered under nerve-racking conditions during the last strenuous months of the war when the big push was on was due in no small part to the reliability as operators and their untiring zeal and labor in the service." And some of these "hello girls" got right up into the midst of it, too. A unit under Miss Grace Banker, as chief operator, handled the heavy telephone traffic of the First Army Headquarters during two critical operations—and handled it well.
List of 223 Women and 2 Men, Organized by Unit:
Unit 1: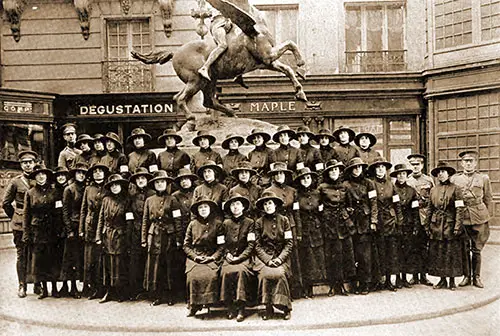 The First Unit of Telephone Operators Trained for Foreign Service by the Bell System. Photograph Taken in France, Where They Have Won the Praise of Secretary of War Baker for Their Efficiency. Photograph © Committee on Public Information. The Telephone Review, June 1918. GGA Image ID # 1982b87dda
Grace Derby Banker, Chief Operator
Passaic, New Jersey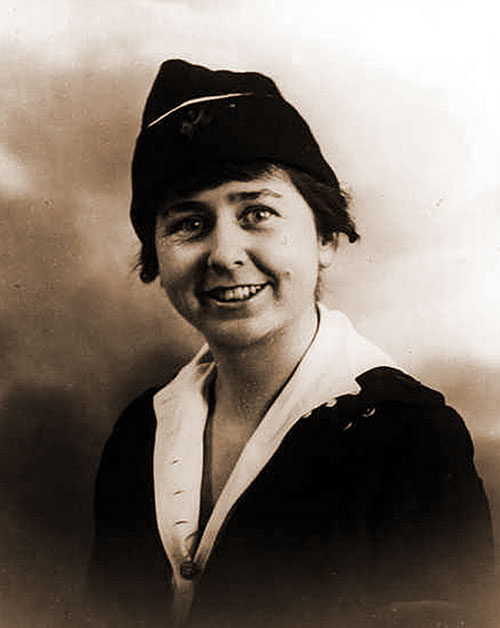 Grace D. Banker, Chief Telephone Operator, US Army Signal Corps, March 1918. GGA Image ID # 19976e83d3
Jean Lois Cunningham, Supervisor
Westmonth, Quebec, Canada
Elizabeth Gertrude Hunter, Supervisor
Medford, Massachusetts
Renee Messelin, Supervisor
San Francisco, California
Minnie Rowena Richards, Supervisor
Van Buren, Maine
Melina Julia Adam
Swansea, Massachusetts
Eulalie Ida Audet
Jamaica Plain, Massachusetts
Jeanne Bouchet
San Francisco, California
Almeria Capistran
North Yakima, Washington
Estella Ismery Caron
Brockton, Massachusetts
Anna Josephine Davis
New Orleans, Louisiana
Cordelia Elizabeth Dupuis
Rolla, North Daktoa
Sarah Angeline Cecelia Mary Fecteau
West Lebanon, New Hampshire
Marie Louise Ford
Worcester, Massachusetts
Esther Valentine Fresnel
New York City, New York
Marie Antoinette Gagnon
Grafton, North Dakota
Charlotte M. Gyss
Yonkers, New York
Winifred Hardy
Montreal, Quebec, Canada
Leontine Marine Lamoreux
Lowell, Massachusetts
Rose Julia Langelier
Lynn, Massachusetts
Marie Sophie Albertine Le Blanc
Montreal, Quebec, Canada
Louise Le Breton
San Francisco, California
Raymonde Le Breton
Berkeley, California
Minerva Gladys Nadeau
Boston, Massachusetts
Helen Agnes Naismith
Seattle, Washington
Frances Bigelow Paine
Bronxville, New York
Bertha Plamondon
San Francisco, California
Suzanne Prevot
New York City, New York
Georgette Yvonne Schaerr
Omaha, Nebraska
Agnes Mary Theriault
Presque Isle, Maine
Fernande Jacquelane Van Balkon
New York City, New York
Alice Veronica Ward
Montreal, Quebec, Canada
Clara Whitney
Butler, Pennsylvania
Unit 2:

Second Group of Telephone Operators Ready for France, to Serve with the American Expeditionary Forces. The Telephone Review, April 1918. GGA Image ID # 1927e19cd4
Inez Crittenden, Chief Operator
Isabelle Villiers, Supervisor
Albertine M. Aarents
Margaret Anderson
Julie S. Barrere
Marguerite S. Bleyeres
Emma Marie Brousseau
Bertha A. Carrel
Martha L. Carrel
Edith Dodson
Louise M. Essirard
Anne C. Fox
Lydia C. Gelinas
Darnaby Henton
Martina A. Heynen
Denise Ingram
Anallen Jackson
Ethel S. Keyser
Florence F. Keyser
Anna Laborde
Marie Joanie Lemaire
Martha M. Libert
Marie A. N. MacIntyre
Millicent Martin
Pauline McDermott
Kathleen Mitchell
Helen Ruth Orb
Drucilla Skone Palmer
Laurence Helen Pechin
F. Helene Perreten
Marie Ponsolle
Katherine H. Robinson
M. Olive Shaw
Marion A. Taylor
Evelyn Thomas
Marjorie Thomas
Hildegarde Van Brunt
Ethelyn White

Hildegarde Van Brunt, US Army Signal Corps Telephone Operator Serving in France, 1918. Van Brunt Family Photo. GGA Image ID # 19a7f7decd
Unit 3:

Third Unit of Telephone Operators to Go to France to Serve with General Pershing behind the Allied Lines and Help Carry on the Business of War. The Telephone Review, May 1918. GGA Image ID # 19225056a1
Nellie F. Snow, Chief Operator
Marie L. Beraud, Supervisor
Elizabeth Rockwell Roby, Supervisor
Marie Blanche Belanger
Suzanne M Beraud
Michele F. Blanc
Marie Louise Bousquet
Suzanne Coheleach
Lucile M de Jersey
Miriam de Jersey
Frances Des Jardine
Maria Flood
Yvonne M. Gauthier
Louisette H. Gavard
Blanche B. Grand-Maitre
Adele Louise Hoppock
Burtha Matignon Hunt
Margaret G. Hutchins
Janet R. Jones
Margaret P. Kervin
A. Maude McMullen
Marguerite H. Milner
Eugenie Racicot
Dorothy L. Sage
Bertha J. Verkler
Lillian R. Verkler
Berthe Wuilleumier
Unit 4: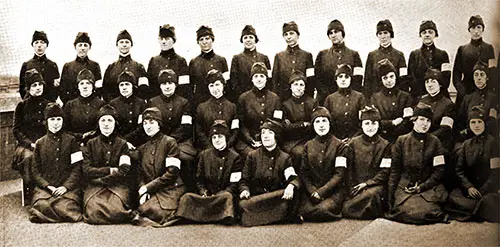 Left Section of the Fourth Unit of Telephone Operators for General Pershing's Army, Trained by the Bell System and Ready for Overseas Service. Photographed on Roof of 195 Broadway, New York, June 13, 1918. They are (left to right): Top Row — Miss Kathleen M. Hyatt, Miss Albertine M. Belhumeur, Miss Evelyn C. La Riviere, Miss Alma H. Hawkins, Miss Mary Marshall, Miss Eugene J. Couture, Miss Emma Riendeau, Miss Lillie H. Noble, Miss Louise Maclin, Miss Vivienne Hamel, Miss Louise L. Armand, Middle Row — Miss Edmee LeRoux, Miss Melanie Van Gastel, Miss Aurelie C. Lucier, Miss Stella M. Viau, Miss Berthe Arlaud, Miss Helen E. Hill, Miss E. Tilleard, Miss Juliette Courtail, Miss Eleanor Hoppock, Mrs. Eileen Munro, Miss Beatrice Francfort, Front Row —Miss Lucienne Bigou, Miss Camille Rieder, Miss Agnes G. Burge, Miss Ruth Couturier, Miss Louise Chaix, Miss Mathilde Ferrie, Miss Leonie Peyron, Miss Georgette Boehrer, Miss Mary Story. The Telephone Review, July 1918. GGA Image ID # 19283d8c2d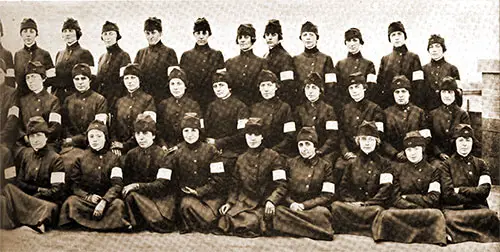 Right Section of the Fourth Unit of Telephone Operators for General Pershing's Army, Trained by the Bell System and Ready for Overseas Service. Photographed on Roof of 195 Broadway, New York, June 13, 1918. They are (left to right): Top Row -- Miss Marguerite Martin, Miss Madeline Batta, Miss Mary C. O'Rourke, Miss Eglantine Moussu, Miss Marjorie L. McKillop, Miss Doris Summers, Miss Charlotte Anderson, Miss Germaine Lamontagne, Mrs, Eleanor A. Brown, Miss Marthe Carroul, Miss Lalla Munoz, Miss Marie Lange. Middle Row -- Miss Geneva M. Marsh, Miss Beatrice P. Bourneuf, Miss Mary E. Vannier, Miss Jane Lang, Mrs. Pauline McDonnell, Miss Jeanne Legallet, Miss Ellen M. Turner, Miss Louise Beraud, Miss Irma Armanet, Miss Alice Raymond, Miss Ruth Clarke. Front Row -- Miss Jennie R. Young, Miss Ida B. Lanz, Miss Alice J. Borreson, Miss Marie A. Lassalle, Miss Louise Ruffe, Miss Emelia Lumpert, Miss Ida Trahan, Miss Frances W. Laney, Miss Marguerite Chenot, Miss Celestine Leguia. The Telephone Review, July 1918. GGA Image ID # 19285f95ad
Geneva Mildred Marsh, Chief Operator
Beatrice Pauline Bourneuf, Supervisor
Beatrice Josephine Francfort, Supervisor
Eleanor Rowena Hoppock, Supervisor
Eileen Elise Munro, Supervisor
Mary Jane Elizabeth Vannier, Supervisor
Charlotte E. Anderson
Berthe Lina Arlaud
Louise Ludavie Armand
Irma Rameline Armanet
Madeline Felicie Antoinette Catherine Batta
Albertine Anne Marie Belhumer
Cora Louise Jane Beraud
Lucienne Nadine Bigou
Georgette Julia Boehrer
Alice Julia Borresen
Eleanore Anastasia Brown
Agnes Grace Burke
Marthe Mary Carroul
Louise Rose Madeleine Chaix
Marguerite Helen Chenot
Evelyn Mary Tilleard Cooper
Juliette Louise Courtial
Eugenie Jeannette Couture
Ruth Emma Couturier
Vivienne Blanche Marianne Hamel
Alma Helen Lorentzia Hawkins
Helen Elizabeth Hill
Kathleen Mary Hyatt
Germaine Marie Anne Lamontagne
Jane Louise Lang
Marie Alexandrine Lange
Ida Blanche Lanz
Evelyn Claire Lariviere
Marie Alexine Lassalle
Marie Edmee Le Roux
Jeanna Catherine Victoire Legallet
Celestine Angele Leguia
Aurelie Cecile Lucier
Emelia Katharine Lumpert
Louise Eugenie Maclin
Mary Marshall
Marguerite Marie Cecile Martin
Pauline Jeanne Francoise McDonnell
Marjorie Leslie McKillop
Eglantine Rose Moussu
Lalla Rookh Munoz
Lillie Marie Elizabeth Poirier Noble
Mary Catharine O'Rourke
Leonie Camille Peyron
Alice Raymond
Camille Fanny Rieder
Emma Riendeau
Marie Louise Catharine Ruffe
Doris Edith Summers
Ida Trahan
Ellen Mildred Turner
Melanie Marie Van Gastel
Stella Mary Viau
Jennie Rose Young
Unit 5:

Fifth Unit of Telephone Operators for General Pershing's Army, from the Forces of the Bell System Photographed on Roof of 195 Broadway, New York, August 2. 1918. Left to Right. Front Row: Miss Mildred Lewis, Miss Zada F. Black, Miss Anita Chance, Miss Louise Barbour, Miss Anna Kinney, Miss Nell S. Wilkins, Miss Helen Cook, Miss Norma G. Finch, Miss Elizabeth M. Shovar, Miss Sarah Fairbrother, Miss Annie F. Sheerin, Miss Ruth Keeping, Miss Helen M. Hayes, Miss Christie V. Bickford. Back Row: Miss Elizabeth Macauley, Miss Agnes E. Blazina, Miss Ena Robb, Miss Louise M. Wilcox, Miss Faye R. Honey, Miss Martha M. Henshaw, Miss Merle Egan, Miss Laura Gridley, Miss Helen Carey, Miss Vera Sjostrom, Miss Jessie D. Brown, Miss Grace B. Knall, Miss Elizabeth O'Brien, Miss Mary E. Sealey, Miss Irene A. Gifford, Miss Marguerite Mahoney. The Telephone Review, September 1918. GGA Image ID # 1928fddc68
1st LT Eugene Du Bose Hill
Helen Cook, Supervisor
Louise Barbour
Christine Vivian Bickford
Zada Freelove Black
Agnes Elizabeth Blazine
Jessie Douglas Brown
Helen Hunt Carey
Anita Lenora Chance
Merle Egan
Sarah Fairbrother
Norma Gail Finch
Irene Alice Gifford
Laura Gridley
Helen May Hayes
Martha May Henshaw
Faye Ruth Honey
Ruth Keeping
Anna Adline Kinney
Grace Bernice Knall
Mildred Lewis
Elizabeth Macauley
Marguerite Mahoney
Florence O'Brien
Ena Robb
Mary Ellen Sealey
Annie Frances Sheerin
Elizabeth Marion Shovar
Vera Sjostrom
Louise Margaret Wilcox
Nell Susan Wilkins
Unit 6:

Sixth Unit Shares in Telephone Work in France Telephone Operators Doing Overseas Service in France "Plug In" for Victory. The Telephone Review, October 1918. GGA Image ID # 1980c4cb71
2nd LT William Frank Packard Jr.
Marion Campbell Swan, Supervisor
Cora Helen Bartlett
Helen Bixby
Ruth Boucher
Marion Beryl Broderick
Elizabeth Ann Browne
Anna Marie Campbell
Jane Elizbeth Conroy
Rosemary de Montauzan
Lora Ellen Disbrowe
Bernadette Genevieve Doucette
Lydia Eugenia Erickson
Mae Alice Ganley
Minnie Hermine Goldman
Louise Gordon
Selma Greenland
Celina Anna Grimeke
Delta Eva Hagan
Hazel May Hammond
Agnes Theresa Honley
Elizabeth Horsman
Maude Edna Johnson
Oleda Ruth Joure
Frances Willard Laney
Mabel Cora Lapp
Hortense Levy
Daughter of the Vice-President of the Franklin Institute, Philadelphia
Mary Isabelle Macdonald
Abbie Elizabeth Mitchell
Margaret Genevieve Olker
Anne May Ostrander
Estella Syvilla Russell
Mary Anne Steele
Mary Caroline Story
Daughter of Vice-Admiral W. A. Story of the British Navy
Anna Maria Swanson
Elsie Lizzie Wolloff
Compilation edited by the GG Archives.