Long Distance Operators Off for France - 1918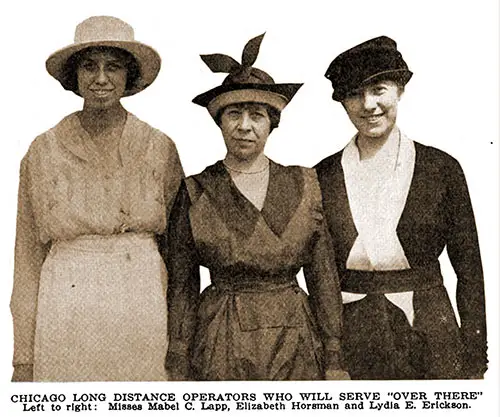 Chicago Long Distance Operators Who Will Serve in France. Left to Right: Miss Mabel C. Lapp, Miss Elizabeth Horsman, and Miss Lydia E. Erickson. Bell Telephone News, September 1918. GGA Image ID # 19b1c48b41
In response to a call for experienced long-distance operators urgently needed for service with the American Expeditionary Forces in France, Misses Elizabeth Horsman, Lydia E. Erickson and Mabel C. Lapp, of the Chicago Telephone Company, left Chicago for New York on August 31st, to receive final instructions, secure their uniforms, etc., before going overseas.
Highly recommended in every way by the Chicago Telephone Company for their ability and loyalty, there is no doubt that these young women will prove of great value in the important work of supplying telephone service for our army in France. They are members of one of the first ''L. D." units to go. Because of their "L. D." and other qualifications, the requirement that they be able to speak French was waived.
Miss Horsman, whose home is at 1265 Leland avenue, Chicago, has been employed in the toll operating department, Chicago, since May 1903, and has been a supervisor since March 1913.
Miss Erickson lives at 846 North La Vergne avenue, Chicago. She was employed in the toll operating department, Chicago, in 1906, and was a toll instructor at the time of her enlistment. She has been recommended as "operator in charge" of her unit, comprising experienced toll operators from all over the United States.
Miss Lapp's home is at 825 Lincoln street, Evanston, Ill., and she is the first operator from the Evanston office of the Chicago Telephone Company to go "Over There." She served as supervisor and instructor for thirty-five untrained applicants who were recently given intensive training in toll work at Evanston for service overseas.
"Long Distance Operators Off for France," in Bell Telephone News, Detroit Edition, Vol. 8, No. 2, September 1918, p. 22.