First American Telephone Girls in France - 1918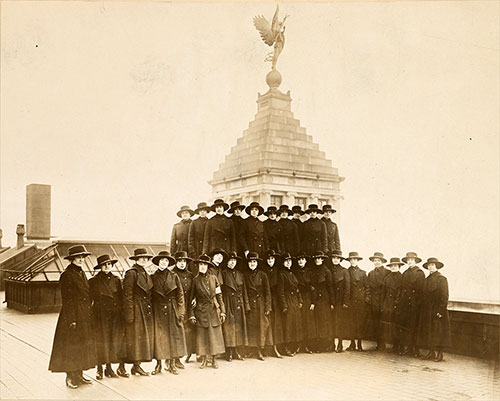 First Unit of Telephone Operators for Service in France. These 29 Young Women Have Command of the French and English Languages and Have Been Recruited from All Parts of the Country. They Constitute the First Group of 33 Telephone Operators to Be Sent to France. They Were Attached to the Signal Corps and Occupied a Unique Position in the American Military Organization. Photograph © Underwood & Underwood. 2 March 1918. The Young Women in This Group Include Chief Operator Grace D. Banker, of Passaic, NJ; Supervisor Jean Cunnungham, of Westmont, Quebec, PQ; Supervisor Elizabeth G. Hunter of Medford, MA; Supervisor Renee Messalin, of San Francisco CA.; Supervisor Minnie R. Richards, of Van Buren, ME; and Operators Melina J. Adams, Swansea, MA., Eulalie I. Audet, Jamaica Palin, MA., Jeanne Bochet, San Francisco, CA; Almeria Capistran, North Yakima, WA; Estelle I. Oaron, Brockton, MA; Josephine Davis, New Orleans, LA; Cordelia Dupuis, Rolan, ND; Sarah Fecteau, West Lebanon, NH; Marie L. Ford, Worcester MA; Esther V. Fresnel, NYC; Marie A. Gagnon, Crafton, ND; Charlotte Gyss, Yonkers, NY; Winifred Hardy, Montreal, PQ; Leontine G. Lamoureux, Lowell, MA; Rose Langlier, Lynn MA; Marie A. Le Blanc, Montreal, PQ; Louise Le Breton, San Francisco, CA; Raymonde Le Breton, Berkeley, CA; Minerva G. Nadeaum Boston, MA; Helen A. Naismith, Seattle, WA; Francis B. Faine, Bronxville, NY; Bertha Plamonden, San Francisco, CA; Suzanne Prevot, NYC; Georgette Schaer, Omaha, NE; Agnes M. Theriault, Presque Isle, ME; F. J. Van Balkon, NYC; Alice Ward, Montreal, PQ; and Mrs. Clara Whitney, Butler, PA. National Archives and Records Administration, 165-WW-597B-6. NARA ID # 45567934. GGA Image ID # 199e22562f
When the first group of American women telephone operators arrived in Paris in March, they found awaiting them comfortable living quarters which had been made ready by the YWCA
Miss Mary George White, writing from Paris of this work, says: "The YWCA accepted the responsibility gladly offered it by the Army.
Before the girls arrived, the Signal Corps officer in charge of the first group came with a request for help. The YWCA, recognizing that these arrivals might be the forerunner of an American organization similar to the British W. A. A. C., gladly undertook the task.
"It was easy for the telephone operators assigned to Paris to live at the Hotel Petrograd, our Hostess House there. Those assigned to the interior could be looked out for by secretaries in certain other places.
Workers were fortunately already at the first town chosen south of Paris. However, for the fairly large group who were assigned to General Headquarters, some provision had to be made.
As I was the only secretary with a permit enabling me to travel freely in the Army zone, I was assigned to that task.
"The town where the General Headquarters is situated is, of course, very much crowded, but we were fortunate enough to obtain a house which had been rented and fitted out as a clubhouse by a group of officers just before they were transferred to another post.
For the most part, the house had been furnished very modestly, considering the wealth and rank of the reserve officers who had planned to use it, and we could take over the furniture almost without exception.
The men had added such things as extra bathrooms and a central heating plant to mitigate the horrors of army life in France. We were delighted to fall heir to these luxuries.
Sufficient equipment was added to make it possible for three or four persons instead of one to occupy each of the large rooms. Behold! We had a house ready to accommodate thirty people.
"Miss Julia Russel was assigned as 'hostess' to the house, rather than 'matron/ the term at first suggested by the army men, but quickly abandoned when we suggested the other.
Miss Russel was installed in the house, with an excellent French woman in charge of the housekeeping. On my last visit, the telephone girls were already feeling themselves part of a very real and happy family.
As I write this report, I am just preparing to go up to G. H. Q. to attend their first reception to the officers of the post."
War Work Bulletin, New York: Young Womens Christian Associations, No. 31, 17 May 1918.