Phone Girls Living High - 1918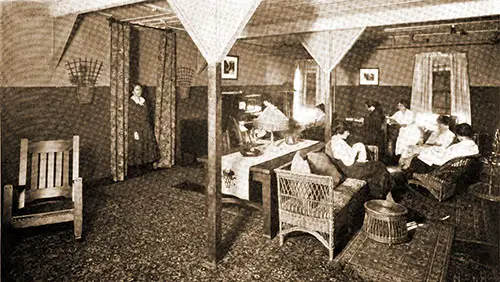 "Won't You Step into My Parlor?" "Off Duty" Girls, Caught by the Camera, Enjoying a Social Hour in the Living Room of Their Home in Camp. The Telephone Review, March 1918. GGA Image ID # 1920c85db5
Unit in France Has Every Luxury.
"Keeping house in France for American 'Hello' girls may be the least romantic work that any American women are doing here, but It Is certainly full of variety and most interesting experiences," writes Sarah Watson, a "Big Sister" to the Signal Corps unit with the Y. W, C. A- In France, according to Miss Watson's letter, which recently was received in this country. Uncle Sara's telephone girls are having the times of their lives. Steaks and chops for their dainty stomachs are not a rarity, as one might expect in this country.
Their living quarters are not in some "ordinary" hotel, but more often in some beautiful chateau on one of France's picturesque rivers.  
Miss Watson says the YWCA Is responsible for the method in which the American telephone girl Is taken care of.
The following description of one of the YWCA homes for the Signal Corps women carries much of the charm of the older French towns.
"Picture to yourself, if you can, one of the oldest, most picturesque towns in France, set on a high hill surrounded by beautiful country, and with far-reaching views, a town of old gray walls, quaint old buildings and very narrow, very twisting streets.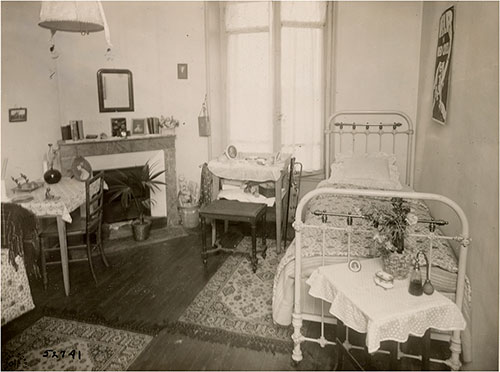 Bedroom in Women's Telephone Operators' Home, Signal Corps, Chaumont, Haute Marne, France. Photograph by Sgt. Abbott, Signal Corps, 19 February 1919. National Archives and Records Administration, 111-SC-52741. NARA ID # 86710687. GGA Image ID # 199af835a8
Imagine yourself walking down one of the narrowest streets until it turns at right angles, and at these, situated on the angle, you will find an old gray stone house, where you will most cordially be welcomed by nine Signal Corps girls who are doing the telephone operating in this busy little town, now an important military center.
This quaint old-fashioned house, elaborately furnished inside, has been their home since the end of May, 1918. It was already furnished with queer, facinating French furniture and the YWCA added the necessary essentials such as bedding, linen, dishes, etc.
"Phone Girls Living High" in the Boston Sunday Post, 24 November 1918, p. 2.