SS Westphalia Passenger Lists 1926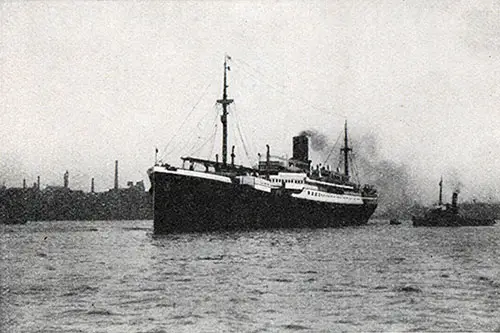 The SS Westphalia (1923) Departing from Hamburg, 1926. GGA Image ID # 1d3fc8311e
Westphalia (1923) Hamburg-American line
Built by Howaldswerke, Kiel, Germany. Tonnage: 11,343. Dimensions: 473' x 60'. Single-screw, 13 knots. Two steam turbines. Two masts and one funnel. Passengers: 150 cabin and 680 third. Service: Hamburg-New York. South America Service: Shifted to the South American route in 1930 and renamed General Artigas. Transferred to Hamburg-South American Line ownership in 1936. Fate: Destroyed by British aircraft during attack on Hamburg in 1943. Sister ship: Thuringia.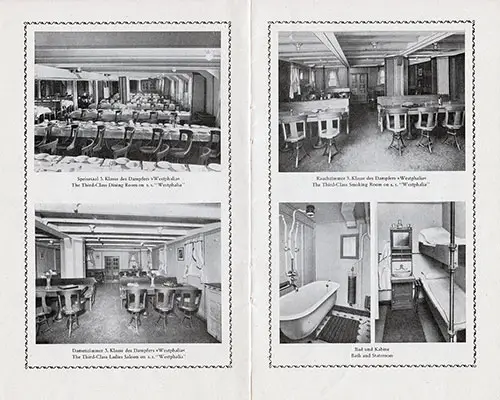 Views of the Third Class on the SS Westphalia. Top Left: Third-Class Dining Room. Bottom Left: Third-Class Ladies Saloon. Top Right: Third Class Smoking Room. Bottom Right: Third-Class Bath and Stateroom. GGA Image ID # 1d402bbf01
All Digitized Passenger Lists For the SS Westphalia Available at the GG Archives. Listing Includes Date Voyage Began, Steamship Line, Vessel, Passenger Class and Route.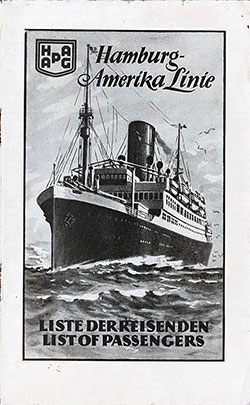 1926-08-18 SS Westphalia Passenger List
Steamship Line: Hamburg Amerika Linie / Hamburg American Line (HAPAG)
Class of Passengers: Third Class
Date of Departure: 18 August 1926
Route: Hamburg to Boston and New York via Cobh (Queenstown)
Commander: Captain Niss
Passenger Lists contained in the GG Archives collection represent the souvenir list provided to the passengers of each cabin class (and other classes). Many of these souvenir passenger lists have disappeared over the years. Our collection contains a sampling of what was originally produced and printed by the steamship lines.