RMS Tuscania Passenger Lists 1929-1930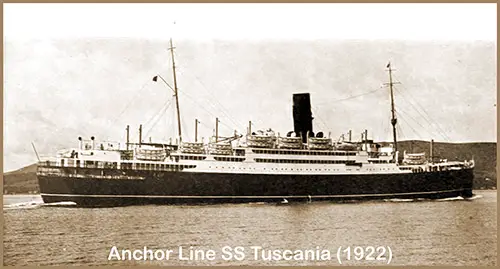 SS Tuscania (1922) of the Anchor Steamship Line. Mail Liners of the World, 1937. GGA Image ID # 1d32939c1e
Tuscania (1922) Anchor Line
Built by Fairfield Shipbuilding & Engineering Co., Glasgow, Scotland. Tonnage: 16,991. Dimensions: 552'x 70' (575' o.l.). Twin-screw, 15 1/2 knots. Four steam turbines. Two masts and one funnel. Launched, October 4, 1921. Passengers: 267 first, 377 second, 1,800 third. Maiden voyage: Glasgow-New York, September 16, 1922. Renamed: (a) Nea Hellas (1939), (b) Tuscania (1941) British troopship, (c) Nea Hellas (1947), (d) New York (1955). Sister ship: California.
The previous Tuscania of the line was torpedoed with a loss of 44 lives when carrying troops off the north coast of Ireland.
The second ship of the post war fleet.
Very similar to the Cameronia. She has proved a very popular ship on the Atlantic and on cruising work. For some time she ran alongside the Cunard liner Lancastria on the London, Halifax and New York service of the Cunard Line, during which time she was painted in the standard Cunard colors.
She occasionally makes trips on the Line's Liverpool—Bombay service.
1921. October 4th. Launched.
1922. September 16th. Sailed on maiden voyage from Glasgow to New York under command of Captain David W. Bone. Present commander, Captain W. B. Rome.
All Digitized Passenger Lists For the RMS Tuscania Available at the GG Archives. Listing Includes Date Voyage Began, Steamship Line, Vessel, Passenger Class and Route.
Passenger Lists contained in the GG Archives collection represent the souvenir list provided to the passengers of each cabin class (and other classes). Many of these souvenir passenger lists have disappeared over the years. Our collection contains a sampling of what was originally produced and printed by the steamship lines.