SS Silesia Passenger Lists 1883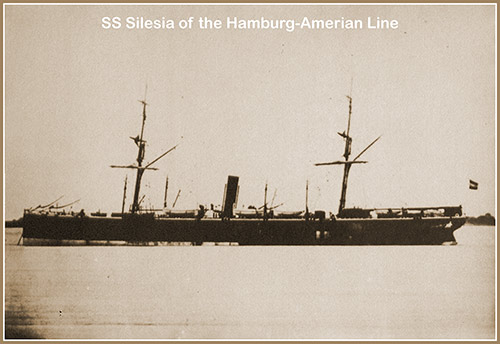 The Steamship SS Silesia of the Hamburg-American Line, 1869-1887. GGA Image ID # 1d1d03ae9c
Silesia (1869) Hamburg-American Line.
Built by Caird & Co., Ltd., Greenock, Scotland. Tonnage: 3,156.
Dimensions: 341' x 40'. Single-screw, 13 knots. Inverted type engines. Re-engined with compounds. Two masts and one funnel. Iron hull.
Launched, April 14, 1869. Maiden voyage: Hamburg-Havre-New York, June 22, 1869.
Renamed: (a) Pacifica (1887) British, (b) Citta di Napoli (1888) Italian, (c) Montevideo (1891) Italian.
Sister ships: Holsatia and Westphalia.
All Digitized Passenger Lists For the SS Silesia Available at the GG Archives. Listing Includes Date Voyage Began, Steamship Line, Vessel, Passenger Class and Route.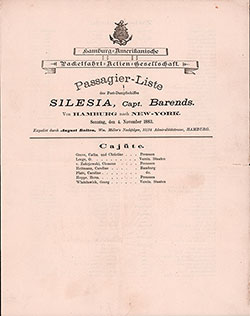 Passenger Lists contained in the GG Archives collection represent the souvenir list provided to the passengers of each cabin class (and other classes). Many of these souvenir passenger lists have disappeared over the years. Our collection contains a sampling of what was originally produced and printed by the steamship lines.
From a published return we learn that in 1874 the company's ships Silesia, Frisia, Westphalia, Thuringia, Pommerania, Holsatia, Hammonia and Cimbria, all running to New York, made an average time of 11 days 12 hours from Southampton, the Silesia making the shortest in 9 days 21 hours 56 minutes.
Eastwards the average was only 10 days and 31 minutes, the Frisia making the shortest in 9 days 7 hours and 6 minutes.
Southampton is about 300 knots farther from New York than Queenstown. In April, 1875, the Eagle Line, running in opposition to New York, succumbed, and its five ships were absorbed by the Hamburg- American Company.