Naval History - October 1997 - Shooting the "Titanic"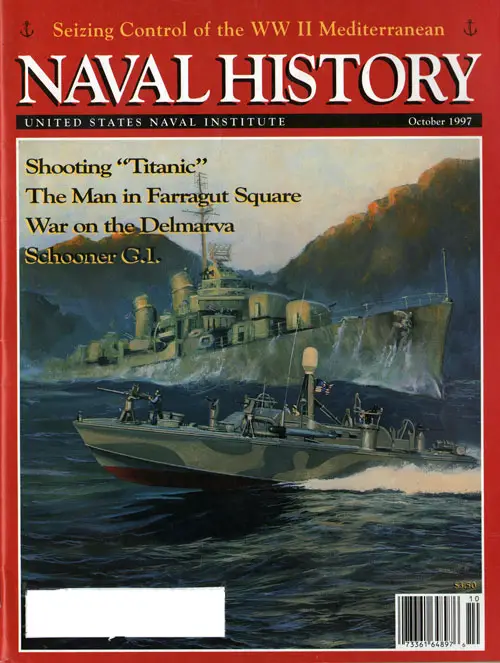 October: Shooting of the movie "Titanic"; "While MacArthur Slept".
4iNAVALBISTORY$
UNITED STATES NAVAL INSTITUTE September / October 1997 Volume 11 • Number 5
16
34
45
Cover
*** ** •
In "The Way to Victory," Seattle artist Patrick J. Haskett shows a Squadron 29 patrol boat skimming past a destroyer in the Med during World War II. See the story on page 45.
16 Titanic with Tacos and Hot Salsa By Kit Bonner
A naval historian who served as a technical advisor for megathriller director James Cameron's Titanic takes a light-hearted look at the challenges of shooting a movie—set in the North Atlantic—in Mexico.
23 While MacArthur Slept
By Vice Admiral W. D. Houser, U.S. Navy (Retired)
When naval forces were heavily engaged in the Battle of Surigao Strait, the General was safely out of harm's way in the light cruiser Nashville.
26 Salvage Man
By Commander John D. Alden, U.S. Navy (Retired)
Edward Ellsberg and the Navy command bureaucracy did not suffer each other well, but when a ship needed raising, he was the man to do the job.
29 When the British Just Couldn't Win
By Commander A. Powell Harrison, U.S. Coast Guard Reserve (Retired)
During the War of 1812, hardy Delmarva tobacco farmers and oystermen "bruised the shanks" of Royal squadrons for two years.
34 Schooner G.I.
Text and artwork by Helm Pohlmann
He had wanted to be a sailor since he had been a Sea Scout as a boy. But the Army drafted him into World War II. Then an opportunity arose to be
a seaman—of sorts—in the radio schooner and relay station Geoanna.
38 USS Sequoia
By Eric Tegler
The life of one presidential yacht has endured peaks and valleys—so far.
42 What's That Statue in Farragut Square?
By Captain Kent Siegel, U.S. Navy (Retired)
Appalled by a newspaper poll, the Naval Order of the United States and
the National Park Service are resurrecting a war hero in Washington.
45 The U.S. Navy Comes Ashore in the Med
By Dean Allard
The former Director of the Naval Historical Center looks at the neglected role of the U.S. Navy in the Mediterranean during World War II.
Departments
4 Looking Back 53 Historic Fleets 59 Salty Talk
5 In Contact 54 Historic Aircraft 60 Reunions
51 Book Reviews 55 Naval History News 62 Museum Report
Naval History, ISSN 1042-1920, is published bi-monthly by the U.S. Naval Institute, 2062 Generals Highway, Annapolis, Maryland 21401. The U. S. Naval Institute is a private, self-supporting, nonprofit professional society, which publishes Proceedings magazine as a forum for the sea services, and professional books. The Naval Institute is not part of the U.S. Government. The opinions and assertions herein are the authors'. Periodicals postage paid at Annapolis, Maryland, and at additional mailing offices. Annual Naval History subscription rates: Naval Institute member, $18.00; nonmember, $20.00. International subscribers add $6.00. Copyright 1997, U.S. Naval Institute. Copyright is not claimed for editorial material in the public domain. Postmaster: Send address changes to Naval History, U.S. Naval Institute, Circulation Department, 2062 Generals Highway, Annapolis, Maryland 21401.