Naval History - August 1997 - Corsairs from Heaven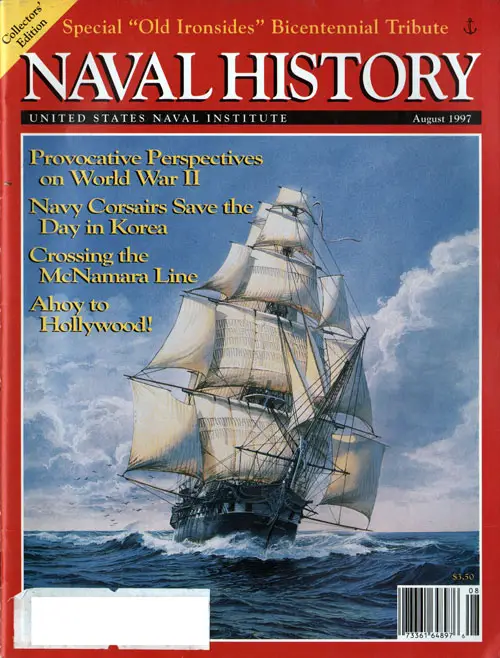 August: 200th Anniversary of USS Constitution; "From Tarawa to Hooterville" - Eddie Albert.
kliNAVALHISTORYt
UNITED STATES NAVAL INSTITUTE
July / August 1997 Volume 11 • Number 4
16
25
Cover 16 Corsairs from Heaven
By Captain Diane Diekman, U.S. Navy
When Army Corporal Berry Rhoden was being beaten indiscriminately by his North Korean captors, a roar of airplane engines interrupted the proceedings. All Rhoden could see was blue and "U.S. NAVY."
20 Whose Victory?
By H. P. Willmott
Arrogance in U.S. historiography about who won World War II, especially during the 50th anniversary, has tended to cloud the real story.
25 A Special USS Constitution Bicentennial Section The Legacy of "Old Ironsides"
By Vice Admiral Joseph Metcalf III, U.S. Navy (Retired)
This year marks the 200th anniversary of the oldest U.S. Navy warship in commission. In the wake of the recent restoration of the USS Constitution, an old friend of historic naval ships explains the allure of this one.
A Loved and Respected Machine
By Commander Tyrone Martin, U.S. Navy (Retired)
The 58th captain of the USS Constitution—"Old Ironsides"—tells the story of the design genius of Andrew Humphreys, the birth of the U.S. Navy, intrigue on the high seas, and the naval officers—Preble, Hull, Stewart, Bainbridge, Mayo, among many others—who made her famous.
57 From Tarawa to Hooterville
By Captain James E. Wise, Jr . , U.S. Navy (Retired), and Anne Collier Rehill
In an excerpt from the new Naval Institute Press book, Stars in Blue, Eddie Albert—later known best for his role in the TV series "Green Acres"—performs heroic rescues of Marines from the bloody atoll in World War II.
60 Stringing the McNamara Line
By Richard S. Greeley
One of those responsible for developing electronic surveillance equipment for use on the Ho Chi Minh Trail during the Vietnam War begs to differ with the former Secretary of Defense—who said the scheme worked.
Departments
2 Looking Back
5 In Contact
67 Naval History News
70 Salty Talk
71 Book Reviews 75 Historic Fleets
76 Historic Aircraft
77 Reunions
79 Museum Report
In honor of the 200th anniversary of the
USS Constitution this year, renowned maritime artist Tom Freeman produced "Never Has She Failed Us" for the occasion.
Naval History, ISSN 1042-1920, is published bi-monthly by the U.S. Naval Institute, 2062 Generals Highway, Annapolis, Maryland 21401. The U. S. Naval Institute is a private, self-supporting, nonprofit professional society, which publishes Proceedings magazine as a forum for the sea services, and professional books. The Naval Institute is not part of the U.S. Government. The opinions and assertions herein are the authors'. Periodicals postage paid at Annapolis, Maryland, and at additional mailing offices. Annual Naval History subscription rates: Naval Institute member, $18.00; nonmember, $20.00. International subscribers add $6.00. Copyright 1997, U.S. Naval Institute. Copyright is not claimed for editorial material in the public domain. Postmaster: Send address changes to Naval History, U.S. Naval Institute, Circulation Department, 2062 Generals Highway, Annapolis, Maryland 21401.