Naval History - Fall 1990 - Explanation at Nurnberg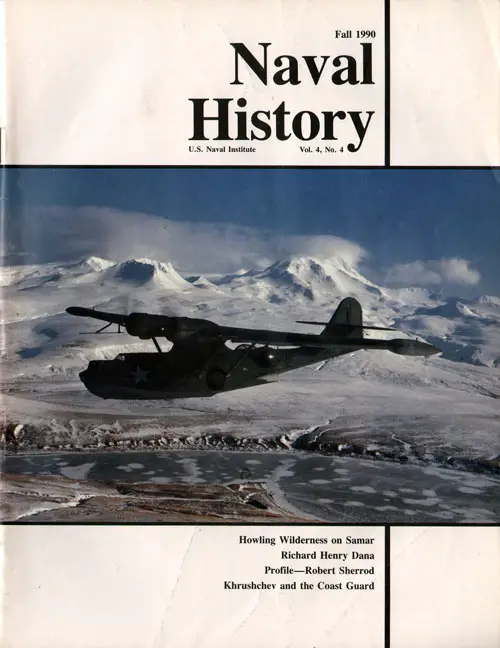 Cover: A PBY-5A Catalina flies over the snow-covered Aleutians around 1942 in this beautiful color photo from the National Archives (80-G-K-15434). To read of the fate of one noteworthy Catalina in the Aleutians, see Robert J. Cressman's "Desperate Battle at Unalga Pass," pages 31-33.
Issue: Naval History: U.S. Naval Institute, Vol. 4, No. 4, Fall 1990
The Fall 1990 issue of Naval History feature articles include: British Raid on Mount Vernon, Explanation at Nürnberg, Two Years Before the Mast: A Reflection, The Carrier That Lit Up Tacoma, The Battleship and Mr. Shearer, and More.
Features
6 The British Raid on Mount Vernon
By Fritz Hirschfeld
Offering provisions to the British in April 1781 was one display of southern hospitality that General George Washington detested.
10 The 'Howling Wilderness'
By Brian M. Linn
For U.S. forces on the island of Samar in 1900, the barbarity of the enemy was only one of many problems.
16 An Explanation at Nürnberg
By Captain John P. Bracken, USNR (Ret.)
When Admiral Karl Dönitz sought to explain his actions, it was through a fellow naval officer.
18 Two Years Before the Mast: A Reflection
By Irving M. Sternberg
After 150 years, Richard Henry Dana's account of shipboard life is "an incomparable classic of the sea."
Dana's Book Stirred the Public, Not Lawmakers
23 The Carrier That Lit Up Tacoma
By Steven A. Payne
The "Lady Lex" was an unlikely power source for drought- ridden Tacoma in 1929.
26 The Battleship and Mr. Shearer
By Lawrence A. Moretz
In the early 1920s, a determined private citizen fought to save the battleship Washington (BB-47) from destruction.
31 Desperate Battle at Unalga Pass
By Robert J. Cress man
When Ensign Albert E. Mitchell's PBY encountered Zero fighters over the Aleutians in early June 1942, the results were tragic, but a boon for the U.S. Navy.
34 Satô Tetsutarô and Japanese Strategy
By Mark R. Peattie and David C. Evans
Japan's naval strategy in the early 20th century was contradictory, but it had great impact.
49 The Coast Guard and Mr. Khrushchev
By Captain B. P. Clark, USCG (Ret.)
The Gresham (WAVP-387), the Coast Guard's "Best Ship," put on her best face to host the Soviet Chief of State in 1959.
Departments
Oral History: Destroyer Man 40
Technical Report: GE: More Than Light Bulbs 44
Oral History: Mines at Haiphong: Delayed Execution 47
The Old Navy: When Russian Guns Were Welcome 52
In Profile: Robert Sherrod 55
Book Reviews 59
Bibliographic Review 63
In Progress 65
In Contact 2, 70
Museum Report: The San Diego Maritime Museum 75
The Old Navy: Great Balls of Fire 77
Notebook 79
Publisher's Page
Behind all the personnel, ships, and weapons that comprise a navy is the strategy that defines its objectives. One of the benefits of history is that it affords us the lens of hindsight.
Through that lens we are able to look back beyond specific battles or campaigns to discern the strategy that shaped them and the naval forces of a given era.
Examining World War II has been a popular pastime for many years, reinforced once again now as we move through the period 50 years afterward.
Two of the authors in this issue have provided us with a splendid article on the strategic aims that provided the genesis of the Japanese fleet that fought World War II.
David Evans and Mark Peattie have done a first-rate piece of scholarship in examining the sometimes arcane writings of Satö Tetsutarö and then analyzing those writings and their impact on naval forces.
In the early years of the century, Japan sought to move beyond its status as a regional power to achieve much broader influence. Ultimately, the achievement of that goal through military means died with the Japanese surrender in 1945.
Two generations later, Japan has achieved its objective of broad influence by economic means—certainly, grist for the mill of historians decades in the future.
One way in which the United States sought to thwart Japan's strategic aims in the 1920s was through an international disarmament treaty.
An American citizen named William Shearer, however, was not so sanguine about the usefulness of such negotiations and took upon himself a quixotic fight to save the new battleship Washington from destruction, as described in this issue by Howard Moretz.
Two items in this issue deal with Russian visits to America, one by a Russian fleet during the Civil War and another in 1959 by Soviet Premier Nikita Khrushchev.
The former visit helped both nations. The latter demonstrated a human side of Khrushchev, although that was scant comfort to the United States at a time when the Cold War was in progress and due to become even chillier a few years later during the Cuban Missile Crisis.
Closely allied with the strategy mentioned above is the business of planning. Many plans never come to fruition, because circumstances aren't right.
In one of the oral history memoirs in the issue, the late Rear Admiral Muddy Waters describes the planning to mine Haiphong, North Vietnam, in 1964. Circumstances weren't right then, but they were eight years later, and then the mines were used.
Given the impact the mines had when they finally were used, it is interesting to ponder what might have happened if they had been used eight years earlier.
Finally, I would be remiss if I didn't call special attention to this issue's profile. Quiet, unassuming Robert Sherrod has been one of the nation's preeminent journalists for many years.
His combat dispatches alone warrant special accolades, but he has done much more. Roger Pineau's description provides the measure of this remarkable man.
Publisher's Information
The Ur S. Naval Institute is a private, self-supporting, nonprofit professional society, which publishes Proceedings magazine as a forum for the sea services, and professional books.
The Institute is not part of the U. S. Government. Naval History is published quarterly by the U. S. Naval Institute, 2062 Generals Highway. Annapolis. MD 21401. The opinions and assertions herein are the personal ones of the authors.
Second class postage paid at Annapolis, MD, and at additional mailing offices. Annual subscription rates: USNI member, $12.00; USN1 non-member, $24.00. International subscribers add $4.00. Copyright C 1990 U. S. Naval Institute. Copyright is not claimed for editorial material in the public domain.
POSTMASTER: Send address changes to Naval History, USNI, Circulation Department, 2062 Generals Highway, Annapolis, MD 21401. (ISSN 1042-1920)