Naval History - June 1997 - 1937 Search for Amelia Earhart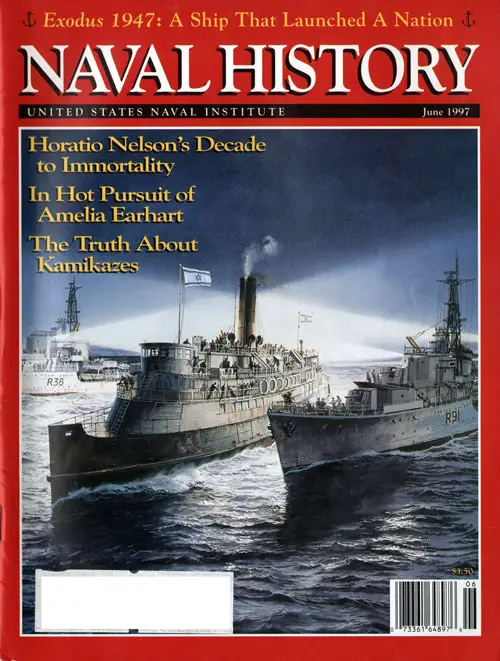 June: Horatio Nelson; "Remembering Emma"; "Liberty Lost Pursuing a Legend" - the 1937 search for Amelia Earhart.
S NAVAL INSTITUTE May / June 1997 Volume 11 • Number 3
16 The Ship that Launched a Nation
By David C. Holly
She had served dutifully from the Chesapeake Bay to Normandy, but the ultimate test for the President Warfield came 50 years ago when she became the Exodus 1947, transporting Holocaust Jews to the Promised Land.
21 Coming to Terms With the Old Foe
By Rear Admiral George R. Worthington, U.S. Navy (Retired)
Having revisited Vietnam 30 years after he served as a Navy frogman there, the author has decided that normalization is the right policy.
25 The Truth About Kamikazes
By D. M. Giangreco
They were dreaded by every ship within striking distance of the Imperial Japanese Navy, but their success was largely psychological. According to an editor for Military Review, however, they were poised for a U.S. invasion.
30 Nelson's Ten Years to Glory
By Rear Admiral Joseph F. Callo, U.S. Naval Reserve (Retired)
The last decade of his life made the legendary Admiral Lord Horatio Nelson "the focus of British identity and aspirations."
34 Remembering Emma—and Others
By Stephen Howarth
The 1805 Club restores, preserves, and maintains Nelson-related monuments—including one to his mistress in Calais.
36 Torpedoed in the Celtic Sea
By Admiral Worth Bagley, U.S. Navy (Retired)
In April 1917, the officers and crew of the destroyer Jacob Jones had the U-boat commander who had sunk the ship to thank for saving their lives.
42 Liberty Lost Pursuing a Legend
By Captain Ira Dye, U.S. Navy (Retired)
In summer 1937, NROTC students in the battleship Colorado helped with one of the most extensive search-and-rescue operations in naval history.
46 The Original Alphabet Soup
By Michael J. Crowder
You need a manual to decipher the evolutions and changes in the squadron designations of U.S. naval aviation. Here is a good place to start.
46
Cover
........ • •
"The Chosen," by Tom Freeman, depicts the ramming of Exodus 1947. It will be on display this summer for the 50th anniversary in Haifa, Israel, courtesy of Mr. and Mrs. Stephen Felenfriend. See article beginning on page 16.
Departments
2 Looking Back 51 Book Reviews 59 Historic Fleets
3 In Contact 54 Naval History News 60 Reunions
14 Navy Yarns 57 Salty Talk 62 Museum Report
Naval History, ISSN 1042.1920, is published bi-monthly by the U.S. Naval Institute, 2062 Generals Highway, Annapolis, Maryland 21401-6780. The U. S. Naval Institute is a private, self-supporting, nonprofit professional society, which publishes Proceedings magazine as a forum for the sea services, and professional books. The Naval Institute is not part of the U.S. Government. The opinions and assertions herein are the authors'. Periodicals postage paid at Annapolis, Maryland, and at additional mailing offices. Annual Naval History subscription rates: Naval Institute member, $18.00; nonmember, $20.00. International subscribers add $6.00. Copyright 1997, U.S. Naval Institute. Copyright is not claimed for editorial material in the public domain. Postmaster: Send address changes to Naval History, Circulation Department at address above.