Spring Season's Dresses and Gowns - February 1922
Dresses and Gowns Exploit Endless Fabric Contrasts and Surprising Details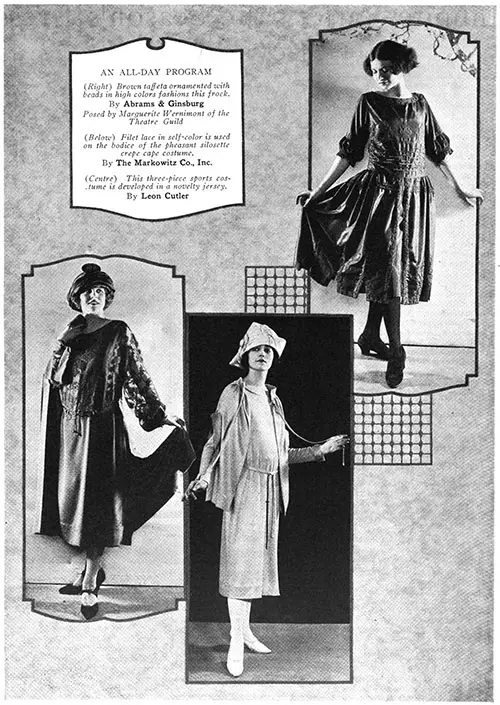 An All-Day Program: (Right) Brown taffeta ornamented with beads in high colors fashions this frock. By Abrams & Ginsburg, Posed by Marguerite Wernimont of the Theatre Guild. (Below) Filet lace in self-color is used on the bodice of the pheasant silhouette crepe cape costume. By The Markowitz Co., Inc. (Center) This three-piece sports costume is developed in a novelty jersey. By Leon Cutler.
It is easy to see that the "rough and the smooth" rule alike in the woolens, silks, and cotton adopted for Summer wear. Kasha and finest broadcloths, tweeds and smoothest eggshell flannels; "shaggy finish" sports silks and finest crepes; cotton of rough burlap surface allied with chiffonette tissues—and there you have the season's framework as a fashion intimation in a fabric contrast or compose year.
It goes further. It combines the coarsest of laces with the finest transparent textures in both silks and cotton, in both afternoon and evening dress, while for sportswear it applies motifs from fuzzy Angora on finest, silkiest serge, or repp cloth, and so on down a long line of attractions.
Strong promotion of novel points which greatly appeal to women and will be particularly relished after the long dalliance with the crepe seasons should be jotted in the buyer's notebook and result in numerous conferences with that great disseminator of secrets—the advertising head.
Street Dress
For day wear, the heavy wool-filled crepe of attractively rough surface continues to be combined with Piquette, the twills and the ever-increasing array of lightweight woolens, but along lines which differ considerably from the contrasted sleeve models of last year.
The newer note is the choice of supply faille rib silks for this combination or possibly a satin surface print, should the fabric be French in type.
Sleeve sections this year are, therefore, frequently at one with the skirt section of the frock, contrasts, if used, being introduced by way of a complete bodice section, a deep cuff, gauntlet or cavalier in character, and novel collar of pictorial suggestion.
Another contrast still is promoted by the French who utilize Roma or Xenia crepe; also georgette, for the upper section of the bodice but retain a cloth sleeve. The mere intimation of the semi-transparent blouse worn beneath the jumper dress deluxe.
On the other hand, where the sleeve is allowed to strike the ornate key it is presented as a feature which introduces a decorative bodice and collar section equally important.
This is strikingly upheld in a collection which has served to promote intermediate shades in this manner rather than high colors, also carrying the shades across the lower blouse, the lining of panels and as piping but as a rule the color handling is not much concerned with sleeves in themselves in the street dress division.
The utilization of discreet lame effects is noted on semi-sports and street dress merely as flashing high light edge of a surplice line, a one side panel closing line or similar suggestion, almost invariably accompanied by finely executed accents of color or narrow lame ribbon or braid will show its effective gleam couched clown by red, green or blue threads on both light and dark twills.
The long favored straight-line frock also gives way in this group before the lew blouse silhouette. This is achieved by wide panels bloused over a girdle or the full blouse bodice section of straight or surplice lines.
These effective variations offer interesting and generally becoming frocks, of noticeably increased length so that the break at the hips is by no means a disadvantage.
This tendency to blouse all types of frocks from twills to tulle does not exclude, wholly, the straight-line silhouette. It retains its cut but changes its appearance by wide or narrow patent leather belts, by new and cleverly ornate girdles and a variety of skillfully tricky underarm line treatments which hold to a straight-line but serve to promote greater fullness.
Breaking such a suggestion below the hip and there introduced a full side section is a method held over from last year, an excellent device for many types of figures.
The Pin Tuck Mode
It may as well be acknowledged that the tuck has again arrived at a place of eminence. From the cluster of eight fairy pin tucks stitched in silver threads, to the graduation mode of one inch at the waistline to six at the hem on the full gathered skirt; of tiny cluster tucks forming plaids, stripes, checks and allover effects, it reigns in the morning, afternoon, and evening dress.
The various collections have emphasized its importance in both a fashion and an economic sense, and in the lustrous crepes, it indeed proffers extraordinarily good style by simplest means, especially given the quite inspired idea of the metallic thread stitching.
The French collections introduce a few equally simple details to strengthen the smartness of line conveyed by the addition of rows of tiny pearl buttons sewed closely together in perpendicular effects and of tiny slides and buckles so used as simple and effective decorative detail.
The opening of the Vassar Shop for women in mid-January, on Madison Avenue, promoted and conducted by Vassar women in behalf of Vassar developments, offers interesting concepts of the taste of this type of consumer and among the gowns offered on an opening day lustrous noisette crepes presented pintucks down the center back in a panel formation four inches wide and—for the yoke and panel front.
Dropping to the ankles, the full round skirts were decoratively treated to floral rosettes in self-fabric form.
Jenkins, formerly the designer of afternoon and evening gowns for Hickson, shows a noisette crepe Xenia frock introducing the all-around tucked circular skirt, the graduated tuck featured below a low blouse bodice, also tucked, and introducing a high glaze black taffeta sleeve and collar.
Leslie-Mott offers a straight-line frock of black silk broadcloth, plaided in large blocks obtained by crossed lines of cluster tucks.
Mamie Conti submits an effective idea in brilliant coral crepe which stripes the frock in cluster tucks stitched in silver. Strangely enough, the sleeve which has recently so engaged the embroidery and the creator of exhilarating details now appears with a novel air with tucks as the sole claim to distinction.
Thus handled, the pintuck is used in clusters, graduated effects and the cord run tuck of many varying widths.
In organdies, voiles, nets, chiffons and georgettes, various methods of tucking obtain which not only are attractive in themselves but introduce ribbon run through the tucks, also chenille, silk and cotton cords.
When tucks come in, pleats also arrive at the top of the mode. This is interesting to observe just at the time the pleatless skirt is under promotion.
Pleats, therefore, may .be said to be relished in both the day wear and evening frocks, from narrowest to widest suggestion and frequently in the arrested movement, or caught at the lower line.
When every other method of introducing pleats has been utilized there remains the pleated tablier apron, which ties on and may also serve as a pleated cape.
The combination of printed silks and printed transparencies with both the fine wools, taffeta, crepe, faille and similar textures remains a vital issue in this division, both from the standpoint of smartness and the practical wearable features.
Embroidery recedes to very fine lines of wool, floss or bead expression. Fine soutache braid enters with the smallest bead as a new ally and not in contrasted effects only but as self-tone embellishment upon the sleeves, narrow panels or girdle and stomacher motifs.
Highlights
SILHOUETTE
Low blouse and draped suggestion in lightweight woolens as well as crepes and silks.
Sash—flat, wide, tight.
Belt—wide and flat.
Sleeves—long and tight, three-quarter and bell, peasant and cavalier cuffs, leg o' mutton intimations; rucked effects to fingertips.
Pull-in, tight-back, at hipline; pull-up, loosely fulled front line; the extremest mode.'
FABRICS
A wide array of rough and smooth combinations; strong rib interest everywhere noted; crepes flatter and frequently of wool filled tendency; strongly defined interest in draping satins as well as reversible lustrous crepe satins; supple lame cloths; all nets revived in long-standing favor including point d'esprit.
COLORS
Noisette appears to interest greatly; pheasant, all gold-tans, covert shades, amber, topaz, pumpkin, tiger lily, canna, marigold; flesh, pinks and reds down to jacqueminot; blues all the way from tapestry tones, royal to navy; aster tones, periwinkle, heliotrope down to iris and passion flower; sea foam, sage, mint and emerald; all white, all black, and much black and white.
DETAILS
All grades of tucking; all grades of pleating; applied striping and plaiding; beadcraft from finest size to large wooden and compress cotton bead effects; tinsel thread, wool, silk, cotton, shadow and blended embroideries; applied milliner's folds; angular and circular motifs equally favored; lame effects from hemstitching on organdie to inlays with floss and angora effects; great interest in square mesh heavily elaborated laces with wool, silk and linen motifs.
"Infinite Variety the Season's Dress Keynote: Dresses and Gowns Exploit Endless Fabric Contrasts and Surprising Details," in The American Cloak and Suit Review: Devoted to the Women's and Children's Ready-to-Wear Trades, New York: John M. O'Connor & Co., Vol. XXIII, No. 2, February 1922, p. 135-136.
Terminology: Chiffonette. The flimsiest and most "bodiless" of all the chiffon family. (The American Silk Journal)
Note: We have edited this text to correct grammatical errors and improve word choice to clarify the article for today's readers. Changes made are typically minor, and we often left passive text "as is." Those who need to quote the article directly should verify any changes by reviewing the original material.