Paris Dress Fashions and Gossip July 1903
by Mrs. John Van Vorst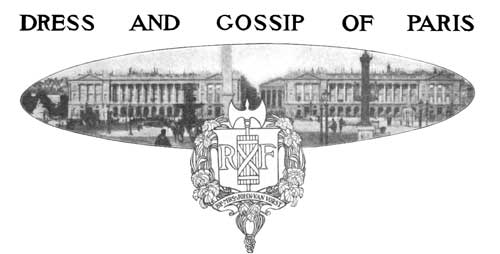 Of the various changes proposed in the very early season, there are always a few which remain as definite modifications and which mark the new tendencies known as fashionable.
This year skirts are decidedly short and round. Parisian women and foreigners who get their clothes in Paris have at last adopted the truly short skirt which Americans have worn for several years.
The French interpretation, however, differs from the sportswoman's dream. The trotteuse, or dress for "trotting about," is made with a skirt about two inches off the ground and with a separate silk lining.
The material is pleated close about the hips and left full at the hem. The accompanying jacket or bolero is worn over a blouse.
With the shortening of all skirts has come the displacement of fullness in sleeves. We are going toward the full godet skirt and leg-o'-mutton sleeve, and meanwhile we have reached a stage where the tight-fitting Cliff come to the elbow, and the full balloon continues from elbow to shoulder.
Close-fitting collars and guimpes outline the throat and shoulders, and the silhouette shows a general droop, from the flat hat with its downward falling feathers to the round skirt, which, despite its voluminous pleats, clings tenaciously about the hips.
Tussore or Indian silk-linen is the smartest stuff for thin Summer dresses of the sort that look well on all occasion. It exists only in the natural linen col our and does not take any lasting dyes. It also comes in embroidered patterns, but the most stylish is the plain weave in very coarse threads.
Another new and attractive material is surah·linen. It has the silky, pliable appearance of surah, but it is woven like a linen canvas. The designs are in stripes of black or white on a ground of color with a pattern over it, or in polka dots of half a dozen different sizes scattered irregularly over a solid ground.
Paillettes for evening gowns are somewhat out of date, and glass beads have taken their place. A black tulle dinner dress, for example, is made in innumerable pleats, on the edge of each of which is a line of iridescent beads.
The skirt, in addition, is trimmed with four bands of velvet ribbon. Tile corsage has a beaded bertha, which falls over the shoulders like a shawl and serves as sleeves.
Plaids are much worn, and all sorts of plaid patterns are combined with plain materials. The old-style plaid is not meant, but a large check of brown and white, green, and white, black, and red, etc. A smart cotton dress for everyday wear is in red and white plaid. The skirt is tucked over a yoke and untrimmed.
The bolero has a collar and cuffs of black linen. The same model is made in blue and white plaid with collar and cuffs of green linen. Passementeries in linen, and linen braids and embroidered galloons, are used in profusion on elaborate thin Summer dresses.
The designs are in squares, and geometrical or Arabic patterns, and instead of the great variety of colors used in the Winter passementeries are several shades of a single color on a ground of natural linen or of white.
An afternoon gown for garden parties or weddings is made of very thin nun's-veiling in pale mauve. The skirt, long this time, is pleated and trimmed with two wide rows of d'Alençon lace.
This lace forms a double guimpe on the waist and terminates under the arms in a point formed by the full width of the lace at both sides, meeting on the bias. There is a belt of mauve taffetas, and the sleeves, which are accordion pleated, are not lined.
Another dress, for similar occasions, is made of Liberty surah, a design of black and red on a ground of white. The skirt has a plain yoke around the hips, and to the edge of the yoke, the surah is gathered in great fullness, falling about three inches on the ground with a hem on the straight thread.
Over the yoke in front is a trimming of Irish lace, which also forms a large cape falling over the shoulders and thus trimming the entire bodice. The belt is of black Liberty satin.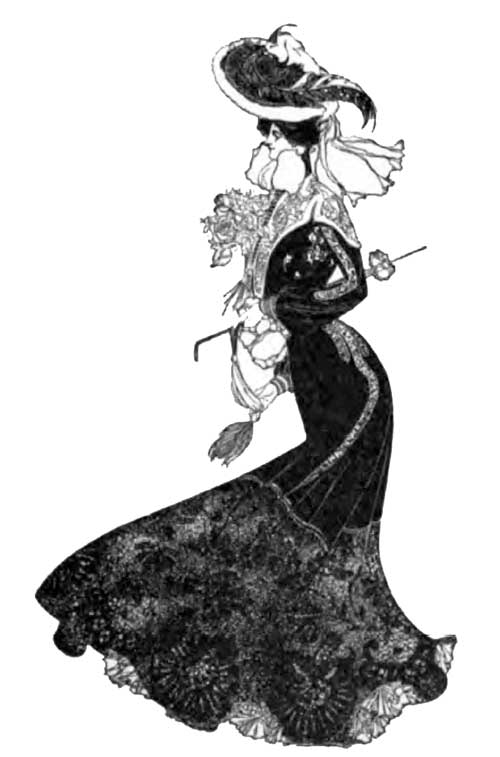 A new creation, which seems like an extravagance but in reality is most practical, is made as follows: To a guimpe of filet-guipure are attached very full sleeves of tucked black or white chiffon with deep cuffs of filet guipure, and to the front and back of the guimpe are attached seven or eight tucks of the chiffon, like the full, loose beginning of a blouse, which, instead of being held in by a belt, is left detached.
These unlined garments are to be worn over a simple blouse of silk, and their extreme convenience is that by adding them in the evening to a blouse one has worn all day, they transform an everyday gown into a theatre or dinner dress.
For the first time, this year women have been permitted to compete for the Grand Prix de Rome in sculpture and in painting. This prize entitles the artist who wins it to four years' free study and life in Rome.
Several young women have passed the preliminary competitions necessary and are at work upon the grand concours. It is safe to say in advance that the fortunate student this year will not be a woman. It is sufficient for the present that she should even be allowed to compete.
Van Vorst, Mrs. John, "Dress and Gossip of Paris" in The Delineator: An Illustrated Magazine of Literature and Fashion, Paris-London-New York-Toronto: The Butterick Publishing Co., Ltd., Vol. LXII, No. 1, July 1903, Page 51.
Note: We have edited this text to correct grammatical errors and improve word choice to clarify the article for today's readers. Changes made are typically minor, and we often left passive text "as is." Those who need to quote the article directly should verify any changes by reviewing the original material.

Vintage Fashion Trends
GG Archives
Vintage Fashion Trends Topics
Women's Vintage Fashion Topics
Other Vintage Fashion Topics
Improve Your Family History Through Illustrations