Embroidery in Spring Fashions - 1911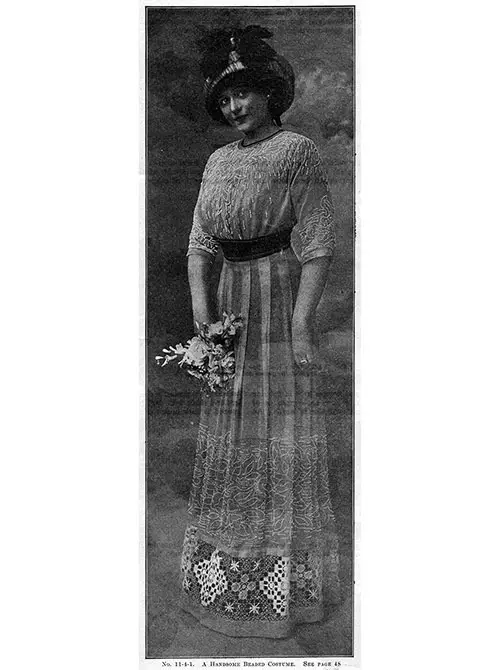 No. 11-4-1. A Handsome Beaded Costume
Two things are very evident this season: first, the vast amount of hand embroidery which is being used and secondly, the preponderance of color. While color has been used to some extent heretofore, it has never been made such a conspicuous feature of summer embroideries.
Directly after the holiday season the smart shops in the large cities, which cater to an exclusive trade, begin the showing of the advance summer models designed particularly for southern wear, but which may be accepted as an excellent indication of what will be in vogue during the summer months. These gowns are loaded with embroidery.
Possibly the prevailing fashion of the peasant blouse and the straight round skirt has much to do with this, as on both garments there is such splendid opportunity for bold effects in decorative needlework, and it seems as if every other ؛rock which one sees is made in this fashion.
The high-waisted effect is a conspicuous feature of nearly all the new models, and many of them are finished with a cord girdle, concealing the joining of waist and skirt, the ends hanging at the left front.
One sees much of bands of a contrasting color on these new models, and the familiar Delft blue is a favorite for these combinations. The blue by Itself is used for all sorts of purposes, — hats, gowns, and even separate top coats, the latter decidedly new and very smart.
Bands of narrower widths of plain material finish neck and sleeves, and sometimes the top of the waist is made of a band of color which extends down the length of the sleeve.
One such costume, recently seen, was made of white voile with bands of old blue linen cut along the edge which was applied to the voile in irregular, jagged points—icicle effect—button-holed in long-and-short stitch with white.
Directly above the border on the skirt and the waist front, were appliquéd four-petal blue linen flowers in lily shapes, buttonholed with white and with stamens tipped with satin-stitch dots worked in white on the surface of the petals.
On the skirt, the flowers were fully four inches in diameter, and there were two rows, the flowers alternating and arranged about eight inches apart. Those on the waist were somewhat smaller.
Such a gown as this could easily be copied at home, and the flower shapes are drawn from cretonne or even a wallpaper design. Curve the petals some-what after the fashion of an Easter lily, but let them be conventional in effect.
Much of the embroidery shown is very sketchy and consists of designs similar to those used for braiding, the outlines heavily styled and the spaces between filled with a bold feather or brier stitch, the arms of the stitch long and somewhat close together giving a plume effect.
Another white gown was made up of bands of old blue wholly covered with work of this character, the lines of styling done in white caught down with blue a bit darker than the material.
Red is also to be good this season, we are told, and there is evidence of it in many of the embroidered effects.
Simple gowns of the favorite white voile may have the waist front ornamented with raised satin-stitch embroidery, in white in a somewhat bold, conventional design, all parts outlined with red. A cord girdle in red or one of a draped ribbon is used to finish.
Simple peasant blouses of white voile to be worn as separate waists are finished around neck and sleeves with rather large oval dots in white outlined with red and have bands of bold straggly herringbone-stitch in red arranged on the waist front and sleeves in a somewhat set design.
These blouses are perfect for wear with tailored suits, and of course one can use any preferred color in combination with white.
However, is not all-white embroidery to be used this season? Surely. Linen blouses done in delicate French embroidery are always in good taste, and on the two-piece suit with the new short coat, there is plenty of opportunities for the smart needleworker to show her skill, for they are embroidered most elaborately, and I do not need to tell you are correspondingly costly when one buys them.
Many of the skirts are the straight gored effects; each gore heavily embroidered to well above the knee. The coat is generally arranged to fasten at the bust, and the fronts, back, and sleeves all are embroidered.
Sometimes this is done all in blind or solid embroidery, but more often open effects in Hedebo or simple ladder-stitch are introduced.
Irish crochet is lavishly used for dress decoration. One cannot have too much of it. Generally, this is done in a cotton thread, but one strikingly handsome white serge suit with the light new short coat is finished on the bottom of the body and sleeves with a band of Irish crochet in white silk mounted over, black, and has a collar to correspond.
Many of the conventional tailored waists of white linen are arranged to fasten just a bit to the left, leaving a space down the center front which is ornamented with embroidery, generally in color, and the stiff collar and cuff؟ are embroidered to correspond. The edge of the front is finished with buttonholed scallops.
There is a real craze for beads. All the fashion world seems to have gone mad over them, and they are used on all sorts of materials and in all kinds of ways. Advice from Paris, however, tell us that French knots are being used to a large extent as a substitute for beads, particularly on materials to be laundered.
The illustration on this page shows one of the beautiful new beaded costumes in the common high-waisted effect, peasant blouse and straight round shirt with its elaborate band decoration.
The band of filet guipure could be omitted if one liked and the beaded pattern lowered, or the bottom of the skirt could be made of rather deep tucks of the material, the upper one, just below the beaded border edged with ball-shaped pendants. Notice the narrow band of black at the neck and the girdle. On a delicate blue gown, this touch of black is particularly charming.
All this goes to show that the woman who is smart with her needle has much to be grateful for this season, as she will be able to create modish frocks for very little money, and they are built upon such simple lines that she should be able to make them up herself.
Hedebo embroidery covers several forms of white embroidery which originated in the Hedebo (heathland) region of Zealand, Denmark, in the 1760s.
Ferry, Christine, "Embroidery in Spring Fashions," in The Modern Priscilla, Vol. XXV, No. 2, Boston, The Priscilla Publishing Co., April 1911, p. 5.
Note: We have edited this text to correct grammatical errors and improve word choice to clarify the article for today's readers. Changes made are typically minor, and we often left passive text "as is." Those who need to quote the article directly should verify any changes by reviewing the original material.