London Fashions April 1888
By Mrs. Johnstone
English women of our time take a prominent part in most of the social questions of the hour. That they do not exercise a more beneficial influence in matters appertaining to dress, which so peculiarly come within their province, results from ignorance of what Thomas Carlyle was pleased to call the " dismal science," and of much besides.
The national welfare is promoted by prosperous internal trade, and every effort made to increase our productive power in textile fabrics brings money into the pockets of those who sorely need it.
At last Spitalfields looms are busy, successfully manufacturing the best copies of the Louis XV and XVI brocades — intricate in weaving, exquisite in color, with floral designs scattered over stripes and fancy woven grounds.
Manchester has many looms working from morning to night on the useful Surah and serge twill silks, which this year show stripes of many varieties both of design and color.
One of the newest features in fashion are the toiles de soie imprimees, such as the thin make of silk-like foulard printed all over with designs. The grounds are plain, the patterns light and sparse. If the foundation is cream, the printing is in colors; if of a dark tone, the design is white.
Wildflowers, grasses, spots, lines, and geometric patterns are introduced, but almost always far apart These are all printed in England with blocks, an industry in which we excel, and far superior for such purposes to the roller-printing, which is apt to impoverish the materials.
Our English trade is on the increase, but it would be still better extended if before going further afield buyers would exercise more faith in home productions and see what can be had here.
The workman must have his fair wage, sufficient to enable him to live, and manufacturers will learn in time to content themselves with smaller profits, on the same scale as the foreign producer. Thus, employer and employed will benefit.
However, à propos of these toiles de soie, which commend themselves for their cheapness, durability, and good appearance, dark blues, greens, petunias, browns, and red printed on white make useful everyday dresses; these with lighter grounds are better suited for demi-toilette and garden parties.
Poplinette is a kindred material and may be similarly treated, but it is firmer, with a more tenacious thread and a coarser cord. It is made up over plain silks.
Take, for example, an under-skirt of heliotrope silk, full, with no pleatings, pinkings, or flouncings at the hem, which, by the way, is often lined up half a yard deep with horse-hair; a plan followed even when the skirt is arranged in box-pleats.
The poplinette edged with lace, and a couple of rows of two-inch-wide ribbon is draped over so that one side of the skirt is seen from the waist, trimmed with horizontal rows of guipure and the principal tone heliotrope, relieved and accentuated by an admixture of copper, gold, and steel tinsel thread.
The bodice is simply gathered back and front on the shoulders and at the waist, opening in front to show a vest of plain silk cut on the cross and joined down the center with pointed rows of the passementerie, a few inches apart, covering the silk, which ends in a point at the waist.
The skirt drapery is so arranged that it is fastened at the side and back on to the bodice, giving the appearance of the two being cut in one, which is among the newest styles this spring.
The sleeves are cut on a new principle, tight from wrist to elbow, of heliotrope silk, the poplinette full on the shoulders and ruffled to the elbow, like the long gloves in Queen Anne's time.
The Year for Silk
If the caterers of fashion are true in their predictions, this is to be a silk year and to meet the demand; good silks may be bought at reasonable prices.
Tussore (Tussar) silk has been utilized, but not in any way that it is recognizable, for the term has come to be associated in our minds with raw silk, whereas it is only to be detected by the experienced eye as groundwork for gauze and velvet stripes and other styles.
Demi-tones are the rule: greys, creams, beige, and tints which seem to run into each other—brown-tinged pinks, and brown-tinged reds. The most vivid tints are such greens as pomme or pistache, also known as Marjolaine; and ecorce, like the bark of a moss-covered tree.
Arab is a subdued red; salmon, mastic, and Gobelin, with garnet-red, rival each other, and accord well with this Directoire fever, due, it is said, to Mme. Bernhardt's success in La Tosca.
What a ridiculous despotism is fashion, and how much of it depends upon chance! The carelessness of a workman in mixing lead by mistake in certain vats produced a red tint which has held its own for a long while; and just now a reddish heliotrope, which is being rapidly accepted, owes its origin to a failure in dyeing.
When the goods were delivered in this hue, they were refused, and subsequently sold under cost price.  Now, this same tint cannot be produced fast enough. A mistake of another kind introduced the cotton-backed satins. Moreover, yet women of culture consent to be blindly guided by the draper and the dressmaker!
The Importance of Velvet
These last-named people are our authority for saying that velvet is to be superseded, possibly because Germany is one of the chief producers, and France prefers to encourage her industries, and she still arbitrates for most of Europe in matters of fashion.
Nevertheless, velvet plays an important part in mixed materials, used in combination with simpler stuff and trimmings. A vieux rose faille forms the ground for quarter-inch stripes an inch apart in velvet of the same tone blended with darker shades to resemble a cable-pleat.
Fancy woven silk stripes are divided by satin ones, with a velvet garland of a darker tone upon them; and a delicate Nil serge silk has line velvet stripes in dark green, bordered each side with pea-spots to match.
Young girls' gowns are much trimmed with fancy stuff having velvet tufts, dots, and stripes in two tones, which give solidity. The combination of colors is excellent; such as grey and chaudron, fire-red and cream, and so on.
Woolens in Spring and Summer
If the prophet's vision reveals to be true, we are in for a warm summer, but that is a month or two away; meanwhile, neither April nor May are usually characterized by much warmth, and woolen goods are still in demand.
Plain cloths with pinked edges, the second pinking of cream or a contrasting hues placed beneath the first, will be worn well into summer; though there are many and more spring-like fabrics than cloth—foules, tweeds, cashmeres, and beiges, with newer names; but they may all be classified under these broad terms.
They are nearly all striped, but the mania for shot effects has made itself felt, even in woolens and often the stripes themselves or the ground are of two colorings so interwoven as to produce one tone.
Speckled grounds are much worn, and when these do not display stripes, they are strewn sparsely with a Jacquard flower woven of one tone in silk.
These exceptional brocades only substantiate the rule as regards stripes. Cream-grounded twills have wide stripes alternately light and dark, of grey, red or some other tone, while on a grey ground the reddish-brown Campana stripes about two inches wide are thrown.
These are not so original as the fancy silk stripes four inches wide, like a fancy ribbon laid on, an idea to be observed even in the most costly silks and moires, which have satin stripes, with picot edges.
Wider woolen interwoven stripes of a darker tone than the ground, are of Arabian or Mauresque designs, often inspired by the Arabic letters, which are thrown together with studied carelessness. Anything in the modern fashions which is grotesque would seem to be of Moorish origin.
A season or so ago, dressmakers began to make use of the colored selvages which edge many cloths and to turn them to account for trimmings. The manufacturer has borne this in mind, and now voiles such as nun's veilings and many other woolen stuffs show borders, generally tape-like and some two inches broad of a different tone from the material.
When these fabrics are employed for draping, they are used lengthwise, the border towards the feet, requiring no joins but very skillful treatment.  No words can describe the careful folds in which they are made to fall, always gracefully and never twice alike when treated by practiced hands.
Alpacas that wear well and resilient have been introduced with stripes shaded as is the current fashion, and there is a so-called Jhelum cashmere which commends itself from the long range of arty shades in which it is produced.
Like many of this year's woolens, a twill and a herringbone weaving which makes it firm and durable;  the tennis tweeds are very light and pretty with their fancy stripes, light blue with a dark blue line down the center and divided by a two-inch-wide stripe of an infinitesimal brown-and-white check, or pink stripes with a broad cream ribbon stripe edged with dark blue and dotted all over with blue spots.  These of course are varied in many ways as to color.
Outdoor Costumes for Spring Wear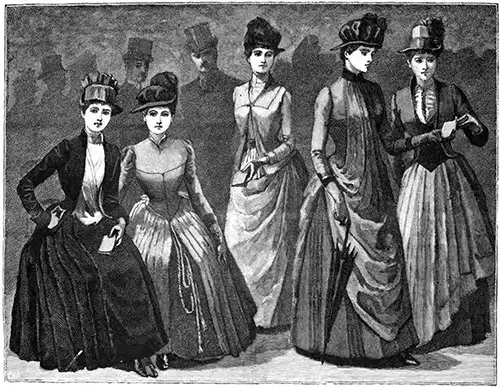 Outdoor Costumes For Spring Wear
The various styles of making up these several fabrics may be best gathered from our illustrations. The fashion for the group of girls above shows what active English girls' dress should be, giving them freedom of movements and enhancing their becoming figure.
The open jacket worn by the first figure is, if well cut, the most exceptional make for cloth and thick woolens, relieved by the soft silk waistcoat, which is simply folded to cross the chest.
Yokes are worn of plain material, sometimes smocked and sometimes outlined with muslin guipure embroidery or many of the summer woolens and printed silks.  The high full sleeves at the shoulder, slashed or plain, are a marked feature in spring fashions.
Coat-sleeves are worn, but as often as not they do not match the bodice. The sleeve is frequently tucked horizontally in the center forming thus a puff at the wrist and shoulder.
One deep-pointed slush, bound with braid, is often introduced outside the arm, tapering towards the elbow. Many of the striped materials are cut on the cross. For tea-gowns and ball-gowns, wing sleeves are introduced reaching below the knee, floating back from the arms, which for tea-gowns are covered by tight undersleeves.
The wide revers on the jacket worn by the third figure are not unlike those of the Incroyable period (1795–1799), which appear on so many of the bodices. Young girls continue to wear the useful loose-banded shirt bodice seen beneath this jacket.
The next model shows the soft falling drapery mingling and forming a portion of the skirt, which first was introduced for tea-gowns and in various forms, has found favor for morning and evening dresses. It is an adaptation from the Greek requiring grace of bearing and grace of wearing without which it is apt to be ridiculous.
The last girl in the picture has a Swiss belt which shows off the waist to perfection. Made in black velvet, this belt is worn with many of the silks, light woolens, and cotton gowns.  For dinner wear, there is scarcely anything prettier than a white crepe de Chine bodice draped in classic fashion about the bust, a black velvet Swiss bodice around the waist connected with black braces, black velvet dividing the puffs of the elbow-sleeves.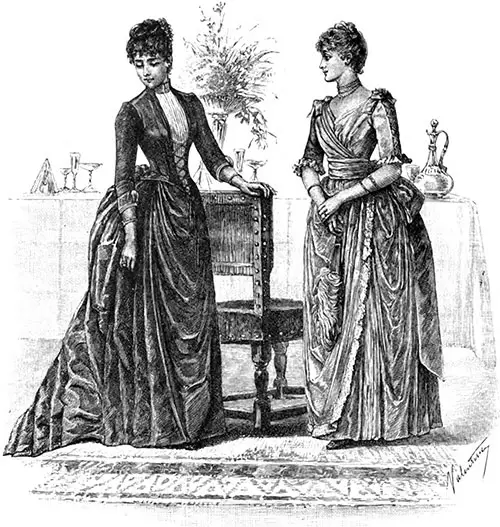 Indoor Costumes
The other two gowns illustrate demi-toilette costumes; the one for home wear with its pleated muslin vest laced over with cord, the other made of shot silk, red and blue in tone, the bodice cut in Empire, with the crosscut folds disappearing in the wide waistband, the sleeves laced on the outside of the arms.
It is becoming more and more the fashion to scent the linings of tea-gowns and to add the charm of perfume to artificial flowers. A new scent is always hailed with pleasure, and most of the recent introductions have been drawn from the flower of a favorite fruit.
The Crown Perfumery Company, 177, New Bond Street, have added to the list the Crab Apple Blossom — most delicate and most durable—the scent of which lingers in the air without unduly asserting its presence, the greatest of all merits where perfumery is concerned. 
This season's mantles are made in many rich fancy materials with a groundwork of silk and velvet stripes or small geometric motifs, some with shot grounds, red and black blending harmoniously and many of a thick make of silk not unlike matelassé.
These are trimmed with a great deal of tinsel passementerie, especially black and steel, and with plain silk trimming; the leading idea therein being balls which border the edge.
This style of trimming in many diversities plays its part on rich brocaded dinner-gowns where the balls are of soft silk and, like gimp, balls applied to morning bodices, but in mantles, the style is more universal.
Boule lace too is a novelty; piece boule lace used down the front and often down the back as, for example, in a mantle made in thick corded silk for a middle-aged lady.  There was nothing very new in the shape which was short at the back and in front and had long ends; but the sleeves were two oblong pieces of silk falling to the knee and covering the outside of the arms, bordered with the ball gimp edging. The boule lace fell in long ends in front and was also carried down the center of the back, meeting the fan-shaped lace basque.
Scarf-mantles of a straight piece of stuff, fitted to the shoulders, have hoods at the back lined with silk and the front ends are loosely tied over a silk waistcoat.
Traveling cloaks made of thick, fancy tweed, have quite a new kind of hood which covers the shoulders back and front, made entirely of silk with gatherings and a bind of velvet.
When drawn upwards it covers the head much after the form of those hoods which the Flemish peasants have attached to their long black cloaks and distended with whalebone.
The habit shirt shape of the mantle, made of lace and passementerie, with sacque sleeves which only come to the elbow, has the merit of much originality of design. These sacque sleeves support the elbow, and there is a lace scarf tied at the throat.
In millinery, the fever for the shot or, as modistes are pleased to call them, glace effects, asserts itself. Gauzes are of two shades, so deftly intermixed they appear one tone in one light, and of an entirely different one seen in another.
This gauze, which is closely allied to gossamer, is introduced as rosettes and loops on the front of hats and bonnets. Tulles are treated in the same fashion, each side being of a distinct color, both shining through and producing a combined tone.
The spider-web weaving for net shows the same intricate union of tints, but in that case, each alternate row is of a different color.
Ribbons are shaded and tinted too, but the result is produced in another manner—such as by dyeing one color over another. "Rutilant" is the French term and it has many merits to the lover of color.
Soft and lovely are the blended tender blues and pink: Nil and orange, ochre and Cresson— the true watercress tone, a fashionable currently.
The veritable emerald green has been restored; best worn on black.
Bonnets, as the months creep on, are not quite so high, though the ribbon-bows with which they are trimmed are made to stand up boldly and show a curious combination of buttercup, heliotrope, and pink, an end of each.
The crowns are often quite distinct, drawn in tinsel net and covered with tulle, when all the rest of the headgear may be straw. Narrow velvet strings are being worn at the present moment; but, judging from the variety of new ribbons, there is every probability that strings will be widened.
Ribbons are quite a study in themselves. The picot edge has given place to straight edges, either satin or cannale, like the rim of a two-shilling piece. Satin with a silk revers is the most expensive and the newest, but the majority are striped with moire satin or ombre effects.
Good news: Fashion is copying nature as closely as it can, and the artificial blooms are only à la mode if they look as if they had just been gathered and tied up carefully in posy fashion.
Moreover, we are employing real lavender, real grasses, and real rose-stems, treated in such a way that they are made durable but giving plentiful traces of being the veritable article.
Homely flowers are used most—the dandelion in bloom and in seed, surrounded by leaves;  sweet-peas, wild hyacinths and cornflowers are tied up with grass in such simple bunches, it is difficult to imagine they are artificial and are applied to hats and bonnets and the sides of gowns.
Epaulettes of flowers are made up to look much the same; panels of flowers on the skirts are set on the same plan.
Tinsel, nevertheless, plays its part; and, as though to run on the contrary extreme, tinsel stems are made up into aigrettes with pendent Venetian shells, for balls; and gold-tinsel rose-buds nestle amid rose leaves. Nothing could be more unlike nature.
Another effort, however, in the right direction is a new kind of rose-leaf made of fleshy transparency which is very like an actual leaf. Black velvet flowers are worn with yellow, black pansies with buttercups, and diamond centers find their way into many black blooms.
It is a "flower year" in trade parlance, which means that flowers are liberally used both on dresses and bonnets.
Large and prominent wreaths are introduced beneath bonnet-brims—close-set yellow roses, buttercups, and many other kinds—a bouquet to match appearing in front. A preference would seem, however, to be given to bows of ribbon and lisse.
This latter fabric has been embroidered in gold and silks expressly for the purpose, and in order that it may stand up well, it is often first pleated before being worked upon. Lisse scarfs are prepared with the ends heavily worked with bullion thread to give them substance in order that they may stand erect.
Johnstone, Violette, "April Fashions," in The Woman's World, Cassell & Company, Limited, London, Paris, New York & Melbourne, Volume I, No. 6, April 1888, p.281-284.
Editor's Note: Some terminology used in the description of women's clothing during the 1800s and early 1900s has been changed to reflect more modern terms. For example, a women's "Toilette" -- a form of costume or outfit has an entirely different common meaning in the 21st century. Typical terms applied to "toilette" include outfit, ensemble, or costume, depending on context.
Note: We have edited this text to correct grammatical errors and improve word choice to clarify the article for today's readers. Changes made are typically minor, and we often left passive text "as is." Those who need to quote the article directly should verify any changes by reviewing the original material.