Today's Fashions September 1902 - du Barry Coat

That the ultra-fashionable coat for Autumn will be shaped on loose-fitting lines and in three-quarter or full-length style is an assured fact, and materials such as taffeta, peau de soie, moire, light-weight cloth and even open-meshed goods having a silk lining of contrasting color, will be used for their development.
A pleasing example of the Monte Carlo coat-a loose-fitting mode-is in regulation three-quarter length with one wide or two narrow circular flounces around the button, though provision is made for short three-quarter length with a single narrow flounce.
A shawl, or Puritan collar and fancy bishop or flowing sleeves may be used with either mode. In taffeta, with trimmings of filet lace banding and velvet ribbon, this design would be exceedingly good style and particularly suitable for afternoon, street, or carriage wear.
The du Barry coat is extremely modish and to tall, slight figures it is especially becoming. A dressy example made of taffeta, is stitched in tuck fashion at the inner or outer folds of the plaits.
Either flowing or fancy bishop sleeves, tucked to correspond with the rest of the garment, may be used and the frill around the flat collar and also the stole ends may be omitted. Applique lace banding or embroidered bands may be employed effectively in the decorative scheme.
The frou-frou effect at the lower edge is a marked characteristic of many of the newest skirts, and a new five-gored mode distinguished by this effect, is closely-fitted to the knee and is in habit style with button or placket and seam closing.
A hip yoke and circular flounce, from which the material should be cut away, may be added if desired. In velvet this mode would be particularly effective.
"The "Gibson" style remains popular in shirt-waists as well as in jackets, and even skirts are distinguished by this same characterizing feature. A shirt-waist of unusual good style of the "Gibson" type, is made in slot-seam effect and with a Duchess front closing.
Silks, woolens, velvet, corduroy, and cloth and all admirably suited to the development of the mode.
A novel effect is achieved in a new bodice which has the body and collar in one. It is especially desirable for faggoted or other fancy finish, and for the development of either plain or tucked fabrics.
A skirt that is well suited to accompany the above described bodice is in seven-gored flare style, in frou-frou effect at the lower edge, with the close adjustment to the knee, and in habit style with button or placket and seam closing.
The seams may be faggoted if desired, and a hip yoke and circular flounce may be used if individual taste prefers. The mode is known as the mermaid skirt.
There is an air of smart style in a new five-gored skirt that may be in short round, instep, or shorter length, with lengthwise side plaits stitched to flounce depth. It may be made with or without the hip yoke, which may extend about the skirt or terminate under the plaits at the sides of the front.
Both plain and mixed cheviots, coverts and coarsely woven fabrics are suggested for the mode with machine-stitching for an ornamental finish.
A jaunty little jacket that may be made of the same or in a contrasting material from that used in the skirt, is very short with tight-fitting back and semi-fitted fronts which may close in a fly or with visible buttons. The sleeves are in conventional coat style and may be finished with cuffs or vents as preferred.
An innovation in the fashion world is the "Reform" costume, which somewhat suggests the Empire style.
An example consists of an Eton jacket, a surplice waist or bodice, with or without a chemisette, and a five-gored flare skirt to be made in long or short sweep or in round length as desired.
A combination of materials is suggested for the development of this mode.
Dainty silks and soft woolens are especially suitable for the development of a new cross-over or surplice shirt-waist having the ends of the fronts tied at the back or side. The sleeves may be in full-length or in elbow bishop style with frills, and the chemisette may be omitted.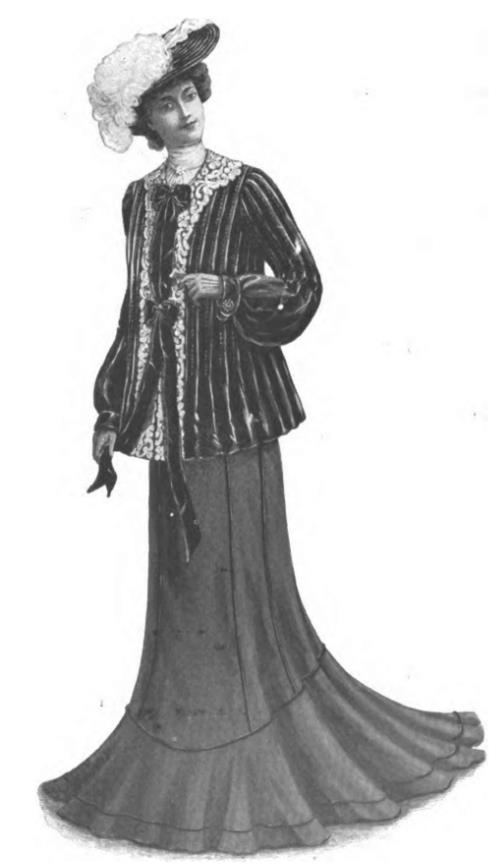 Figure 111 G: Ladies' Coat and Skirt. The patterns are Coat 6220, price 9 or 20 cents; and Skirt 6243, price 1s or 25 cents.
A stylish wrap known as the du Barry coat is pictured at this figure in a development of black taffeta, relief notes of velvet ribbon and Limerick lace being added. The coat is plaited all around, the plaits being stitched in tuck fashion along the inner folds.
The cover extends down the front in stole fashion, and the fancy bishop sleeves have stylish cuffs caught together with cut steel buttons, but if preferred they may be in flowing style.
The skirt, of seven-gored shaping, is developed in black cloth with velvet pipings, and is known as the mermaid skirt owing to its shaping. It has a habit back, and either a long or short sweep may be used.
A graduated flounce circularly shaped adds to the frou-frou effect at the lower edge, and a yoke is included in the pattern, but its use is optional.
Foulard, India silk and taffeta are fashionable materials for the skirt, and faggoting applied over the seams will supply trimming. Reseda-green broadcloth will give a stylish production and strappings of chine taffeta stitched in black will give a distinctive touch.
The coat may be of such fabrics as moire, peau de soie and other heavy silks. Fine broadcloth and lady's-cloth are also in use.
"Fashions of To-Day" in The Delineator, New York: The Butterick Publishing Company Ltd., Volume LX, No. 3, September 1902, Page 322 and 332.