Serviceable Tub Dresses - 1910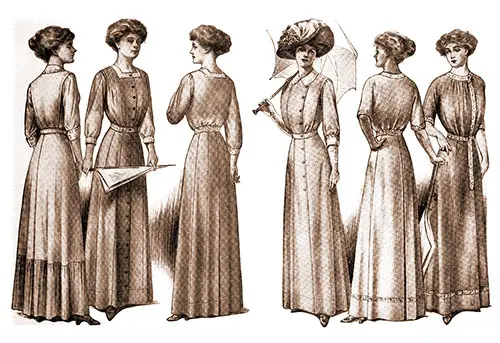 Serviceable Tub Dresses, Drawings by Paul W. Furstenberg. Woman's Home Companion, July 1910. GGA Image ID # 164aeae0e7
Comfort dresses, that is the new name the up-to-date girl calls her tub dresses this year; and she plans them in every particular so that they will be a credit to their name.
They are smart in style; she would not own them otherwise. They are most simple in design, yet they carry distinction. And they are sure to be becoming, for their colorings are especially charming.
There is no doubt that extravagance is running riot this season as far as one's afternoon and evening frocks go. However, Fashion makes up for this recklessness by looking with favor upon many materials for simple morning dresses which are inexpensive and extremely good looking.
The fancy cottons, ginghams, percales and piqués, and the plain and novelty linens were never before seen in such an array of lovely colorings.
The blue tints seem to lead, with their different shades, the old blue and gentian-blue tones being more to the fore than the turquoise and blue-green tints. Then there are the tans and yellows and buffs which vie with one another in their soft becoming shades.
The lavenders are also in favor, and very many grays and clever black and white mixtures are seen in these wash fabrics. It is easy to see from this that the comfort dresses are pretty to look at and apt to be becoming to about every woman.
They have no high stiff collars but are cut low in the neck in various ways. Some show the Dutch neck, others are a little higher in the neck and finished with a soft turn-down embroidered collar and then for the girl who does not look well in either of these styles,  there is the waist with the round neck, finished with some beautiful trimming-band.
The waists all button in the front and so do the skirts, and each of the dresses illustrated on this page can be made with the shirt-waist separate so that it may be worn with different skirts, or the waists and skirts of the tub dresses may be attached to the belts and thus form costumes most easy to slip into and which can be satisfactorily laundered.
"Serviceable Tub Dresses," in Woman's Home Companion, New York: The Crowell Publishing Company, Vol. XXXVII, No. 7, July 1910, p. 53.