New Touches for Old Dress Ensembles - September 1912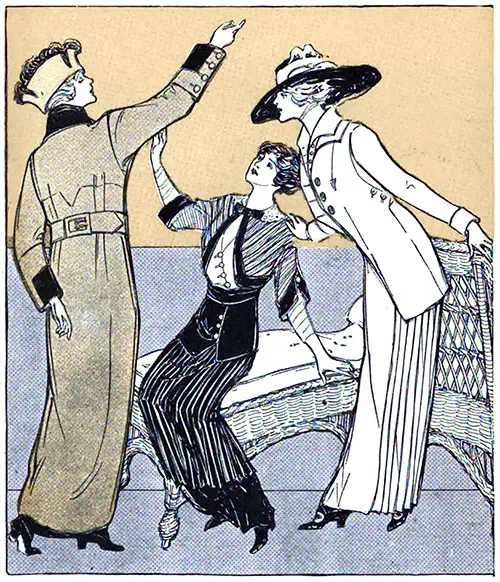 New Touches for Old Costumes Nos. 404, 405, and 406. Good Housekeeping Magazine, September 1912. GGA Image ID # 1649d9eddd
No. 404 - Utility coat of tan chinchilla with brown plush trimmings. Directoire collar and revers. The back of the skirt is joined to a deep yoke by a seam forming a notch. Belt in the back.
No. 405 – Charmeuse gown with machine-platted overskirt falling from a deep yoke. The waist is veiled with chiffon with revers of velvet, giving bolero effect. Vest of the material or lace.
No. 406 – The skirt has side plaits extending from the center back to the left side front, falling from a shallow hip yoke. The 32-inch coat with semi-belt and cutaway fronts has double Robespierre collar and vest. The back is in one piece and the front has a single dart.
What can I remodel?  is the first question the thoughtful woman asks when she begins to plan her new wardrobe.
As one by one the old garments are brought forth from their tissue-paper nests, they appear in a new light. The suit or gown that looked so hopelessly worn out when it was consigned to the cedar chest seems to be almost wearable.
If the material has not begun to show the signs of wear and tear it will probably be possible to add little new touches which will make the costume strictly up to date. A few plaits, the reshaping of a sleeve, or the addition of a collar or girdle, will work wonders for an old costume, often making it more attractive than when first worn.
If the costume is becoming, reflects your personality, and is satisfactory in style and cut, I do not advise making changes. It is not always possible, however, to procure garments which are satisfactory in every  detail, and slight changes may not only bring the suit or gown strictly up to date, but give it a distinction it has always lacked.
Let us consider first the skirts.  Little by little fullness has been creeping into the skirts until the skirt of two yards, or two yards and a quarter, around the bottom, has become the generally accepted style. For the severely tailored suit of a heavy material, it is an excellent model, comfortable, practical, and hygienic. The change, however, which the designers are sure to make is an improvement along this line and is well adapted to the serges, whipcords, Bedford cords, homespuns, and tweeds which will be
extensively used for tailored costumes.
This change promises to bring back plaits. There is a wide variety of plaits now shown. The most noticeable innovation is the skirt machine-plaited or accordion-plaited from waist to hem. Less startling are the plaits attached to a yoke, also the side plaits which flank either side of the front and back panel.
It is a comparatively simple matter to inlet these plaits into the skirt of last season. The kick plaits at the bottom, whether introduced in the front or back panel, or at the sides, can likewise be easily adapted to an old skirt. The draped skirt has not been found practical in the heavier cloth materials from which suits are fashioned, and its use is,  therefore, very sensibly reserved for the soft, supple fabrics appropriated for afternoon and evening gowns.
It requires considerable skill to adjust a draped skirt gracefully, but when the draperies are kept low, near the bottom of the skirt, so that they do not interfere with the long line of the figure, they
are delightful. The draped tunics and even those simulated by stitching offer an excellent solution to the problem of remodeling.
The combination of several fabrics in one gown is another aid for the woman who wishes to make over some of her costumes. This combination has been applied to suits as well, and we see skirts of one material, say cloth, with jackets of another, perhaps velvet or satin. The long sleeve has been very generally adopted. It may be set into an enlarged arm size, or joined to the caplike top - the last remnant of the kimono sleeve.
A certain amount of fullness is allowed to creep into the upper part of the sleeve, but below the elbow, it must fit closely the arm. Deep cuffs of lace, or even a contrasting silk, may be added to procure these long sleeves, and the low shoulder line of the kimono top can be simulated with braid or cording.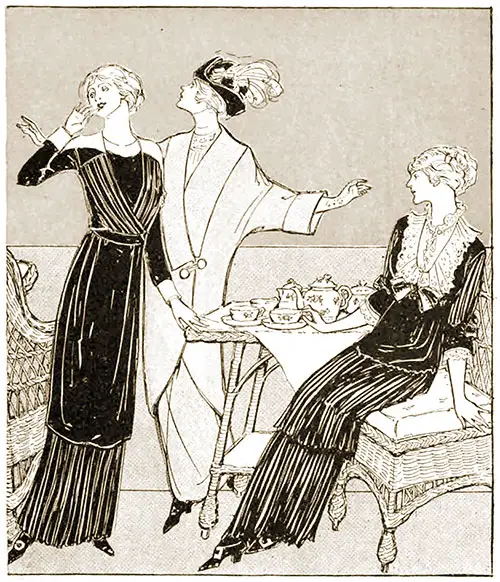 New Touches to Old Costumes Nos. 407, 408, and 409. Good Housekeeping Magazine, September 1912. GGA Image ID # 164a274c0a
No. 407 - Silk gown with narrow-stitched box plaits and apron overskirt in front. Waist plaited in some way and trimmed with collar and cuffs of fine white faille edged with lingerie.
No. 408 – Covert three-quarter cutaway coat with straight, seamless back, and kimono sleeves set into large armhole from extended shoulder. Long, narrow rovers and square velvet collar attached to coat with stitching.
No. 409 - Silk or chiffon frock. Two machine plaiting of equal length joined to a yoke for skirt. Corsage
of the material, sleeves of the plaiting. Guimpe of net finished with Marie Stuart ruche and maline collar.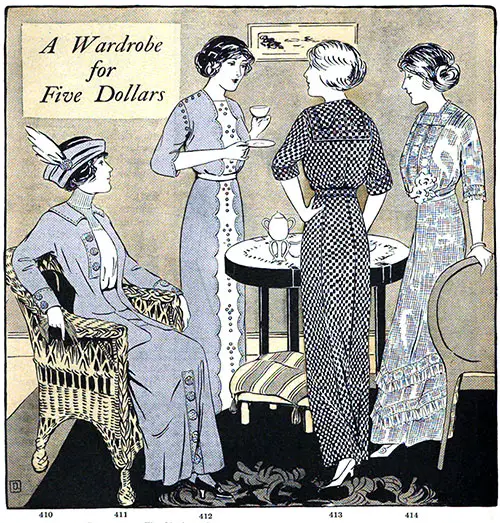 A Wardrobe for Five Dollars. 410 Coat and Skirt; 411 Blouse To Wear With the Suit; 412 House Gown of Cotton Cloth; 413 Gown of Black and White Checked Cloth; And 414 Party Dress of White Net, When Washed, Looks Like Grenadine. Good Housekeeping Magazine, September 1912. GGA Image ID # 164a81b9b0
Caroly Trowbridge Radnor-Lewis, "New Touches to Old Costumes," in Good Housekeeping Magazine, September, 1912, pp. 530-532.