American Export Lines Vintage Advertisements
American Export-Isbrandtsen Lines, primarily known as American Export Lines, was founded in 1919 with its headquarters in New York. They were the leading US-flag shipping company between the U.S. east coast and the Mediterranean from 1919 to 1977. They offered both cargo ship services and passenger ship services until it declared bankruptcy. Afterward, the line was acquired by Farrell Lines, New York. These are a sampling of the advertisements from this very popular steamship line.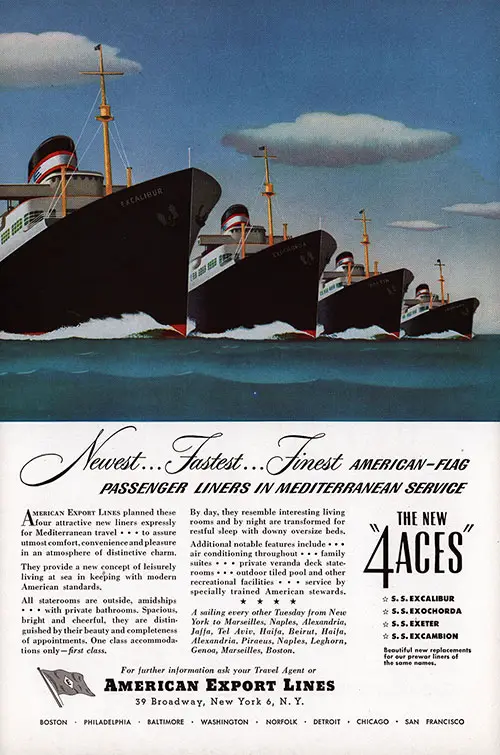 American Export Lines 1948 Advertisement for The New 4 Aces: SS Excalibur, SS Exochorda, SS Exeter, SS Excambion. GGA Image ID # 15f5446f12
Newest... Fastest... Finest American-Flag Passenger Liners in Mediterranean Service
American Export Lines planned these four attractive new liners expressly for Mediterranean travel • • • to assure utmost comfort, convenience and pleasure in an atmosphere of distinctive charm.
They provide a new concept of leisurely living at sea in keeping with modern American standards.
All staterooms are outside, amidships • • • with private bathrooms. Spacious, bright and cheerful, they are distinguished by their beauty and completeness of appointments. One class accommodations only — first class.
By day, they resemble interesting living rooms and by night are transformed for restful sleep with downy oversize beds.
Additional notable features include • • • air conditioning throughout • • • family suites • • • private veranda deck staterooms • • • outdoor tiled pool and other recreational facilities • • • service by specially trained American stewards.
★ ★ ★ ★
A sailing every other Tuesday from New York to Marseilles, Naples, Alexandria, Jaffa, Tel Aviv, Haifa, Beirut, Haifa, Alexandria, Piraeus, Naples, Leghorn, Genoa, Marseilles, Boston.
The New "4 Aces"
S.S. EXCALIBUR
S.S. EXOCHORDA
S.S. EXETER
S.S. EXCAMBION
Beautiful new replacements for our prewar liners of the same names.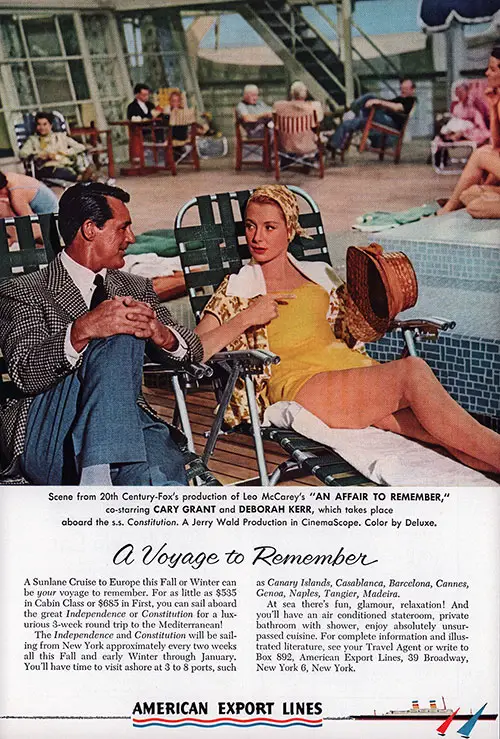 American Export Lines 1957 Advertisement "A Voyage to Remember, the SS Constitution and SS Independence. Scene from 20th Century-Fox's production of Leo McCarey's "AN AFFAIR TO REMEMBER" co-starring CARY GRANT and DEBORAH KERR, which takes place aboard the s.s. Constitution. A Jerry Wald Production in CinemaScope. Color by Deluxe. GGA Image ID # 15f57df6b4
A Voyage to Remember
A Sunlane Cruise to Europe this Fall or Winter can be your voyage to remember. For as little as $535 in Cabin Class or $685 in First, you can sail aboard the great Independence or Constitution for a luxurious 3-week round trip to the Mediterranean!
The Independence and Constitution will be sailing from New York approximately every two weeks all this Fall and early Winter through January. You'll have time to visit ashore at 3 to 8 ports, such as Canary Islands, Casablanca, Barcelona, Cannes, Genoa, Naples, Tangier, Madeira.
At sea there's fun, glamour, relaxation! And you'll have an air conditioned stateroom, private bathroom with shower, enjoy absolutely unsurpassed cuisine. For complete information and illustrated literature, see your Travel Agent or write to American Export Lines, New York.