Stylish Winter Hats and Bonnets - January 1897
A Beautifully illustrated fashion plate of the newest styles in fashionable hats and bonnets along with additional plates of stylish Winter hats and bonnets and Winter millinery decorations help to illustrate the substantive seasonable millinery notes for January 1897.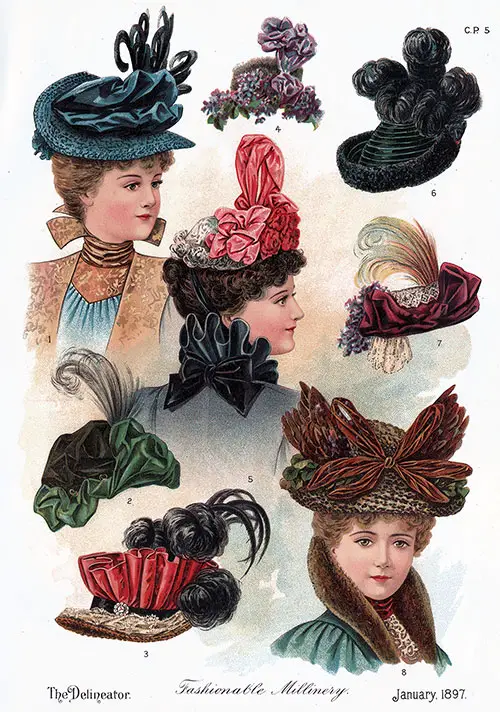 Description of Colored Millinery Plate
Figure No. 1. Ladies' Felt and Velvet Hat. — A soft crown of velvet in one of the new blue shades and a chenille braid brim are happily united in this hat, and coq feathers at the sides and velvet roses at the back provide the simple yet effective decoration.
Figure No. 2.  Ladies' Toque. — Green velvet is arranged in soft, full effect over the turban frame. French gilt pins thrust daintily through the velvet, and a tall, willowy aigrette affords enough adornment.
Figure No. 3. Ladies' Large Hat. — Brilliant geranium-red miroir velvet formed in a full ruché surrounds the crown of this hat, rising from under a band of black velvet.
The brim is composed of fancy braid; cream lace, a jeweled ornament, ostrich plumes and coq feathers complete the thoroughly artistic hat.
Figure No. 4. Ladies' Theatre Hat. — In this hat lilac tints prevail; the crown and brim of moss-like chenille support with irresistible grace the velvet, flowers, and foliage which combine to form a refined whole.
Figure No. 5. Ladies' Bonnet — This bonnet is in the best possible taste. The embroidered cream felt crown fits the head comfortably and an edge decoration of feather trimming appears at the back and sides.
At the front, the bonnet is artistically adorned with high velvet loops, velvet bows, and flowers. Velvet tie strings bowed a little to one side under the chin, secure the bonnet firmly.
Tie-strings are sometimes caught together on the bust by a fancy pin.
Figure No. 6. Ladies' Walking Hat. — Green-and-black is the color union pictured in this hat, which may be worn with tailored suits and walking costumes generally.
Velvet is arranged in milliners' folds about the crown; Astrakhan covers the upturned brim, and ostrich plumes toss gracefully from the back over the crown.
A cute animal's head peeps from under the plumes, with chic effect. Such a hat could not offend the soberest taste, yet it is of a distinct type and has, withal, a decided air of good style.
Figure No. 7. Ladies' Round Hat. — This hat is sufficiently dressy for a reception, theatre and church wear. Miroir velvet in softly shading violet and pink tints combines with rich cream lace, a paradise aigrette, and beautiful flowers to produce a harmonious result.
The arrangement of the trimming is most happy, the stylish height being given at the left side by the aigrette, while the remaining trimming is arranged with exquisite taste.
Figure No. 8. Young Ladies' Hat. — Beautiful tints of bronze and green prevail in this hat, which is a fancy braid of a most becoming shape. Brown wings were spreading at each side, velvet and green leaves artistically disposed form the admirable completion.
Stylish Winter Hats and Bonnets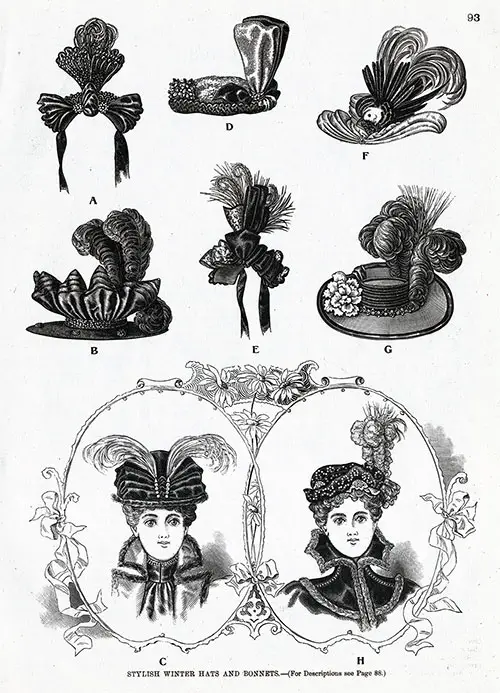 Figure A. Ladies' Bonnet. — Jet forms the foundation of this bonnet and ribbon and jet ornaments, wired and deftly arranged, form torsade in front and wing-like effects at the sides.
Feathers and jet ornaments contribute further adornment, and ribbon tie strings are bowed under the chin.
Figure B. Ladies' Velvet Hat. — Black velvet is arranged smoothly upon the brim of this hat; velvet-striped ribbon is formed in pretty French poufs about the crown, and feathers, jet, and spangles provide further decoration.
Figure C. Ladies' Round Hat. — A wintry appearance is given this hat by adding fur to the velvet with which it is covered and trimmed. Bird of Paradise feathers and Rhinestone buckles provide additional decoration.
Figure D. Ladies' Toque. — A fancy braid is a foundation of this toque, lilac and black velvet, violets, and fur combining to give a tasteful ensemble.
Figure E. Ladies' Bonnet. — This dainty felt bonnet is artistically trimmed with velvet-edged brocaded and plain velvet ribbon handsomely arranged, and aigrettes add height and grace. Velvet ribbon tie strings are bowed under the chin.
Figure F. Ladies' Walking Hat. — A brilliant touch of color is given this gray silk hat by the bird, the vari-colored plumage and curling tail feathers forming its only decoration, except for the Rhinestone ornaments.
Figure G.  Ladies' Large Hat. — Gray felt, green velvet, feathers, flowers, aigrettes and steel passementerie combine to form an admirable chapeau that will be in good taste for formal wear all Winter.
Figure H. Ladies' French Capote. — Daintiness and grace characterize this Capote; it is composed of black velvet with silver spangles forming a polka-dot effect. White lace, feathers, an aigrette and a Rhinestone ornament, increase its beauty.
Winter Millinery Decorations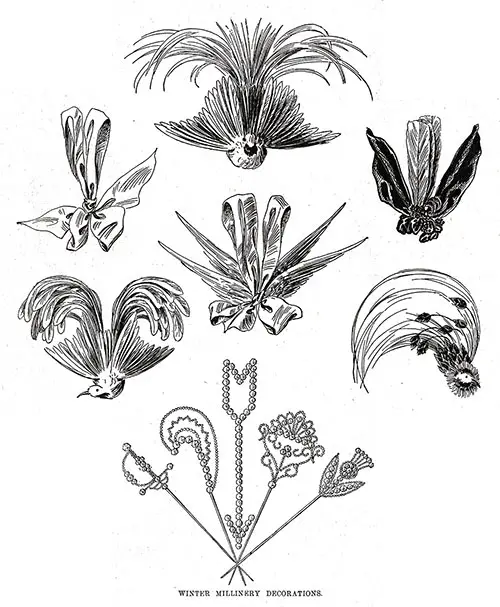 Artistic effects are achieved with the high bows and tall loops now fashionable, and their variety is great enough to suit all types of beauty. The deep, rich shadings required for Winter are largely supplied by velvet, satin and brocaded ribbon in bronze, green, heliotrope, violet, and rose.
The birds with long tail feathers are equally crucial in imparting breadth, height, and color to hats. Almost every variety of plumage is now utilized, and as any color can be given feathers by dyes, their original beauty is often significantly augmented in this manner.
The birds, bows, and feathers illustrated convey a fine idea of current fancies in millinery decorations. The association of quill feathers and ornaments with bows is often seen. Ostrich feathers are extremely popular and can never become vulgar.
They are graceful and elastic and can always be cleaned, dyed and re-made and are, therefore, economical feathers to buy. In the bird of Paradise feathers we see brilliance and beauty of coloring, and while they are now highly favored, they are not likely to become standard as have ostrich plumes.
Buckles, fancy pins and all sorts of decorative bows supplement birds and feathers, some good examples of birds with highly decorative plumage are here illustrated.
Only a trifling amount of velvet or satin ribbon will be required when the plumage is luxuriant and trailing as it sweeps over the crown and brim of the hat with charming grace.
Seasonable Millinery Notes
A return to light effects in millinery seems imminent. Malines is being restored to favor and lace is liberally employed. These airy textiles do not, however, preclude the use of velvet and fur, which seem more in keeping with the Wintry tone of a hat.
The English walking hat has risen to distinction. Always a popular shape, it has heretofore been considered more smart than dressy. It is now accorded the luxurious decoration and is associated with the most elegant attire.
The crown is high and broad, and the brim is rolled very high at the sides, the shape affording an excuse for the lavish use of trimming.
Violets are used in profusion upon an attractive walking hat. Emerald-green velvet is draped softly over the crown and arranged with fan effect at the back, against which is massed the foliage of violets, a bunch of the flowers depending from each side upon the hair.
The brim is entirely covered with violets, and at the left side, a bunch of violets sustains four coq tail feathers which complete a lovely color harmony.
Brown velvet is arranged in soft folds on the crown of a brown felt walking-hat, the edge being bound with velvet. At each side is a large chou of soft velvet from which rises a black wing spread fan-wise.
A similar wing is fixed at the outside of the brim, partially overlapping the first wing. The arrangement is novel and compelling. Such a hat could be successfully worn only by a tall woman with a full face.
Green-and-blue are united in the trimming of another walking hat of blue felt the brim of which is bound with blue velvet. In front is a large pouf of green velvet and at each side of it spreads a blue-and-green wing.
Green velvet is folded about the crown, and under the brim at the back is a pair of blue moiré ribbon rosettes.
Cream lace in the form of a veil for the brim adds daintiness to a black felt walking-hat. A band of black velvet almost the depth of the crown bands it and in front loops of velvet project on the brim, a cut-steel ornament glimmering in the loops.
At each side are clustered violets, and more violets are placed under the brim, together with short, plaited ends of lace continued from the veil.
Mink fur contributes a Wintry air to a large black velvet hat. Golden-brown velvet placed about the crown is gathered at the center so that one portion forms an upright and the other a drooping frill and is edged at both sides with fur.
At the left side, a brown velvet rosette sustains a full black-and-yellow Paradise aigrette. The brim is rolled up at the back and against it are bunched, several loops of green-and-yellow shaded taffeta ribbon. Hats are more fully trimmed at the back than they were in the early Autumn.
To be worn with a Pompadour coiffure there is a charming evening hat having a very high crown of jeweled silver bullion and a brim arranged in six poufs of heliotrope velvet, with double shirrings between the poufs.
A steel ornament is fixed at each side; at the left two white tips are held by a third steel ornament. The poufs, forming the brim rest prettily upon the Pompadour roll.
An evening hat for a very youthful wearer is a lovely and airy creation built on gold wires. In front is a coronet of brilliants and mock topazes and towering above it are three loops of pale-blue ribbon, each loop being reversed at the edge to show both the satin and moiré surfaces of the ribbon.
The loops are encircled at their base by a jeweled band like the coronet. Starting backward from the erect loops are five loops with similarly reversed edges, the center loop being shorter than those at each side of it; below it is fixed a large opal ornament.
Malines is included in the trimming of a small bonnet with long sides suggesting the Dutch head-dress. Three bandeaux of riveted steel form the bonnet, and at the front and sides are fixed large black Malines rosettes, a steel ornament shining from the center of each airy knot.
A trio of black tips spreads like a fan at the back, and a single small one droops over a brilliant jeweled ornament.
Black tulle is used for rosettes upon a toque of gold net embroidered with black chenille and fancy jet spangles. The brim is rolled all around, but in front, it is pointed. Rosettes are disposed all about the crown, which is rather high, and at the left side, a white aigrette is fastened among black tips.
The trimness characteristic of English hats is in evidence in a turban having a crown of black velvet and a brim composed of three coils of a black satin cord-and-felt braid.
At the left side are two-pointed ears of black velvet and a pair of black quills, the arrangement is supported by a knot of the braid forming the brim. Color is contributed by a bunch of deep-purple velvet violets placed at each side of the back to fall upon the hair.
Black and white are blended in a black velvet hat of medium size with a brim gently curved at the sides. The crown is banded with spangled jet and round the top is arranged a puffing of white satin veiled with black chiffon.
At the left side stand three black tips, which are held in place by a steel ornament. Such a hat would suit a woman of conservative tastes.
Equally quiet in style is a hat combining a brim of black satin and chenille braid with a soft crown of deep-purple velvet. A large rosette of black moiré ribbon upholds a blackbird with a full black bird-of-Paradise tail. Under the brim at each side is arranged a bunch of violets.
From Paris comes a model of black velvet, a large shape having a low crown and a broad brim cut off square at the back. Black moiré is twisted about the crown, and seven white tips fall at the back, a large black moiré rosette being placed directly in front.
Flowers are liberally used upon a hat of maroon felt. Velvet, a shade lighter, is fulled on the brim near the edge, and at the back are clustered shaded red silk chrysanthemums, giving a unique effect. A rosette of maroon velvet is placed under the brim at each side.
A Russian turban of black felt, which may be suitably worn with a tailor-made suit of cloth or corduroy, has its brim slashed at the left side and trimmed with black satin-and-Astrakhan braid.
Black satin ribbon bands the crown and a rosette of it is placed at the left side, a Rhinestone ornament being set in the center of the rosette, above which wave three black tips. A black satin rosette is placed under the brim at each side.
Suitable for the drive or wear at an afternoon reception with a silk or velvet gown is a nat with a soft black velvet crown and heavy ecru lace let in the brim, black velvet being applied at the edge.
In front, a sizeable Rhinestone arrow is thrust through the crown, and at the left side are a tuft of shaded yellow roses and black and white tips. A Velvet band is adjusted under the brim at the back and upon it are set a velvet rosette, yellow roses, and a Rhinestone Ornament.
Color is introduced in the face trimming used upon a large black velvet hat. A frill of cream point gaze lace stands above the crown, gold wires being adjusted here and there to brace the embellishment.
Tiny tips are arranged all about the crown to droop upon the brim, and a bunch of larger tips is disposed at the left side. Under the brim is a shirred facing of coral-pink taffeta and at the back is a bow consisting of loops of lace and velvet.
A cute evening hat is composed of jet and silver cup-shaped spangles, which sparkle like jewels under artificial light. Immediately in front stands a scroll ornament of Rhinestones and at each side is a large rosette of white Malines, violets with foliage being fastened in front of each rosette.
Violets and lace always make a tasteful combination. They are associated in a hat of black velvet. Upon the brim falls a frill of cream lierre lace and above it, clusters of violets surround the crown.
Height is attained at the left side by two tall loops of dark-purple and one of stem-green moire ribbon. The decoration for the back of the brim consists of plaited lace ends and violets.
Brown hats are stylish and are preferably worn with brown gowns, the color being at present modish. A charming example of a brown hat has a soft crown of brown velvet and a brim made of fancy mixed-brown moss braid.
Black point Venise lace bands the crown and at the left side are arranged three erect loops of black satin ribbon. At the back, the brim is upturned and supports a black satin rosette between two bunches of shaded red velvet roses, which gives animation to the chapeau.
A second brown velvet hat includes pink in its color scheme. The crown is soft, and the brim is rolled slightly at the edge.
At the left side, a bow of coral-pink glace taffeta ribbon supports a bunch of brown tips. At the opposite side is another pink bow and at the back, a rosette of brown velvet nestles between bows of the bright-colored ribbon.
A charming hat for wear with a coat-and-skirt costume of green velour trimmed with Persian lamb is made with a soft crown of Persian lamb and a brim of green velvet over which is draped soft cream lace. A full yellow Paradise aigrette at the left side completes the elegant though simple trimming.
The effect produced in a toque with jet spangles upon black chenille braid, of which the hat is shaped, is brilliant. In front is arranged a broad bow of black velvet, in which is fastened crosswise an arrow of Rhinestones.
Above the bow towers a fancy aigrette. At each side is fixed a large rosette of black satin-striped accordion - plaited chiffon, and at the back is disposed a broad bow of black velvet ribbon. The clever arrangement of trimming achieves both height and breadth.
A notable feature of one of the new shapes is a brim of black moiré antique topped by a crown of black velvet, moiré being twisted about the top of the crown.
Black tips curl about the crown, and here and there a tuft of pink roses is thrust among the plumage. Roses are banked under the brim and furnish a charming trimming for the back of the hat.
With evening attire, for the theater or opera, there is a dainty head-covering of soft cream lace, which is frilled over the crown and formed in a narrow face frill. In front is a spread bow of two-inch black velvet ribbon with a crescent of Rhinestones at each side.
At each side of the back is a fan of lace and all across the back are clustered pink roses without foliage.
Strings have entirely disappeared from bonnets, though elderly women do not take kindly to the change. When bowed under the chin, they conceal the lines in the throat and other marks of age, and to long, slender faces they are exceptionally becoming.
When the bridle is adopted, it is preferably of inch-wide, double-faced satin or velvet ribbon, velvet being, of course, the softer fabric. Strings give a matronly air to the wearer; therefore, young women avoid them.
The veil, which is almost an indispensable adjunct for the street hat, is no longer correctly worn in the evening. This will be regretted by those who deem it at all times a beautifier.
"Millinery: Description of Colored Millinery Plate and Stylish Winter Hats and Bonnets," "Seasonable Millinery Notes," in The Delineator - Winter Holiday Number: A Journal of Fashion, Culture and Fine Arts, London and New York: The Butterick Publishing Company, Limited, Vol. XLIX, No. 1, January 1897, p. 88-93.
Editor's Note: Some terminology used in the description of women's clothing during the 1800s and early 1900s has been changed to reflect more modern terms. For example, a women's "Toilette" -- a form of costume or outfit has an entirely different common meaning in the 21st century. Typical terms applied to "toilette" include outfit, ensemble, or costume, depending on context.
Note: We have edited this text to correct grammatical errors and improve word choice to clarify the article for today's readers. Changes made are typically minor, and we often left passive text "as is." Those who need to quote the article directly should verify any changes by reviewing the original material.