Late Winter Hat and Headgear Fashions - 1904
Four Winter Hat fashion plates including decorative plumes and feathers with delightful descriptions of all the newest millinery fashions for 1904.
Some Attractive Feather-Trimmed Hats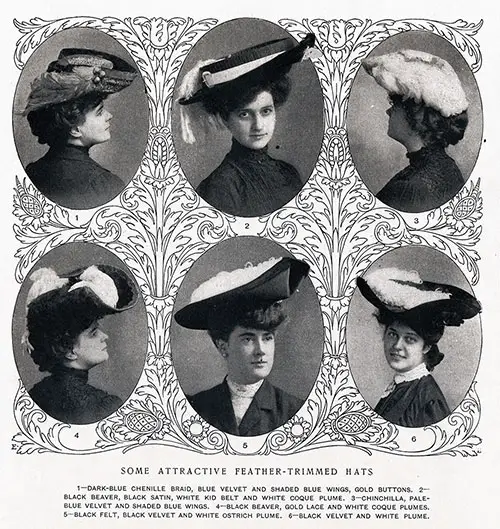 Dark-Blue Chenille Braid, Blue Velvet and Shaded Blue Wings, Gold Buttons.
Black Beaver, Black Satin, White Kid Belt and White Coque Plume.
Chinchilla, Pale- Blue Velvet and Shaded Blue Wings.
Black Beaver, Gold Lace, and White Coque Plumes.
Black Felt, Black Velvet, and White Ostrich Plume. 6—Black Velvet and White Plume.
New Effects in Fur Headgear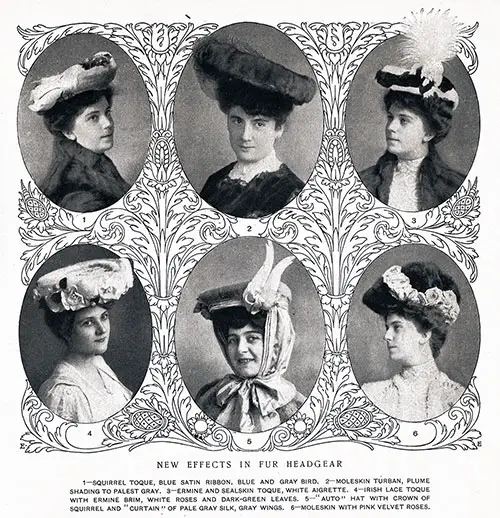 Squirrel Toque, Blue Satin Ribbon, Blue and Gray Bird.
Moleskin Turban, Plume Shading to Palest Gray.
Ermine and Sealskin Toque, White Aigrette.
Irish Lace Toque with Ermine Brim, White Roses, and Dark-Green Leaves.
"Auto" Hat with Crown of Squirrel And "Curtain" Of Pale Gray Silk, Gray Wings.
Moleskin with Pink Velvet Roses.
Children's Hats That Are Good Style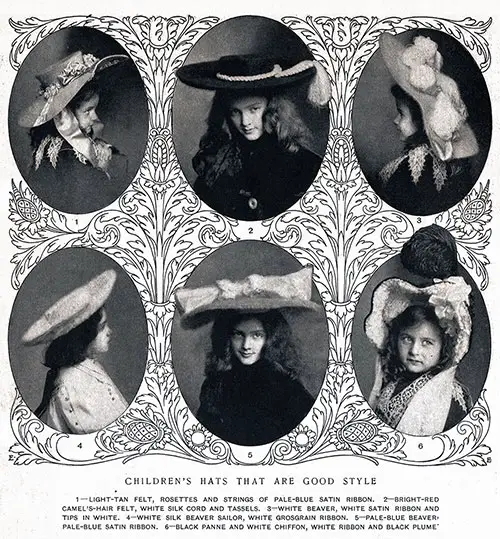 Light-Tan Felt, Rosettes, and Strings of Pale-Blue Satin Ribbon.
Bright-Red Camel's-Hair Felt, White Silk Cord, and Tassels.
White Beaver, White Satin Ribbon and Tips in White.
White Silk Beaver Sailor, White Grosgrain Ribbon.
Pale-Blue Beaver Pale-Blue Satin Ribbon.
Black Panne And White Chiffon, White Ribbon, and Black Plume
The Late Winter Millinery
There is enough variety in the season's headgear to satisfy the tastes of every woman. There are large, medium, and small hats, and the latter are in especial favor; notwithstanding this fact, it is wise to choose the shape that is becoming.
It is even affirmed that before Spring, bonnets will hold a prominent place in millinery; but the new bonnet is a more elaborate affair than the old type.
Strings that are brought around and quaintly tied beneath the chin, or secured demurely at the left side, will be a point of interest in some of these creations.
There is a suggestion of the bonnets worn by children in the new Capote style. The crown is rather high and large, while the brim flares in front and at the back slants down in curtain fashion over the hair.
A scarf of ribbon that encircles the crown and crosses at the back, and is brought around and tied under the chin, is almost invariably included in the trimming of these capotes. An attractive example is made of plaiting of narrow strips of cream-colored cloth, felt and thick chenille of the same tint.
The scarf trimming, which also serves for strings, is of black tulle edged with Chantilly lace. At the left side, there is a cluster of black and white ostrich tips and a paradise aigrette.
Beneath the brim in front is a bright red rose and a knot of the black tulle. This elegant little affair would be charming when worn with either a light or somber-hued gown.
The most approved toque or turban is very small. Panne is a rival to velvet for covering the shapes; it lends itself perfectly to shirring and is much softer than velvet. Plush panne in imitation of different furs is extensively used.
The best results are obtained in reproductions of moleskin and white caracul, both of which are in high favor this season. A toque fashioned of moleskin plush with a cluster of ostrich tips in pale blue at the left side is one of the recent creations.
One of the latest approved models is the fur-trimmed sailor. The smartest of these is of long nap white beaver, with the edge of ermine and a band of ermine encircling the crown. With this hat, a collar and muff set of ermine are to be worn.
There are many novelties in beaver hats, of which the most attractive are in two-toned effects. Plaided beavers, too, are shown.
An exceptionally pleasing example of the two-toned beaver resembled a modified tricorne in shape, the top of the hat is in a deep violet hue, while the brim facing was in the palest tint of the same color.
The half coronet of violet-hued roses that extended from the front to the left side and over the brim was the only trimming employed, save a very narrow silk band in self-color which encircled the crown. This idea carried out in red, blue, or brown in two-toned effect would be extremely modish.
The Louis XVI hat, either in tricorne shape or bent low in front with the brim upturned at the back and trimmed with drooping or upright ostrich plumes, or a bow of black panne or velvet ribbon secured with a fancy buckle, is a mode that has, if possible, increased in popularity.
In either beaver or velvet, it is a fitting accompaniment to the street costume of cloth or corduroy.
Medallions of wool lace enter into the ornamentation of one of the prettiest fancy hats of the season. The hat is made of white silk plush, and the material is cut away from beneath the lace medallions which are introduced in the crown and also in the rather wide brim.
A soft drapery of white tulle encircles the crown and forms a large rosette at the left side securing three short ostrich tips against the slightly flaring brim.
Fur hats are especially in evidence this season, and some of the models are regal in their beauty and richness. A moleskin turban relieved by a touch of Bordeaux-red rosebuds made of velvet is a smart bit of headgear to accompany a set of moleskin furs.
Toques and turbans fashioned from chinchilla, ermine, sable, mink, and sealskin are some of the extravagances of the season. The fur hat should, if possible, match the fur boa and muff worn.
There is rare beauty in a toque made of tulle in a pale violet shade which has rich Parma violets and American beauty roses as its trimming.
The violets almost entirely conceal the crown, while two slender garlands of small half-open American Beauty rosebuds and full-blown roses are laid diagonally and overlap the brim at the left side.
This delightful creation is intended to be worn with a gown of violet-colored cloth. In the same outfit, there is a fur toque of unusual distinction.
It is made of sable and is almost heart-shaped at the left side; toward the back, there is a massive chou of cerise panne with an aigrette in shades of brown and cerise seemingly thrust through the center.
The charm of this creation is its shape and its adaptability to a change of trimming. Several choux in different colored velvet, with aigrettes to match or to harmonize, may be provided and the change made as desired.
An interesting Continental hat in millet-green velvet has the brim bound with military gold lace in which there is a bit of green tinsel. At the right side toward the front, the brim is held up by a cockade with ends of the lace, while at the left side are two white ostrich plumes.
This hat would provide the finishing touch to a street costume of dark- green cloth or velvet, carrying out the military effect.
An attractive small turban is made of prunelle purple silk plush, draped over the frame softly, while the only ornamentation is a garland of velvet roses in shades of purple, resting against the straight rolled brim.
Another modish toque was made of panne in a shade of brown that suggests the first turning of the Autumn foliage, and over the high-rolled brim at the back were two ostrich plumes that shaded from the palest beige to a dark rich brown.
A wide dull-gold buckle that ultimately crossed the top of the hat held the plumes in place, and the tips fell over on the hair. With a gown of rich cloth or velvet, in a shade of brown to match either the hat or the tip ends of the plumes, this hat would be charming.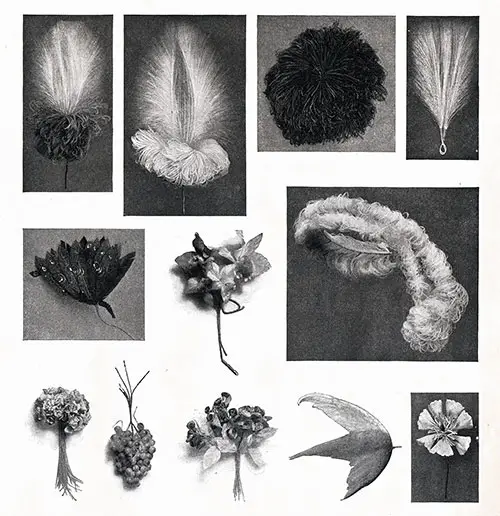 Never in the history of fashion have feathers played so important a part, and they appear not only upon the picture hats but upon the small hats and turbans as well.
Ostrich plumes are used extravagantly, and no stylish wardrobe is complete without at least one plume-bedecked hat. Plumes must sweep around the hat and drop over the hair to be considered the highest fashion.
Plumes that shade from the darkest to the palest tint of color or from light to dark afford various possibilities on hats of luxurious material, and a white plume having the tip in some delicate shade, or even in black or brown is a novelty.
A long ostrich plume that suggests a serpent in its smooth coiling about the hat is called the snake plume.
A two-toned beaver in hyacinth shades of blue was plainly but most effectively trimmed with a very long serpent-like plume in the palest shade of this exquisite color, deepening at the tip end to the darkest hue.
The shape was a modified Gainsborough, with the brim rolled decidedly at the left side. The plume almost entirely encircled the low crown and fell over the flaring brim with the end touching the hair.
This model in black beaver or panne with a white or a black plume would be equally attractive for a carriage hat, while in all white it would be charming.
The ostrich pompon is in high favor and is shown with and without the paradise aigrette. This comes in white, black and colors and is extensively used on stylish turbans and toques. Then there are fascinating floral effects made of the ostrich plumage.
For those who must exercise economy, there is a full choice of fancy feathers. Many of them are made up in Amazon form and are wonderfully attractive. Among the most effective are those composed of poufs of curved cock's plumage set along a central stem.
A pretty arrangement for a medium-sized hat is a wide brim in wreath fashion encircling the crown, with a paradise tail fastened to the left side, to sweep down behind.
Graceful and becoming is the long, sweeping paradise aigrette, which is procurable in all colors as well as black and white. Aigrettes of all kinds are extensively employed.
There is a rare charm in the flowers and foliage of panne or velvet which are used to trim some of the smartest models. A low-crowned sailor in smooth felt tinted a delicate water-green, had the edge of the brim bordered with white silk galon and the crown encircled by a wreath of pink velvet roses and green leaves.
Velvet flowers have never been so beautiful as they are this season. Roses are perhaps the first choice, while dahlias and wisteria in all shades also are exquisite.
Fruits, too, are a very smart trimming; even tiny oranges and lemons have entered into this realm and are practical when tastefully used. Grapes retain their popularity.
A boat-shaped turban fashioned entirely of small roses in Jacque Minot colors and trimmed with velvet in two or three of the vibrant red shades is one of the most beautiful flower hats.
These reds are in high favor, as is also a bright French rose which is used upon black and dark blue hats, usually taking the form of a bunch of ostrich feathers or some other modish feather ornament.
"The Late Winter Millinery," in The Delineator: An Illustrated Magazine of Literature and Fashion, Paris-London-New York-Toronto: The Butterick Publishing Co. Ltd., Vol. LXIII, No. 2, February 1904, p. 236-239.
Note: We have edited this text to correct grammatical errors and improve word choice to clarify the article for today's readers. Changes made are typically minor, and we often left passive text "as is." Those who need to quote the article directly should verify any changes by reviewing the original material.