The Mature Woman's Easter Hat - 1913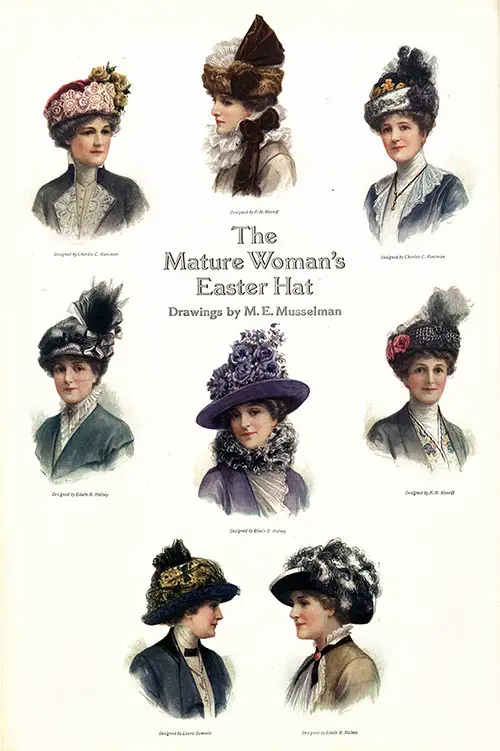 The Mature Woman's Easter Hat, Drawings by M. E. Musselman. The Ladies Home Journal, March 1913. GGA Image ID # 1618a8f4b8
Designers (top section, clockwise): F. N. Morrill, Charles C. Kurzman, F. N. Morrill, Edwin B. Halsey, Edwin B. Halsey, and Charles C. Kurzman.
Designers (bottom row): Laura Samuels (l) and Edwin B. Halsey (r)
Certainly, the mature woman cannot complain this season of a lack of interest, on the part of the designers, in hats suitable for her special purpose.
Everywhere one sees many charming hats and toques, and for the more elderly woman, adorable little bonnets, cleverly evolved from wisps of tulle, diminutive tips, bits of lace and lovely flowers, all skillfully intermingled to make a hat of rare beauty, to bring out to the fullest the dignified charm of the mature woman.
Just above is a well-designed toque, made of soft hemp braid, with a graceful bow of shadow lace at the side.
The charming little toque shows a new feature in the draped crown of the new transparent crêpe Française, in a deep, Queen's red, banded with a rich guipure lace and adorned with a cluster of old-gold roses at the left side.
Next to this, in the center, is a hat for a more youthful matron, in the new, long, narrow lines, with the back-turned brim of a fancy Tuscan braid. Finely plaited Malines, in upstanding frills, forms the airy crown, which is in melon shape, with a single wired loop of velvet at the side drawn through a loop of the straw.
Diaphanous lace and Malines make up the foundation of the fascinating bonnet in the upper right-hand corner. The brim, made of layers of white tulle, is veiled with fine black shadow lace, and narrow ruffles of the same lace form the crown.
A gay touch is given by the tiny roses placed around the crown, in the new, deep Paradise color. Sprays of tulle and tiny ostrich tips are mounted at the side. An ostrich tip dives an air of elegance to the bonnet directly underneath, made of slate-gray tulle, ornamented with a wide beaded band, and with roses in peony pink.
Above the bottom row is pictured a type of hat generally becoming to the matron, having just enough brim to shade the face, and turning upward in a pretty way to show the well-arranged hair on the left side. I
t is trimmed with two tones of shaded roses and violets, massed high at the left side and encircling the crown, with a velvet under-brim facing. Full-blown topaz-yellow roses, veiled with black lace, trim the hat.  
The white hemp hat on its right, with a black facing, is trimmed with a cluster of white marabou and black ostrich tips.
M. E. Musselman, Illustrator, "The Mature Woman's Easter Hat," in The Ladies Home Journal, Philadelphia: The Curtis Publishing Company, Vol. XXX, No. 3, March 1913, p. 32.