Ladies' Hat Styles for September 1914
Paris FM Millinery Nearly All in America :: Style Prognostications for the Future
Paris, August 5th, 1914.
Since the declaration of war made public last Saturday, Paris has taken on a completely changed aspect. Very little traffic in the streets, owing to the fact that no street cars, no taxis and no private carriages and automobiles are permitted to run.
For transportation we are depending solely on the Metropolitain (the Paris equivalent for your subway), and all the planned fashion events, horse races, exhibitions, aeroplane meets have, of course, been cancelled. All those that have grown to love Paris for its life, its brilliant entertainments, its elegance, must be saddened and depressed beyond description by the suddenly silenced city!
The Rue de la Paix, and in fact, all of the famous Opéra district looks particularly deserted. The jewelry shops are closed; the world-renowned dressmaking establishments have dismissed all of their employees days ago, the great millinery ateliers likewise, the male members of all those firms having joined the army.
Styles are of very minor importance these days, and even if there were customers for them there would not be many new styles to display, as at the time war broke out all the ateliers were in the midst of preparations for their Fall openings. Up to the last week in July the modistes as well as couturiers were kept busy filling the orders placed by their transatlantic customers and shipping them to America; thus it happens that America will reap all the benefit of our designers' advance Fall creations, and that practically nothing will be left for the Parisiennes in the way of novelties in Fall attire and Fall millinery.
Though the declaration of war came merely as the climax to rumors threatening for a number of days, there was still a great deal of activity in the fashionable district of the city all of last week.
At Suzanne Talbot's I saw a great many decidedly large capelines of velvet with contrasting facings of exquisite brocaded tissues and beautiful trimmings of fine plumage. One with a shepherdess brim elongated from front to back was made of Russian green velvet, faced in cream and gold brocade and outlined with a band of kolinsky—the new sable-like fur, of which great popularity was expected for the coming Winter season. The trimming was disposed in the centre front of the low bowl-crown, consisting of a tall Prince of Wales fancy of green and brown ostrich, and a very large satin pansy with fur centre.
Crouzeix had some delightful togues and hats intended for demi-saison wear, and quantities of lovely lace-trimmed portrait hats that were meant to be sent to the firm's branch shop at Deauville. Particularly lovely was a chic Russian togue, immensely high at the left side. It was completely covered with huge, loose-petaled velvet poppies (shell-pink, with pastel blue lining and black centers) and trimmed at either side with a touffé of black and white aigrettes, fastened at a tangent so as to make the finished model appear extremely wide from side to side.
A palette-shaped dress hat of champagne duve time was trimmed with ten fountain sprays of black paradise arranged about the extremely wide, flat crown. A festoon of black Pearls and brilliants served for holding the aigrettes in place and introduced an exquisite new note of elegance in the finished model.
A delightfully smart matched set which the Maison Lewis made for an English comic opera star consisted of hat, mantilla, muff, and reticule, and was made of cyclamen-colored velvet, and trimmed with a mass of black tulle flowers strewn with brilliants. The hat was particularly effective—a rather large tricorne toque with soft crown top and rigid sides.
Flowers of variegated sizes were fastened at random over the crown as well as brim, looking charmingly ethereal and dainty over the velvet background and the broad fringe of ostrich outlining the edge of the turned-up brim.
Wide ostrich fringe was also employed for finishing the edges of the mantilla, muff, and reticule. Evelyne Varon, whom I interviewed on the day before the war broke out, showed me some wonderful chapeaux she was shipping to New York, among them a number of large cape lines in black velvet, trimmed in white.
One need not be gifted with a prophetic mind to be able to foretell that the popularity of this color combination is ended; as black and white are the tones composing the Prussian flag, it is evident that this blend will not be affected by Frenchwomen. The same applies to black, white and red combinations (the German colors) which have enjoyed marked popularity since the Grand Prix, but will now surely be superseded by the French tricolor (which is also the British) red, white and blue. And there will be a great deal of black worn—and not only in France—for mourning will be universal.
After peace is restored (and may it be soon!) we may expect to see a wonderful crop of styles suggesting military regalia. Helmet toques and small hats and sailors with military trimmings were prominently featured among the advance Fall styles; doubtless you have seen numbers of them in New York, for they were readily ordered by American buyers.
Coquet feathers, clipped ostrich pompon and busby effects, festoons, ropes and bindings of metallic galloons, gilt and silver braid ornaments are likewise certain of success in times to Come.
Martial Styles
Cossack and Moujik styles, the shako of French and English cavalry, the jaunty, close-fitting but high kepi of French and Belgian infantry, all will be translated into feminine millinery and all are certain to become popular, besides the smart helmet shapes, tricornes and picturesque large hats introduced tentatively on and after Grand Prix Day and featured in the advance showings of the grandees modistes.
Since Paris does no longer boast its famous restaurant life, and as all planned social events were, of course, cancelled, the only places where styles can be seen now are the depots to which all the Parisiennes now flock. At the Gare St. Lazare I saw a great many members of the Smart Set, on the verge of leaving Paris for their chateaux in the Normandie or their country homes in the Bretagne. In spite of the almost tropical heat, the majority of hats worn were of velvet, some mid night blue, some Russian green or Burgundy red, but surely eight out of every dozen, black.
The flat-brimmed sailor seems to prevail over all other styles at the moment, being shown in countless new variations.
Those trimmed with ostrich fringe, or encircled with three or more very long quill motifs of stripped ostrich, Numida or pheasant are particularly in evidence in conjunction with the traveling costume, though some unusually lovely ones trimmed with two or three immensely large fabric flowers are likewise prominent. The chic togues entirely made of plumage are still seen but have lately been finished with disk-tops of velvet and with broad velvet bindings. Tall, sword-like Mephisto quills are still the preferred garniture for hats of this type.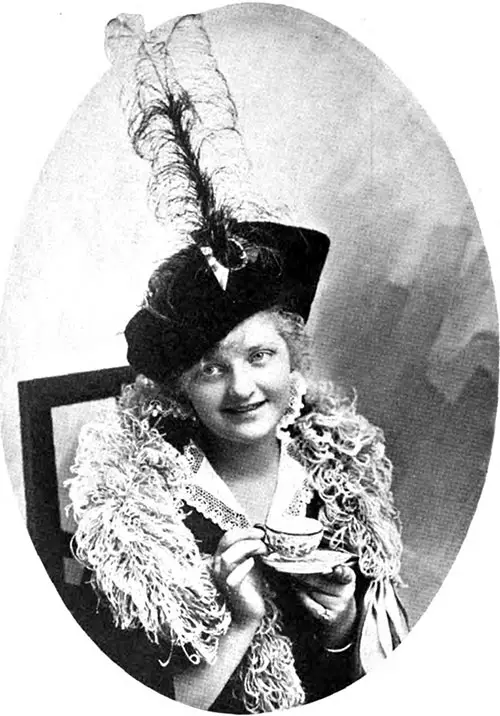 Novel Velvet Toque with Slashed Brim Revers. Shown by Kurzman, New York. GGA Image ID # 1621c6cc14
Toque with triangular brim of black velvet and satin crown; trimmed with a fringe band and touffe of scorched ostrich. the former arranged about the crown, the latter fastened in the centre front by means of a large plaque of cut Jet. Dimensions: Diameter of crown, 12 Inches; height of brim revers, 3 inches at widest point; headsize. 27 inches.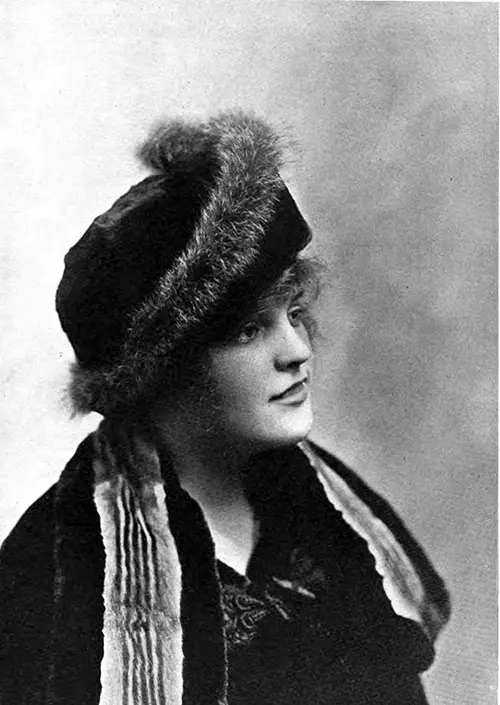 Sealskin Hat with Raccoon Edge. Shown by Schoen & Sarkady, New York. GGA Image ID # 16220e287a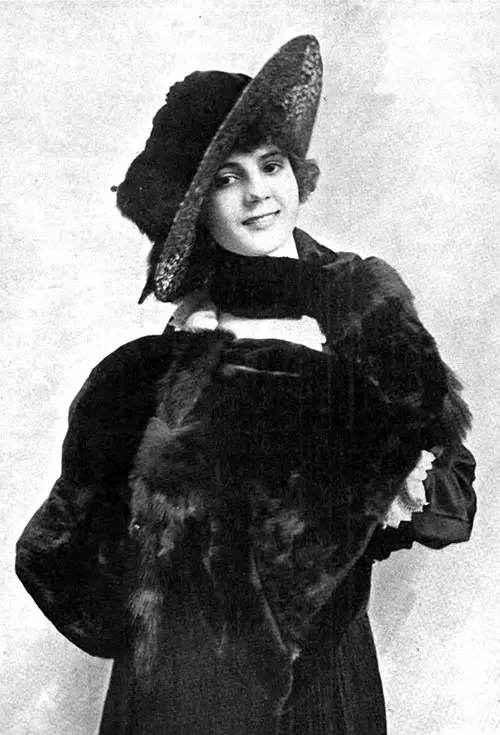 A Sumptuous Matched Set for Midwinter. From the New York Showroom of The Hart & Co., Cleveland. GGA Image ID # 1622a1e048
Hat, neckpiece and muff. The Hat has a sealskin crown trimmed with knot of mink, and is finished with a brim of gold lace. The neck-stole and muff are of sealskin, trimmed with bands of mink.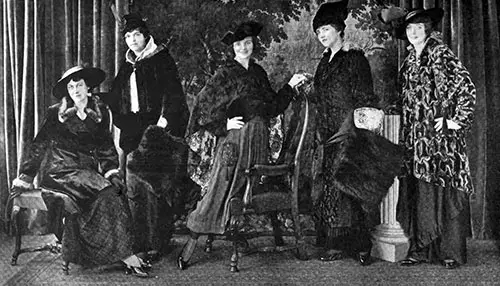 A Scene at One of One of New York's Leading Department Stores Showing an Exhibition of Garments and Hats of Helton Looms Fabrics. Sidney Blumenthal & Company, New York. GGA Image ID # 1622c18e23
Garments From by the Following Leading Manufacturers Left To Right:
Louis Smith 36 West 25th Street
Cohen Brothers 928 Broadway
Bruno Cumpricki 40 West 27th Street
Louis Smith 36 West 25th Street
Jacobs & Jacobs 122 West 26th Street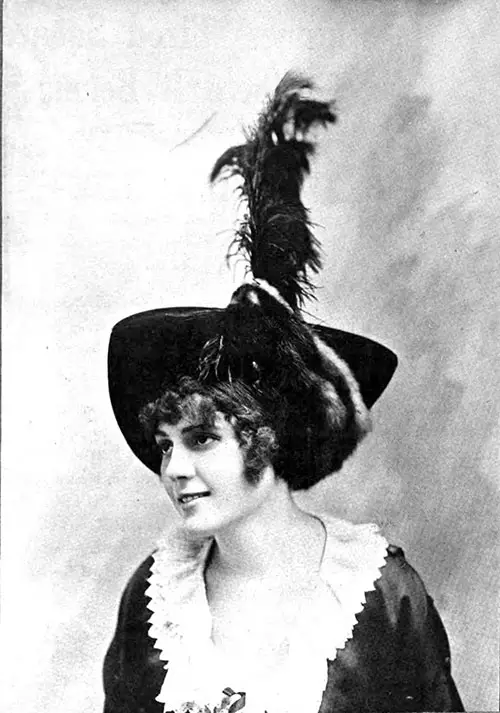 A Fetching Combination of Velvet, Ostrich, and Fur. From the New York Showroom of The Hart & Co., Cleveland. GGA Image ID # 1622eabd65
Modified François I hat of seal brown velvet, having a collapsible crown and a vaulted brim, broken into a triangular revers at the left side. At this point, the hat is trimmed with a tall cluster of bronzed ostrich caught with a mink pelt. Dimensions: Diameter of crown, 13 inches; width of brim 4 inches, except at the left side, which measures 6 1/2 inches at widest point.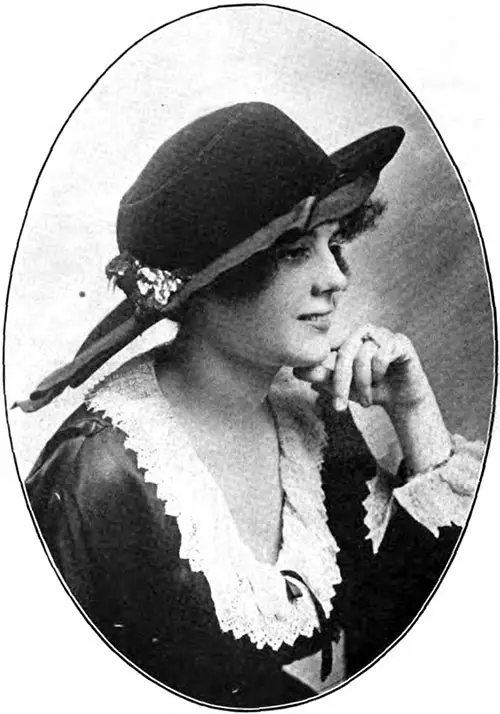 Bird Heads Simulated in Jet and Other Spangles are Popular. Hat from The Hart & Co., Cleveland. GGA Image ID # 162328ded8
Tailored hat of black velvet, with left side cut off square and trimmed with a bird head of jet and a long flat cravat of faille ribbon. Dimensions: Height of crown, 3 1/2 inches; circumference: 27 inches; width of brim 2 1/4 inches at the fron and back 2 inches at sides..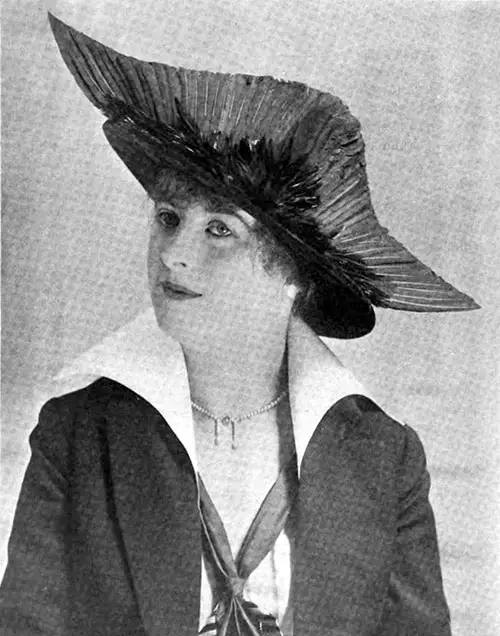 New Sailor Shape with Handsome Wing Decoration. Shown by The Paris Hat Shop, Chicago. GGA Image ID # 16235277ae
There are fewer eccentric shapes worn at present than there have been during three previous seasons. A marked tendency to return to simpler, more symmetrical styles is plainly noticeable. A very unique little hat of black velvet is made with a conical crown, long from front to back and suggesting the hat style one is accustomed to associate with Robin Hood.
The narrow, rolled-up brim forms a sharp point in the centre front, keeping close to the crown at the sides and back, and the trimming is effected by narrow, long white wings, fastened either side of the crown with a small tailored bow of white silk Hercules braid.
Another exceedingly handsome model intended for early Autumn has a soft, large crown of heavy white satin and a sort of Bolero brim turned up throughout its circumference and cut to suggest square tabs. The facing, which is smoothly applied, is of black velvet and outlined with an inch-wide, knife-pleated frill of the white braid.
Two wide, but very flat ostrich quills-pure white with black stems decorate this chic hat; they are fastened either side of the brim, tips meeting about five inches above the top of the crown and affording a remarkably effective new silhouette.
One pretty idea is a large circlet of jet with two ostrich feather pompons looped in the circle perched on the side of a flat black velvet sailor. A canotier of black hatter's plush has five bows of moiré ribbon placed around the crown and the new scimitar wing, called scimitar, as the wing is cut the shape of the Turkish rapier.
A stunning capeline with broken edges is made of maroon velvet, and its crown covered with gold and black brocade, draped and drawn out on one side. A great rose of gold ribbon, with foliage, was placed above and below the brim.
A favorite color of the moment is yellow. The clear amber tints of a few weeks ago have been dethroned by tones with a decided tinge of green in the cast. Mustard shades, in consequence, are strongly featured, as are antique gold tones.
Mauve and deep amethyst shades are ofttimes associated with these yellow tints, and, while the combination is unusual  and decidedly trying, it is frequently the choice by elegant Paris, in millinery as well as in sartorial products.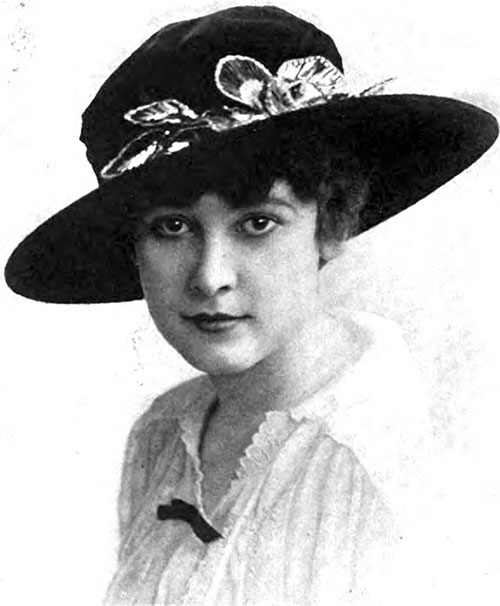 A Charming Combination of Velvet and Silver Filigree. Shown by D. B. Fisk & Co., Chicago. GGA Image ID # 16236bc11c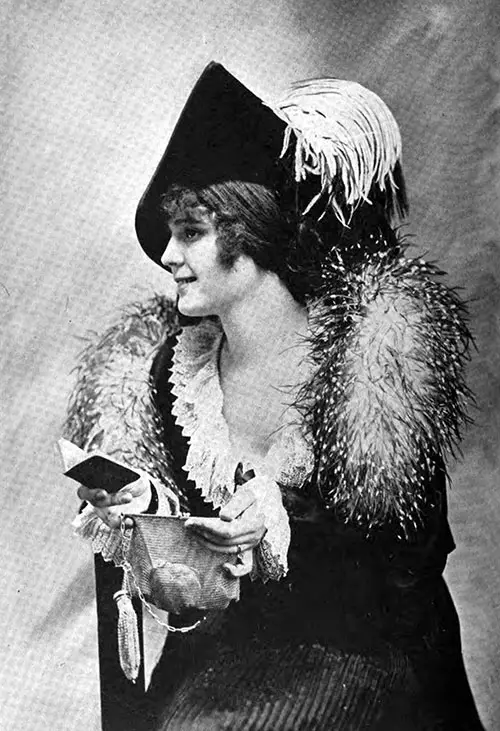 Featuring the New Fad for Bold Brim Revers. From the New York Showroom of The Hart & Co., Cleveland. GGA Image ID # 16239a4c95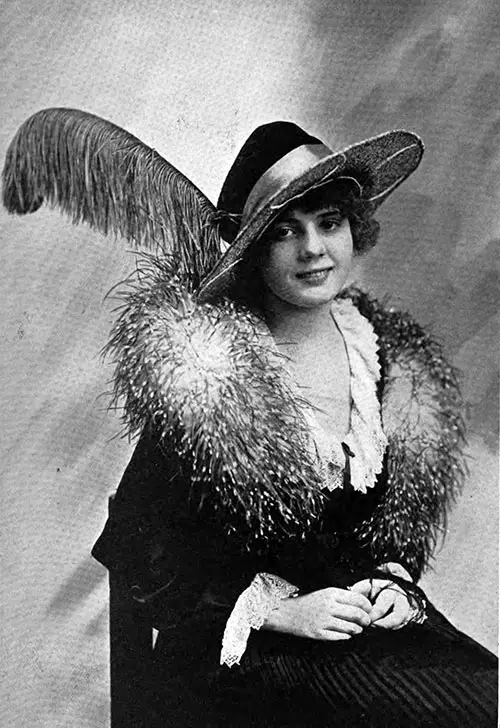 Restaurant Hat with Gold Lace Brim Wired in a Novel Way. From the New York Showroom of The Hart & Co., Cleveland. GGA Image ID # 1623a1a014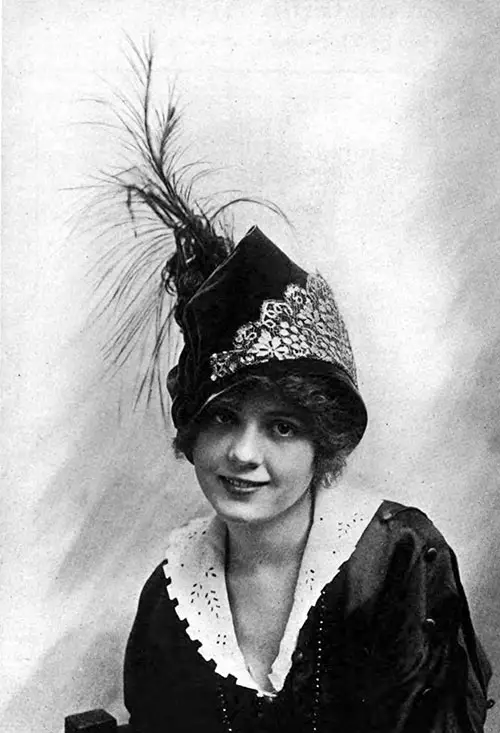 Velvet Toque in Hussar Style with Plumage and Gold Lace Trimming. From the New York Showroom of The Hart & Co, Cleveland. GGA Image ID # 162439a6ea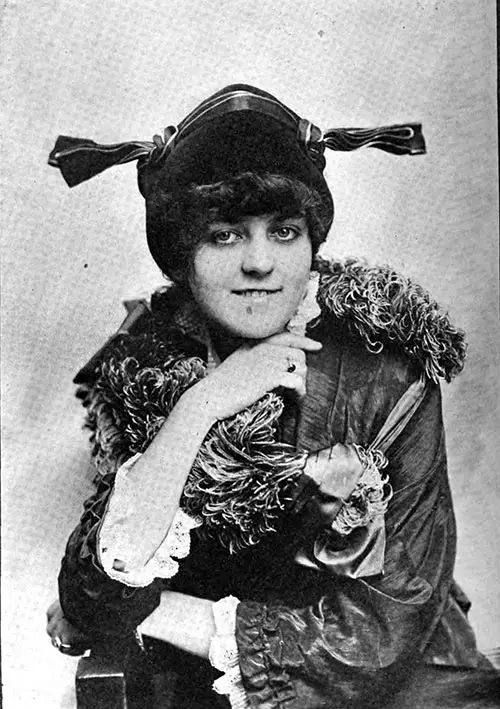 Torpedo-Shaped Toque with Unique Ribbon Garniture. Shown by Johnson & Stirgwolt, Columbus. GGA Image ID # 162484ef9f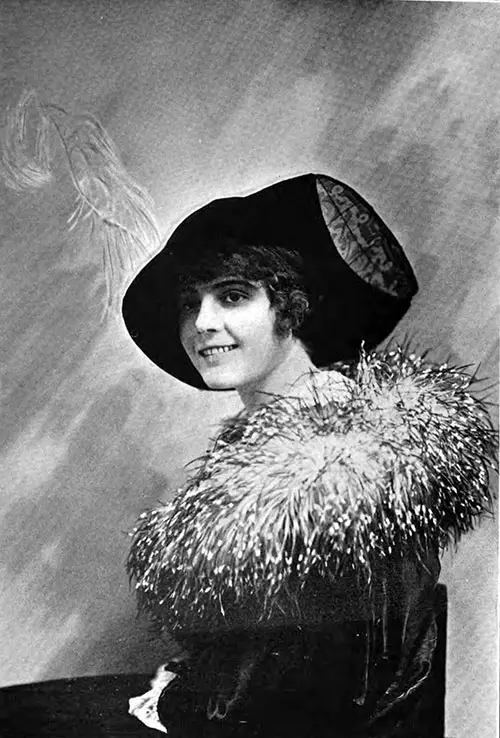 Portrait Hats with Partially Transparent Brims Are Among Exclusive Novelites. From the New York Showroom of The Hart & Co., Cleveland. GGA Image ID # 16248a4ba2
The Illustrated Milliner, Paris-New York-London: The Illustrated Milliner Company, Vol. XV, No. 9, September 1914