Ladies' Hat Style for August 1914
Large Portrait Hats; Small, High 1870 Styles; A Wealth of Toques and Turbans
PARIS, July 19th, 1914.
This season of the year is a veritable potpourri of styles and fashion tendencies, and it is an exceedingly difficult matter to decide which one of the innumerable styles launched as "Modèles d'Automne" has the greatest prospects of popularity in the coming season—large hats à la Gainsborough, Vandyck, and Rembrandt, styles reminiscent of the Moyen Age, of 1750, 1789, 1830, 1870, 1880—anything but 1913, that is too old fashioned —all compete for public favor, and while, of course, not all can be leaders, it is quite safe to predict a liberal demand for them all.
The large, picturesque velvet hat launched by Georgette at the Chantilly races and subsequently introduced by numerous other designers of international fame, has leaped into sudden favor on Grand Prix Day, and can now be seen simply everywhere, new adaptations appearing almost daily. The style Mme. Georgette is most partial to at the moment is conspicuous by a remarkable expanse of brim and a flat crown.
The Rembrandt hat is scoring new triumphs, so are the Mousquetaire, the Florentine and the Lavallière cape lines. The trimmings favored by Georgette for this type of hat are large, but simple arrangements of ostrich—curled, stripped or scorched—and huge amounts of paradise and other aigrettes, and sometimes she adds ropes of large beads (in black, white, black alternating with white or white alternating with steel or silver) which either encircle the crown or rest over the brim.
Novelties in Flower Toques
Contrasts are at home at the Salon Georgette, however, and side by side with these large, dignified portrait hats she shows small, frivolous toques laden with flowers in the very gayest of tints. Huge velvet begonias, apple blossoms and pansies are the preferred flowers; they are either applied to a tulle foundation to cover the entire hat, or else form a voluminous arrangement in the centre front, extending over the sides and frequently adding considerable height to the finished model.
The Maison Lewis, while, like most all other leading modistes, partial to plumage trimming, shows some remarkably clever designs in the trimming of which flowers are a factor. There is a charming little Henri III hat, for instance, in which the trimming is formed by four saucer-like velvet flowers in the same deep blue tone of the satin covering the crown and brim.
In a stunning dress hat, a broad-brimmed cape-line of black velvet, the trimming consists of a drooping cluster of short, broad ostrich tips in dull mauvish blue, tied up with a little bunch of pale pink roses and arranged over the drooping right side of the brim.
Evelyne Varon shows a vast variety of portrait hats of every description, as well as tall, quaintly shaped toques and unique cap and capote styles. There may be more famous modistes in Paris than this designer, but doubtless there is no other atelier where the variety is as great, and the styles as unique.
Much Fur Trimming
In spite of the early date, fur is a garniture resorted to with great frequency by Mme. Varon. In a beautiful Rembrandt togue of coffee brown velvet the trimming is effected by three entire fitch pelts arranged so as to cover all of the low flat crown, the heads resting over the immensely high frilled brim revers.
Equally effective is a large, dressy Louis XV cape-line with satin top and semi-facing of lustrous velvet in the rich, deep Burgundy tone called merise (wild cherry). The low, round crown is succeeded by a broad brim which droops at random and is overlaid with a second brim section, also of satin. This is slashed at the front and back and rolled up, displaying a narrow, but very full band of curled ostrich in the tone of the facing.
Louison favors large, highly ornamental flowers of silver, gold, or steel tissue, using them on broad-brimmed dress hats of velvet as well as on all sorts of chic togue and helmet styles.
A picturesque Rembrandt hat with broad, sharply creased left side revers and having the front of the brim clipped away to within an inch of the inner edge, has as sole decoration a branch of silver rose foliage, with one large rose of the same tissue and numerous buds of dull gold cloth, applied to the flat and slightly drooping right side of the brim.
Another portrait hat boasting floral trimming is made of wheat-colored French felt—the exact shade of chamois, and as velvety—and faced with seal plush. A greatly enlarged pansy of silver filigree with black velvet foliage is tacked to the edge of the brim at the right side holding in place a folded torsade of silver ribbon, which traverses the crown and terminates in a broad bow at the back of the brim underneath.
Second Empire and "République" Styles Medium large but very tall hats inspired by the styles of 1870 and 188o are liberally featured at practically all leading ateliers. They are generally made of velvet, ofttimes faced with plush or with one of the new chamois or ruissedor fabrics introduced by Rodier, and with their large amounts of roses or other flowers or their elaborate ostrich or aigrette garnitures they are decidedly ornamental.
Though they are not as generally becoming as the portrait sailors, nor as youth ful and pretty as the new toque styles, they are immensely chic, especially when worn with a basque dress, a cape or one of the ultra-fashionable redingote coats.
Speaking of basque dresses and other mid-Victorian (1880) styles—though splendidly introduced and promising very well for the coming season, these styles may not last as long as we anticipated, owing to the sudden death of the one who is responsible for their revival and re-introduction, Mme. Lefranc, the genius presiding over the atelier of Premet.
Plumage-Trimmed Hats Abound
Lucie Devèze is using a great deal of burnt ostrich for imitating aigrettes, also great quantities of small, clustering breast feathers, and of coque. One of the most unique models in the remarkably complete assortment at this atelier is a portrait hat of black velvet, with very broad back revers slashed and turned in in cornucopia effect to roll over the low, round crown on both sides.
The band of white marabou which outlines the brim edge and encompasses the crown is dotted with tiny pansies of black and deep purple velvet and a large, flat spray of the same flowers is carelessly laid across the back of the crown apparently holding the cut edges of the brim revers together.
A great bunch of exquisitely tinted roses with natural foliage lend a cheerful and exceedingly lovely note to a tall crowned Henri III hat of black velvet, displaying the new combination of black and crimson at its very best. They are arranged over the centre front of the sloping crow, spreading in a broad fan touffe and adding a considerable number of inches to the height of the finished model.
At Pouyanne's, large velvet hats of simple outline and corresponding garnitures abound. This designer displays lovely Florentine shapes of dull white velvet with contrasting facings in parchment gray, Madonna blue, canary, camellia pink or Parme mauve.
Ofttimes the trimming is formed by a broad band of ostrich (either chemically treated or natural) to which sometimes one long single plume is added. This designer makes also very clever use of every imaginable kind of fringe, employing it as a brim finish, sometimes hanging over the brim edge, sometimes forming a flange on the under side of the brim, fastened under the fold edging the facing.
Aigrettes, gourah, blondine and vulture feathers are used in the same manner.
Aigrette wreaths à l'Indienne (the original Pocahontas effects) are an important trimming factor at Reboux, who uses them impartially on wide-brimmed hats as well as on all sorts of chic togues with tall crowns and close-fitting brims.
A round polo togue of black velvet is completed by a four-inch-wide brim band made of black moiré ribbon interwoven in checkerboard effect, over which droops a broad fringe of monkey fur. The trimming is completed by a tall double quill of white and black glycerined ostrich caught between the crown and brim in the center front.
Another handsome and ultra-chic model show atelier has a quaint, flat-topped crown, very large and spook shaped (much narrower in the center than at the top and base) which is outlined at the top as well as base with fur bands made of alternating strips of moleskin and beaver. The center front is trimmed with a huge double pompon of clipped uncurled ostrich in which the soft brown and gray tones of the fur trimming are repeated.
At Germaine's an occasional poke or Directoire bonnet breaks in oddly and quaintly among the picturesque and the smart. Some of these cabriolets are finished with visor shaped brims and have the quaint chin straps and the dainty floral garnitures characteristic of the period that inspired them. One which is particularly charming is called Pavlowa, being an exact reproduction of the Directoire cabriolet worn by the famous Russian dancer in the gavotte created by her.
It is formed by alternating bands of golden yellow satin and golden brown velvet, has a dainty and becoming facing of shirred pale blue chiffon and is trimmed at either side of the visor brim with a tiny cluster of gold flowers, each supporting a short ostrich plume. While this style is rather too eccentric to appeal to the general taste, it is so charmingly picturesque and quaint as to fully deserve mention.
Suzanne Talbot's atelier boasts numerous hats reminiscent of the Premier Empire–elaborate, small togues and helmets in which the arrangement of the drapery and trimming is everything and the ligne is of only secondary importance.
Others are pronouncedly on the portrait hat order, having broad boldly flaring brims wavering between the Gainsborough and the Rembrandt type. Velvet is the material at this atelier and the favored tones, aside from the all-important black, are a deep claret red, a vivid ecclesiastical purple and the dull, neutral grays seen in slate and moleskin. The trimmings, too, are, with very few exceptions, neutral and somber in tone, fur, rich aigrettes and paradise being the chosen favorites at this atelier.
White satin furnished the material for a youthful shape with drooping bell crown and tall, square crown, a demi-saison model originating at the atelier of Hermance. The crown is smoothly draped, while the satin covering the brim is applied in the shape of narrow, closely overlapping folds.
The trimming is also all-white and consists of a wreath of white pansies closed at the front and back with a large many-petaled chrysanthemum. Another all-white hat from Pouyanne is conspicuous by an oval crown, dented from front to back and a straight, narrow brim elongated at front and back to accentuate the outlines of the crown.
The dull white faille of which the hat is made is thrown into strong relief by two tiers of highly lustrous satin roses which encircle the top of the crown, and a large bow of broad satin-and-velvet-striped ribbon, with which the back of crown and brim is finished.
A medium-large canotier from Maria Guy is made of pale beige mohair braid, with crown top of black velvet and facing of canary crêpe. Long-stemmed sprays of white and yellow marguerites adorn both sides of the brim, which droops in Florentine effect in the center of front and back, and a large flat bow of black piece velvet completes the lovely ensemble.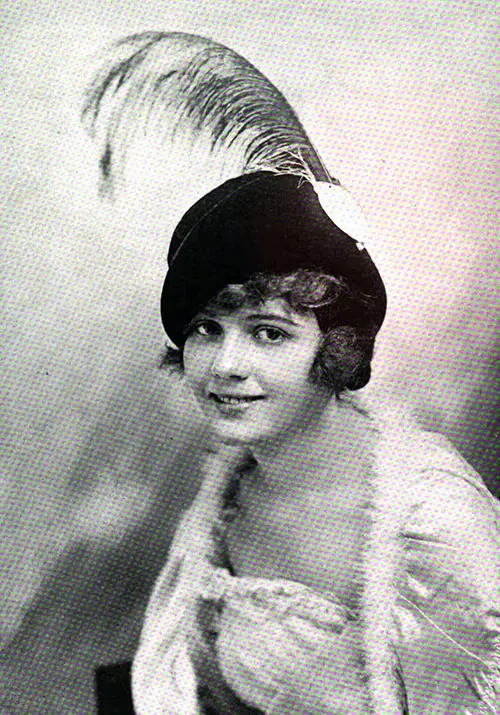 Henri II Toque With Jet Plaque and Scorched Ostrich Quills. Shown by the Hart & Co., Cleveland. GGA Image ID # 161e5d84a8
Smart tailored hat in Henri II style, made of black velvet and trimmed with three glycerined ostrich quills in black and white, caught in a cord ornament at the left aille. Dimensions: Height of crown, 7 inches; circumference, 30 inches; width of brim Including rovers. 3 inches at the widest point, 1 1/2 at the narrowest.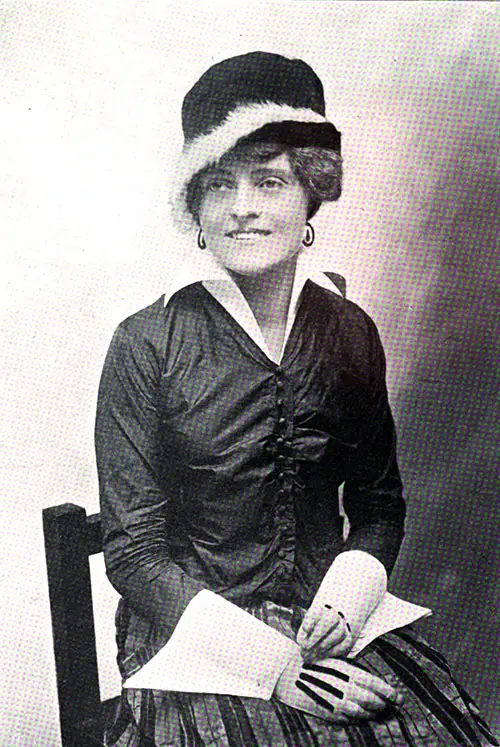 Fashion Favors Fur Hats. Henry II Hat Made of Two Contrasting Kinds of Fur. Shown by Schoen & Sarkady, New York. GGA Image ID # 161e7fa1cd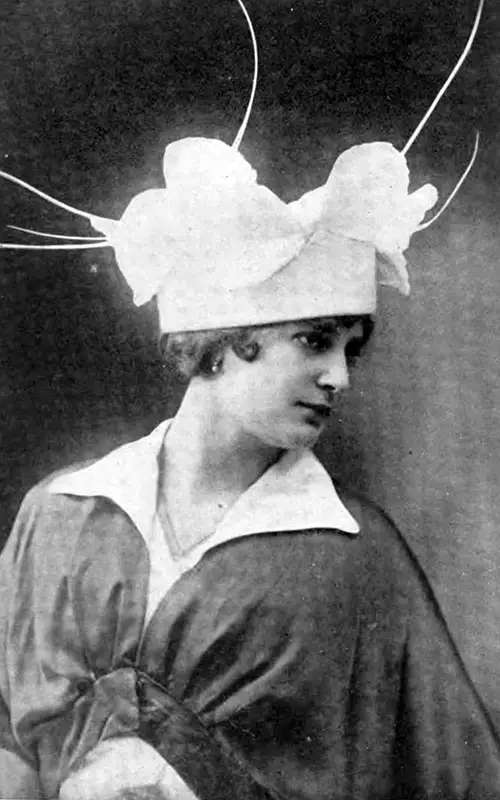 Georgette Model in White Earl Tailored Hat. Shown by Farrington & Evans Co., New York. GGA Image ID # 161e828ad7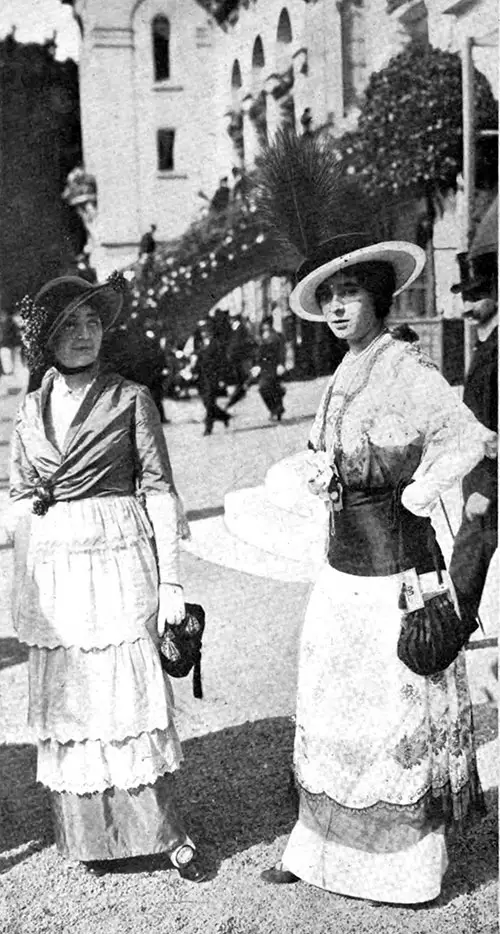 Turf Snapshot from the Grad Prix de Paris, the Birthplace of Autumn Fashions.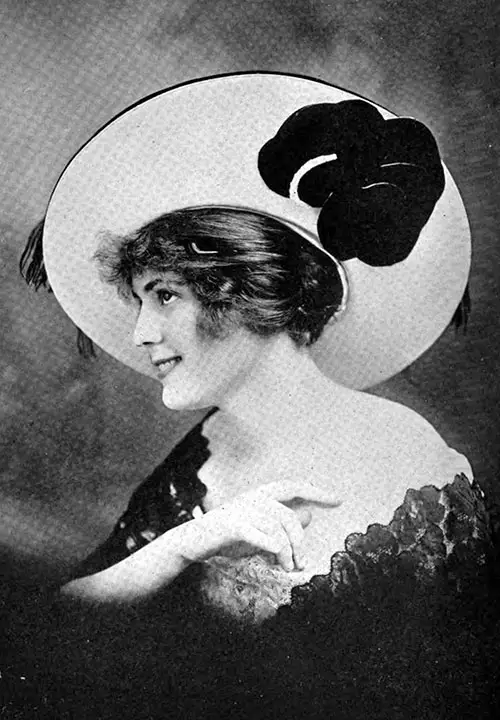 Portrait Hat in Black and Cameo Pink. the Velvet Covering the Wide Brim Is Overlaid With Ostrich Fringe and Trimmed With a Large-Petaled Velvet Flower. From the New York Showroom of The Hart & Co., Cleveland. GGA Image ID # 161eb64d3b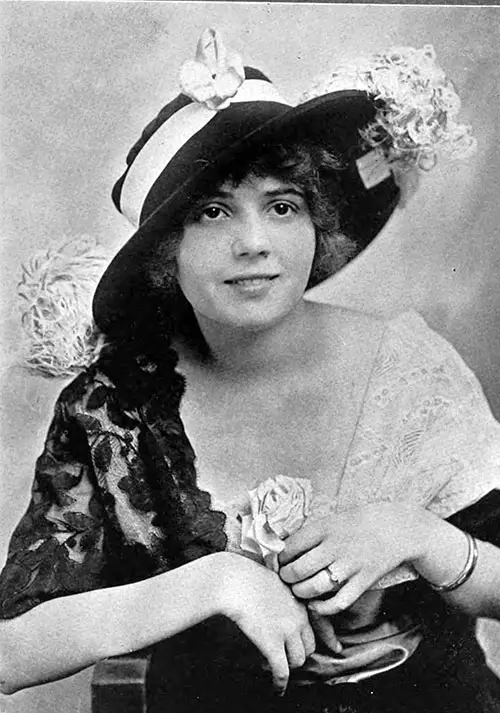 Mousquet Aire Hat in Border Velvet and Natural Ostrich. the Picturesque Flare of the Left Side of the Brim Is Accentuated by an Ostrich Plume and Ribbon Cravat. From the New York Showroom of The Hart & Co., Cleveland. GGA Image ID # 161ee9fe19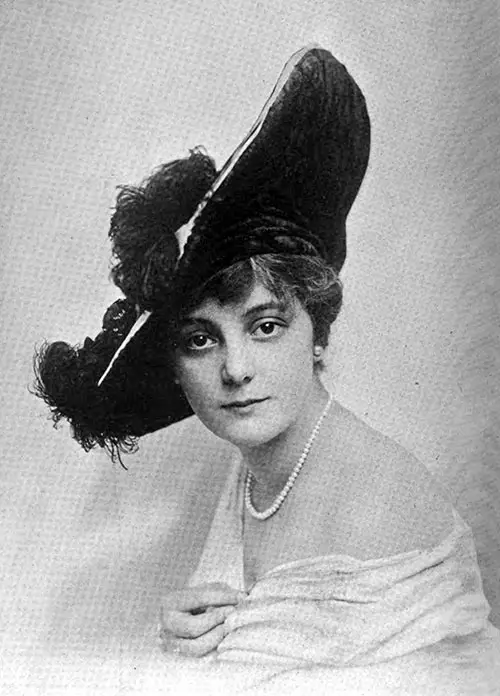 Gainsborough Hat, Made of the New Caracul Imitation, Meritfex Taffeta and Embroidery Showing the Embroidered Crown Top, the Unique Double Brim Effect, and the Trimming. Shown by House of Salt's, New York. GGA Image ID # 161f48ca79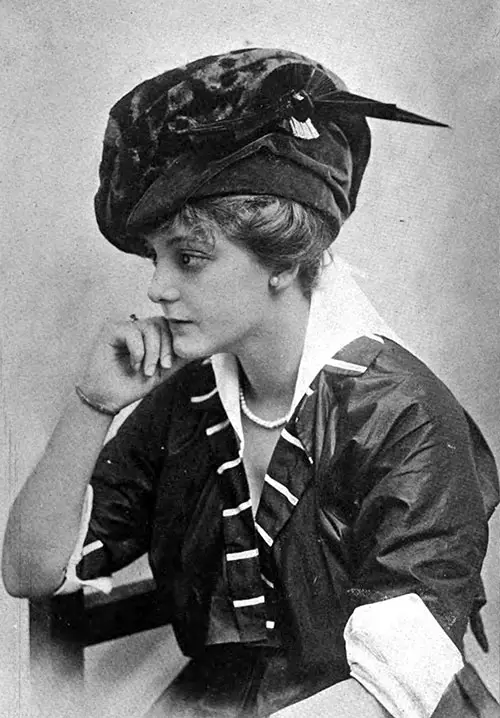 Rembrandt Toque of Pomoiré (Imitation of Broadtail) and Cherry-Colored Velvet. the Pomoiré Is Used for Lending Additional Height and Softness To the Brim. Shown by House of Salt's, New York. GGA Image ID # 162028503e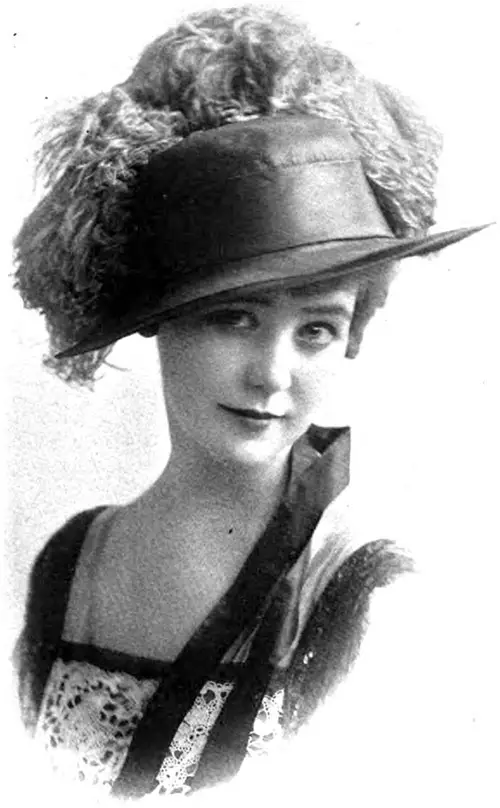 Dress Hat of Simple Contour, Ipith Elaborate Ostrich Trimming Arranged in a Novel Way. Shown by D. F. Fisk & Co., Chicago. GGA Image ID # 1621480f14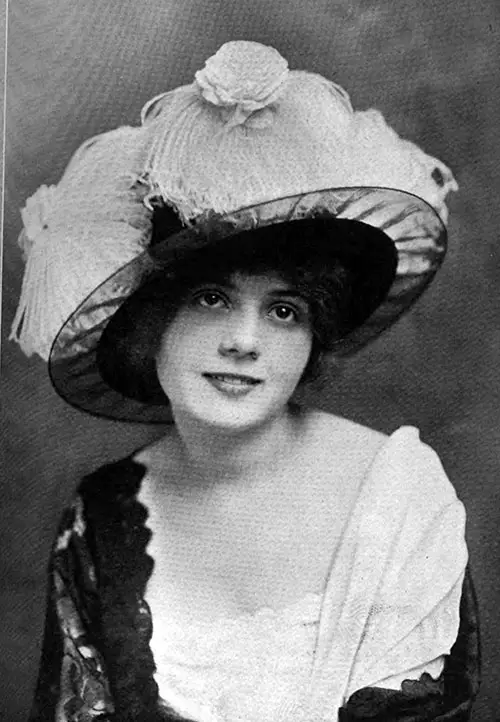 Pompon Plumes and Gardenias–an Ultra-Chic Combination. From the New York Showroom of the Hart & Co., Cleveland. GGA Image ID # 16217e1eb8
The Illustrated Milliner, Paris-New York-London: The Illustrated Milliner Company, Vol. XV, No. 8, August 1914