Leviathan: The World's Greatest Ship, Vol. 6 - 1981 by Frank O. Braynard
The Story of the LEVIATHAN
By FRANK Q BRAYNARD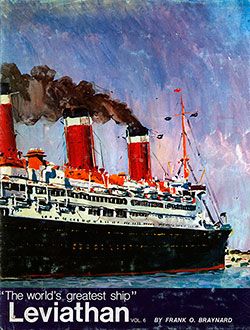 Other Books by the Author LIVES OF THE UNERS
50 YEARS OF THE N.Y. SHIPBUILDING CORP.
FAMOUS AMERICAN SHIPS
SS SAVANNAH. THE ELEGANT STEAM SHIP
THE STORY OF SHIPS
A TUGMAN'S SKETCHBOOK
FIRE ISLAND TO VENICE
ONE SQUARE MILE
BY THEIR WORKS YE SHALL KNOW THEM
LEVIATHAN. VOL. I
LEVIATHAN, VOL. II
LEVIATHAN, VOL. Ill
LEVIATHAN, VOL. IV
LEVIATHAN, VOL. V
SALTAIRE SKETCHES
SEARCH FOR THE TALL SHIPS
THE GREAT LINERS (CONSULTANT)
ROMANCE OF THE SEA (CONSULTANT)
SAIL, STEAM AND SPLENDOR (CONSULTANT) FAMOUS AMERICAN SHIPS (REV. ED.)
THE BIG SHIP
IL NASTRO AZZURRO (IN ITALIAN)
FIFTY FAMOUS LINERS
"WORLD'S GREATEST SHIP" THE STORY OF THE LEVIATHAN VOLUME VI
THIS VOLUME IS DEDICATED TO EUGENE EUGENIDES, founder of the Home Lines; to the TITANIC Historical Society and to Dr. Harold S. Goldberg, generous patrons. It is also dedicated, as were the five earlier volumes to William Francis and Frederic H. Gibbs; to the Robert L. Hague Merchant Marine Industries Post, Irving H. Jones and Harry Wright, and to the LEVIATHAN Veterans Association.
Published by the American Merchant Marine Museum, U.S. Merchant Marine Academy, Kings Point, N.Y.
© Copyright by Frank O. Braynard
Library of Congress Card Catalogue No. 72-85207
ISBN No. 0-96 06204-5-1
TABLE OF
CONTENTS
Frontispiece The LEVIATHAN arriving at Le Havre in 1934, from an original painting
by Albert Brenet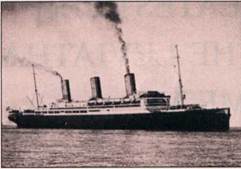 Chapter I             A DEAD SHIP  9
Chapter II           AT HOBOKEN AGAIN 20
Chapter III          "A FEAST OF THE ELEMENTS" 28
Chapter IV          ''GREAT LEVIATHAN ... TO RESUME SERVICE" 42
Chapter V           "THE MIGHTY SHIP TREMBLED" 56
Chapter VI          BOOKINGS "BRISK" 72
Chapter VII        THE LAST VOYAGE 87
Chapter VIII       "TOMB-LIKE SILENCE" 95
Chapter IX          "SATURNALIA OF WASTE" 104
Chapter X "THE HAND OF POLITICS" 119
Chapter XI          "AN INANIMATE PERSONALITY" 132
Chapter XII        "TROLLOP WITH A NEW PARIS HAT" 142
Chapter XIII       "THIS END HAD TO COME" 151
Chapter XIV       CHIEF'ENGINEER IVERSON 160
96-Page Illustrative Section 163-258
Chapter XV        "DUST AND GLOOM 263
Chapter XVI       "TIE DOWN THE WHISTLE" 272
Chapter XVII     SHE SAILS 285
Chapter XVIII      THE SHIP SPEAKS OUT 295
Chapter XIX       ALMOST ON THE ROCKS 311
Chapter XX        THREE BLASTS ON HER 322
Chapter XXI       THE FINAL DAYS 335
NOTES 349
Appendix A "THEY CALLED HER VATERLAND" 374
Appendix B        ARTIFACTS FROM GERMAN 384
Appendix C        FROM HER TIME AS THE LEVIATHAN 392
Appendix D        DOCUMENTS 407
Appendix E        PAINTINGS, RENDERINGS 410
Appendix F        THE POWER PLANT—HUGH PLATT 414,
Appendix G        ERRORS IN PREVIOUS 425
Appendix H        LEVIATHAN BOOK PATRONS 428
INDEX 432
CREDITS 448
This, the sixth and concluding volume of the LEVIATHAN series, completes a writing project that began in 1968. The first volume was published in 1972. As a rare book it it priced today at $50 a copy. The author still has a few left. There are at this writing plenty of copies of the succeeding volumes. Vol­umes II and III may be had for $30 each, plus postage and N.Y. State Sales Tax. Volumes IV and V are available for $45 each, plus postage. Anyone interested in buying one or more may write Frank Braynard at his home: 98 DuBois Ave., Sea Cliff, N.Y. 11579.
The income from the sale of this volume will be used to pay back the many book pa­trons who have loaned the author from $100 to $250 over the years to help him finance these six volumes. A committee of LEVIA­THAN patrons was formed recently to circu­late a memo to all book patrons asking them to waive their right to get their original money back, in light of the great increases in the cost of the book's production and the high price (and value) of the volumes. Virtually all to whom the appeal was sent have re­sponded as the committee suggested. Most recent patrons have not yet been offered this opportunity to show their appreciation of the series by saying they do not wish to have their original contribution returned.
The six-volume work has been unique as a publishing effort in this way. It will stand as a model to many who believe they have an important story to tell but who can not get backing from ordinary publishers.
THE AUTHOR—Frank O. Braynard—was honored recently for this series by being elec­ted a Fellow of The Royal Society, of Lon­don. The volumes, in addition to his work as the creator and general manager of the Bicen­tennial's tall ship event know as Operation Sail '76, have brought him other recognition, including an Honorary LI. D. from C.W. Post University. He was twice president of the Steamship Historical Society of America and was editor of their journal for several years. He is an honorary member of the Council of American Master Mariners and of the Veteran Wireless Operators Association, and a Fellow of the Rochester Museum and Science Center.