History of Supply Company - 346th Infantry AEF - 1919

Top Banner (Emblem), Supply Company, 346th Infantry, 87th Division of the AEF. GGA Image ID # 1346431b3c
The Supply Company, 346th Infantry trained at Camp Pike, Ark. Most of these men went to Camp Dix, New Jersey and from there to France. At Camp Dix, N. J. the organization included men from New York and New Jersey. The company left the States for overseas duty Aug. 24, 1918.
Content
History of Supply Company, 346th Infantry
Our Trip to Sunny France
By Mechanic James E. Marsdne
Supply Company Officers
By Sgt. Ernest O. Stucke
Roster of Officers and Enlisted Men
Images from the Supply Company, 346th Infantry
History of the Supply Co., 346th Infantry
The Supply Co., 346th Infantry was organized at Camp Pike, Ark. Oct. 3, 1917 with the following maned Officers and enlisted men :
Captain George D. Dixon
1st Lieut. Thomas Cassells
Sgt. James M. Wimberly later Regimental Supply Sergeant
Sgt. Walter C. Terrel later 1st Sergeant
Pvt. 1cl.  Frank C. Dickman later Stable Sergeant.
October 17, 1917 the company received 23 recruits, who, with the exception of a few were transferred to the 81st Division Nov. 15, 1917.
November 18, 1917, the company received 80 Illinois men from Camp Taylor Kentucky and November 26, 1917, 40 Minnesota men from Camp Dodge, Iowa. With the exception of a few, all of these men went to Camp Dix, New Jersey with the company and from there to France.
At Camp Dix, N. J. the organization was filled up with men from New York and New Jersey. The company left the States for overseas duty Aug. 24, 1918.
OUR TRIP TO SUNNY FRANCE
It was on the 23rd day of August in the year of 1918,
Just after the break of day, such a sight was never seen.
It was a band of Soldiers, this merry little throng ;
It was the Supply Company, 346th Infantry, they were sturdy brave and strong.
They lined up in front of their barracks, their faces all aglow,
Their breasts were filled with pride, for overseas they were to go.
They marched up to the train in a place they called Camp Dix
And they were very anxious in the Bloody fray to mix.
The train carried them to New York, the place that isn't slow
To board a boat to go across to what land they did not know.
They waited at the docks and their stomachs moaned for steak
The Red Cross Girls, God bless their hearts, gave us ice cream and cake.
Then soon it came our turn to go aboard the ship
And we were drilled so finely not to make a slip.
As we walked up the gang plank that nearly broke our necks.
A card was given to each man and lie was steered to the middle deck.
That night we layed in New York harbor, by pier number fifty eight
And at five o'clock next morning we sailed to try our late.
Every man was cheerful not a single one was blue
And at seven A. M. that morning the U.S.A. faded from our view.
Then we sailed on for a few days and some of the boys were sad and glum
For all we had to cat was bloody English slum.
We had no scares for Submarines until one bad dark night
They blew the signal, "leave the ship", we got an awful fright !
Our Convoy sailed bravely onward making neither brag nor boast
And after ten days sailing, we spied the Irish Coast.
Then on September 4th at eight o'clock that night
The lights of Liverpool England came into our sight.
Next morning we left the ship intent to board a train ;
Our hearts were filled with gladness, the Red Cross Girls, met us again ;
They gave us crackers plenty and good Codec by the Cup
All faces wore a smile, their stomachs were filled up.
We boarded a train at eight o'clock and on our way were bound
To an English Camp at Winchester, by the name of Winnall Down.
We quartered in squad tents and slept upon the floor
And in the blankets they gave us were Cooties by the score.
We stayed in that Camp about three days, when orders came to move again
We did not know where we were going, to Russia, France or Spain.
We hiked four miles got on a train and rode to the steamship dock,
Then we rode across the English Channel, it was an awful Shock.
We sailed from live thirty P. M. until twelve o'clock that night
And the way we feil the fishes certainly was a fright.
We landed in Le Havre, a sunny spot in France
And hiked five miles up a long hill to an English Camp by chance
We camped there about two days when orders came to flee.
We had to make the best of it, tho we missed our herring, punk and tea.
We loaded in side door Pullmans, with bread loaves by the score
Put where we're going was the great question once more.
We rode two whole nights and days over bumpy track
And landed in a jerk town by the name of Rouffiac,
They had us camped in cow barns or whatever they could find;
We stayed there for about ten days, when moving orders came
We had to hike ten miles to Saintes thru a pouring rain
We loaded into Cheveaux Cars and rode for twenty hours
And landed in Montoir, amongst the mud and showers;
We landed here in September and have been here every since
And never has there been a time when one of us would wince.
Every man has done his duty each was busy as a bee
With the single thought stamped in his mind, fight for Democracy,
Put after years of struggle, thank God the war is o'er
And all the boys in O. D. Clothes will go back home once more.
All of us are waiting for the steamship whistles moan
Of the dear U. S. Transport, that will carry us back home;
And when we get our discharges, we will head right straight for home
To meet our anxious loved ones and vow no more to roam.
Some day you may be questioned, for an answer you'll not be lost
You will never need to hang your head, for I'm glad I came across
Put ignore such a man as that, as they are just a hound for beer
Like many boys we did know, who tried to volunteer
Put such an argument is poor, no argument at all ;
A man who fought for Uncle Sam should receive no credit small.
The regulars and the enlisted men in battles great and small.
Fought side by side and hand in baud so let's praise them all.
By : Mechanic James E. Marsdne - Supply Co.
SUPPLY COMPANY OFFICERS
Now dear reader just take notice and with you I'll be frank ;
I'll tell you about our Officers just the way they rank :
First comes our Captain Geo. D. Dixon, he is true blue thru and thru ;
If you are on the square with him, He'll be on the square with you.
Then comes our First Lieutenant Otto W. Kayer without a flaw ;
He couldn't be no other way for he comes from Arkansaw.
Then comes our First Lieutenant his name is Joseph V. Cline
I would like to have you meet him; you'd say lie's mighty fine.
Now comes our First Lieutenant Bernard Cunniffe the smoothest boy you ever saw. Of course that isn't strange for in civilian life he practiced Law.
Then comes our First Lieutenant Andrew L. Christian ; he's a Christian too
For when we're in trouble he would always find the clew.
Now comes our only Second Lieutenant Edward H. Scurlock is his name
For when we wanted a favor we could vouch upon his fame.
Now you know their standing, and don't you ever think
That if we meet them anywhere, they'll always buy a drink.
BY : Sgt. Ernest O. Stucke, Supply Co., 346th Inf.
Images from the Supply Company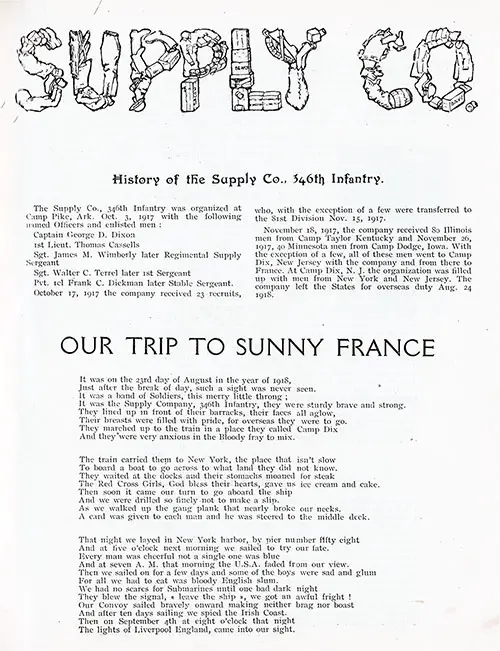 346th Infantry Supply Company History and Trip to France. GGA Image ID # 13465e641b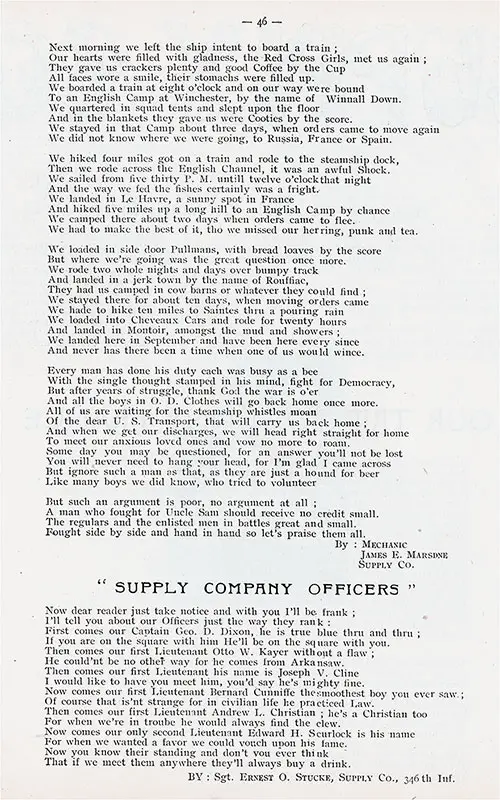 346th Infantry Supply Company Trip to France and "Supply Company Officers." GGA Image ID # 134678af1d