History of Company "D" 346th Infantry AEF - 1919
Emblem of Company "D," 346th Infantry, 87th Division, A.E.F. GGA Image ID # 1341f28782
Here's to Company "D", and the old  "Three-forty-sixth",
Horn in Camp Pike, Arkansas, and raised in old Camp Dix.
There wasn't a better Regiment that ever crossed the sea,
And all we asked was t'have a chance to serve the U.S.A.
After reaching "Merrie England", we saw then at a glance,
The proper place for fighting men was over here in France
The night we crossed the Channel we never will forget,
In fact, we heard the other day, one man is sea-sick yet.
Who can forget that gruesome night we marched down thru Le Havre,
It's darkened streets and houses, from which the light was barred;
Now and then a sentry's call was all that we could hear,
Except the ceaseless grinding of hobnails far and near.
Each one his own thoughts keeping, as we marched along that night,
But I think you'd find, if you knew each mind, they were glad they were going to fight.
But the scene was changed next morning.  We were headed the other way,
For they hauled us down to Salignac, and there we thought we'd stay;
But we broke camp in the morning of September twenty-third,
And the way we hiked through rain and mud seemed realty quite absurd.
They loaded us in box cars, in a town the French call Saintes;
But if they heard the oaths that night, I'm sure they all would faint.
We rode that night and all next day; each mothers' son was sore,
And conditions were not altered much, when we landed in Montoir.
We slept that night on bunks of earth in great long sheds of steel,
Each man thinking of his home, and how a bed would feel;
But morning came, and Reveille brought us a grand surprise,
For we were issued UNIFORMS (?) that opened the doughboys' eyes:
Blue denims, large, and big hip boots,  which meant for us fatigue,
A thing that any "Doughboy" feels a soldier doesn't need.
Our chance of going to the "Front" right here began to wane,
But we said we'd make the best of it, and toiled with might and main.
We handled food, supplies, — and plenty of railroad steel,
For the ever pressing Q. M. C., with a rush order at our heel.
Then there came an order,  t'was said, from the Base C. O.,
That they needed at once a husky bunch.
And that "D" and "I" must go.
We all had heard it rumored, and it did not seem quite fair,
For soldiers trained as Infantry to work in St. Nazaire.
But many a time on the old front line, they might have been in distress,
If it had not been for the Infantrymen, who worked in the S. O. S.
And now that the war is over, and the "Three-forty-sixth" is done,
They have proved they could serve "Old Glory", in more good ways than one.
Cpl. G. B. Weeks,
Co. "D", 346th Inf. A.E.F.
Remarks
A man may be able to look down the barrel of a gun without showing the white feather, but show me the guy that can face Captain (Judge) Woolton for Company punishment and not show a slight trace of nervous prostration.

We take it for granted that Captain Woolton's attempts to "Polley Voo" have been unsuccessful, as he still retains his girlish beauty.
The old saying that a Camel can go eight days without a drink does not apply to the Campbell in Company "D".
Why does Lieutenant Basore carry the Grenade mark on his check ? Does he like the Front Line Training, or is he thinking of Wound Stripes?
How Dear to Our Hearts are the Thoughts of Our Life Back in Pike! Who remembers a certain Major in the 346th  wearing one boot and one shoe?
Lieut. Foltz tried a new way of catching Bunnies in the Winter time by diving from an old log into the creek.
Also remember the time that Sgt. Lohrman swam the Bay of Biscay. William said that he didn't mind the swim so very much, but he has been unable to get the sand out of his pockets.
Chaplain Reeves has a great regard for Mess Sgts. and Cooks. A man may have most anything when hungry.
What is Sgt. Higdons reason for a midnight dive from the top of his hunk without first picking a place to light?

The height of Imprudence: Calling the Mess Sgt. for breakfast before 8 A. M.

Sgt. Burg has intentions of resuming his Honeymoon upon arriving back in the States.

Cook Fisher is going to get a job in civil life making hard bread for hard Guys.

Turkey Walker, formerly of "D" Company, intends looking up the end of his finger, left on the bread board at Camp Pike.

Cpt. Moline at Camp Pike was very adept at submitting his name in the lottery for nine day passes. Prospects of an extended stay in France has broken him of this habit.

Sgt. Parr may be left in France. It is hoped he will be compensated by a collection of Service Stripes.
Can you imagine anything more inconvenient than an M. P. after the expiration of a four hour pass, and you still out of Camp.
Pvt. Wittenhall may now be seen with a pleasant smile. After several months trying to beat the Sick Book he is marked Quarters suffering a serious injury to his hand.
You have a good line Whitty old boy. Hang on tight.
How did Cook Bidwell scale the wall at the Battle of Cognac? (The Battle led by Sgt. Higdon).
Who won the race to the rafts at "Abandon Ship" call?  The Call of The Wild, ("All aboard for Bordentown").

Do you remember the good? mutton stews on the good old ship Ceramic?
Cook Page now finds his Alarm Clock after the lights are out by listening to the tick.
Show me the Guy that can walk into the corner bar back home without first looking for the M. P.
A Reminiscence of January 13,1919
Just an innocent looking village,
Not far from St. Nazaire.
Oft' time the boys in old camp one,
They wondered what was there.
That's why on one fine evening,
From camp they look a French,
With just one intention,
Their thirsty throats to quench.
They were just nicely seated,
Before a bottle of beer,
When an M. P. voice sounded,
What are you doing here?
So it happened the next morning,
It was plain to be seen.
One corporal and twelve privates,
Were the unlucky thirteen.
AFTER laying down on the job for a long spell, Pvt. Bonus surprised everyone by working hard. And then the secret came out. Someone had told him that when the job was completed, we would depart for the States. Bonus says the order will be official the next time.
Ten thousand Swedes got lost in the weeds,
At the Battle of Copenhagen.
But nary a Swede in Company D
Was missed while the Cognac was Raging.
Hommes Forty and Four
After a hike of ten miles and some more
We came to a halt by a French "wagon"» door;
By way of enlightenment allow me to state
A "wagon" is French for a box car for freight.
"T'was marked": "Chevaux eight", "Hommes thirty"
"Hell" says the Lieutenant, we'll make it forty
And into said "wagon" we started to hurry
After chasing out animals smooth tailed and furry,
When up came the Captain in a devilish huff
Declaring four more was not near enough
So into this "buggy" four more of us crammed
To help with the "willy" and fruit that is jammed,
The issue of bread we hung by a string
To give us the room we needed to sing,
Though simply related seating forty and four
As well as the beans, on this "wagon's" soft floor
Is a hard thing to do without bones dislocated.
(Else I would not this tale have related)
Our packs, a small matter of one hundred pounds,
We hung oil the walls or stacked for a lounge.
As to the floors, they're made out of plank
Through which number ten triblys quickly sank.
And sailing along smoothly at sixty an hour
To lay on the floor took mighty will power.
Now my bed the first night "was perfectly sweet"
Though dammed uncomfortable 'twas hard to beat.
The picture of poor Jeff suspended by Mutt
From a hook in the ceiling is very bad-but-
To my way of thinking t'is a scene of delight
Compared to the hob-nails beneath me that night
For a pillow I used the end of my pack
Until shoved off, with a wound in my back
All night in the darkness we desperately floundered
Wishing at sea our good ship had foundered.
You've heard of guys who crab at the price
Of cozy hotels with furnishings nice,
Yet for the chance to pay live for a cot
We'd have licked anything as easy as not.
Never tell us the American railroads are bum
Or we'll take great pleasure in handing you one
Hommes forty and four in our "wagon lit"
Was more than enough to make it a hit,
When they give you the slogan "See America First"
"To hell with the Kaiser" or something worse.
And now all we think is New York or bust,
Good-bye Sunny France with your wet muddy dust.
Composed by Bglr ; Fred D. Poston, Co "D" 346th Inf.
We are satisfied that if we had taken less pains in learning the art of trench digging back in Camp Pike, we would now be with the folks back home instead of doing the S. O. S. stunt with the pick and shovel in St. Nazaire France.
It is no wonder that Poston the bugler is never seen with the bugle since the time he blew Reveille at four o'clock in the morning in Montoir.
Remember the time that Sgt. Martin and Sgt. Shultz skinned their eyebrows alighting from a fa.st moving train in Salignae? I wonder what will be the excuse next time?
Remember the time we received instructions in the art of cooking potatoes back in Camp Pike? We think that Lieut. Basore is Some Cook.
How would a barber sign like this look back in the States ?
1st Class Private Calkins for First Class Harber Work.
After serving as a cook in the Army and practicing on appetizing appearances for various meats, Bidwell will be a hard man to buy Hamberger from in his butcher shop back in the States.   Biddy beware of the pure food Law.

(Lt. Fish before the Company Reducing the Sick Report.) Any man desiring to report for Sick Call, report to me in the Orderly Room immediately after. Reveille for examination. Don't report unless sick for I am right smart of a doctor myself.
Trubee our artist has plans for making fancy designs of "Corn Willy and Hard Tack" to be sold for Souvenirs.
Cook Lambert is now taking lessons in Domestic Science from Chaf Croslin, so that the wife back home will be able to remain abed mornings until he gets over the thoughtless habit of falling out for Reveille.
What Company D barber introduced the famous corkscrew haircut?
Has anyone ever learned the reason for the disappearance of the Lemon Extract issue in Camp Pike?
Who was it that relieved the Little Rock M. P. from Duty?
Go to Warner for information on the automobile service in France.
How many of the Old Gang remember the big Xmas feedback in Camp Pike?
Old Man Croslin has never been the same man since he helped Fisher with his blanket roll at the rest camp at Winchester, England.
But isn't it funny that Fisher never mentions anything about wrestling since Croslin sent him to the Infirmary?

Cook Dorris thinks he is some jeweler. But we think that Sgt. Mason has him bested on his line of watch chains.
Sgt. Weaver led the congregation last night in one of his most interesting camp meeting shouts.
Cpl. Ebert and Pvt. De Vita are intending to sign up next season in the parts of Mutt and Jeff.

I wonder are we ever going home,
It seems we will be here all alone,
I wonder why they always pick on Company D ?
To clean up after all the rest are gone,
There's lots of work back home across the sea,
Where folks and Sweethearts wait for you and me. This life is rather tiresome,
We have been at it very long.
I wonder are we ever going home ?
Cpl. John Olson. Co D.
The Fifth Blast, of The Siren
It occurred the first night of arrival in the danger zone. During the day we had eagerly watched, in vain, for our convoy of protection. The day was filled with a regular monotonous routine of attempts, at dodging the M. P's., physical torture, and relieving the horrible gnawing sensation of mixed hunger and seasickness.
"G" deck exhibited its usual curtain of swinging patches above, serving as places to pass the miserable night. Below were grouped card players and 'crap shooters'. Our Sergeants were gently and adroitly relieving Machine Gun Company artists of their last 'frog skins'.
Others of our section not too busily engaged in an effort to feed the fish were sauntering around watching the games or lounging around on the tables reviewing the inconveniences of War and English transportation. Life belts were strewn everywhere. The place was noisy and disgustfully close.
A long blast of the boat's whistle reverberated above the noise and excitement. A second blast followed. The third blast sensed a restless pulse throbbing beneath the rough sociability. In unison with the fourth blast Sergeant Weaver pocketed the 'kale'. Then came the dreadful fifth. Instantly the noise ceased. Searching eyes looked everywhere.
Five blasts of the whistle was the signal to abandon ship. Immediately hundreds of whistles sounded their call to life boats. Whistles were sounding everywhere, and men flowed into our deck from below, all clambering and wild. Quickly the mass was assembled on deck in formation near the rafts, waiting breathlessly, as they surveyed the rough sea, for the command, "Over board". It. was a night the devil would surely love for it bore hopes for the souls of many.
At that moment the Captain leaped upon a pile of rafts, questionably glanced at tire mass of heads below and called: "Lieutenant Fish! - Lieutenant Fish! "
A tall form worked its way through the mass and calmly answered, "Here, Captain", and took his place beside the former on the raft. As far as the heavy mist would permit the eyes to see, the deck gave every appearance of an upturned ant hill — all awork with lost men, searching for their life belts and struggling to cut loose the life boats.
Throughout the excitement the boat peacefully rolled onward. Again the solemn death-like five blasts sounded. The Captain gave one surveying glance around him and then at the cold eager waves below. "Five blasts is to abandon ship", he remarked, "but I'll be damned if it won't take more than that to get me overboard".
His remark gained favor in the silence. In a moment lie called, "Sgt. Elliott! - Sgt. Elliott!"
"G" deck- all clear, Sir "came the response in a loud clear voice". The time was short, but during times of excitement, minutes grow into hours. Five minutes had hardly passed until the General called for Bugler Boston to report. It was the clear notes of his bugle sounding Recall that filled us with the confidence of another chance of seeing French soil.
Cook Ralph A. Pack
Co. D, 346th Infantry.
Images from Company "D"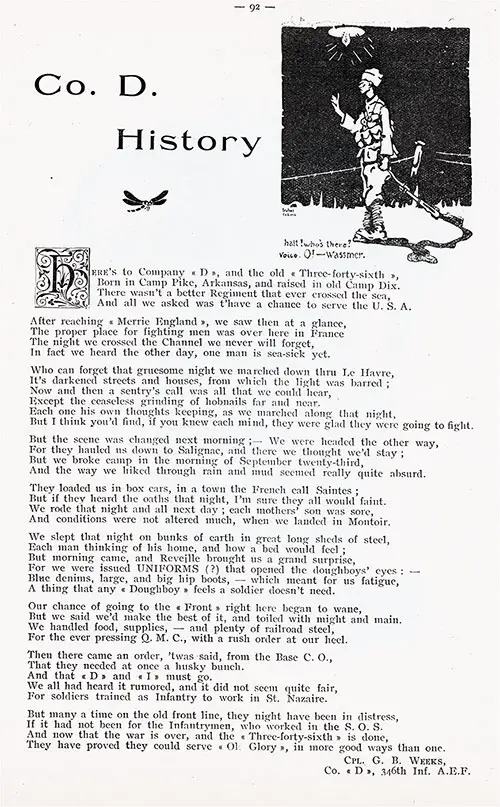 Company "D" History, 346th Infantry, 87th Division, AEF. GGA Image ID # 1342ad00be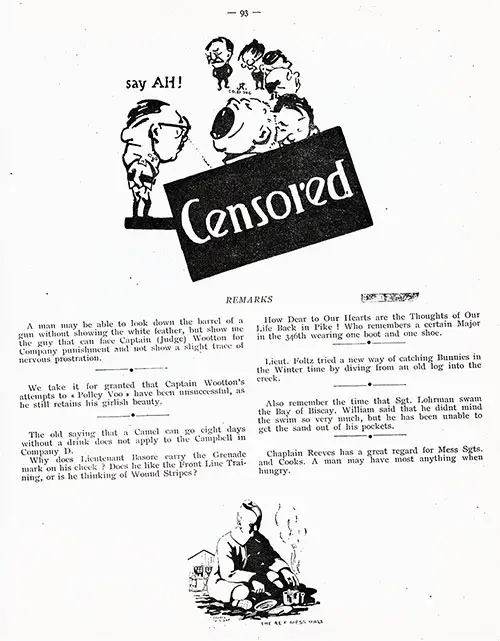 Censored Remarks, Company "D," 346th Infantry, 87th Division, AEF. GGA Image ID # 1342cb4b2b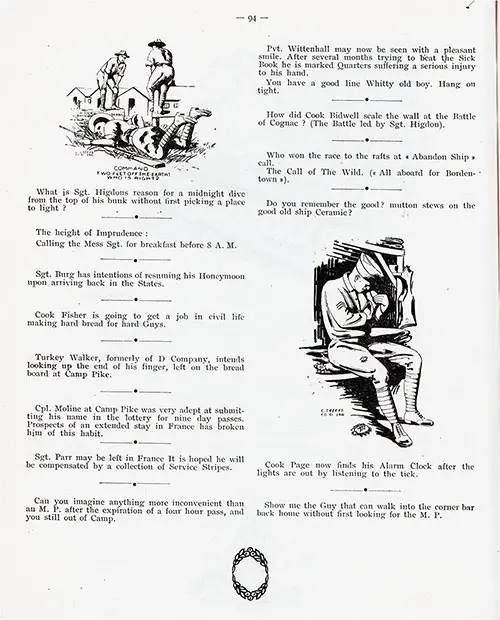 More Censored Remarks, Company "D," 346th Infantry, 87th Division, AEF. GGA Image ID # 1342fb8161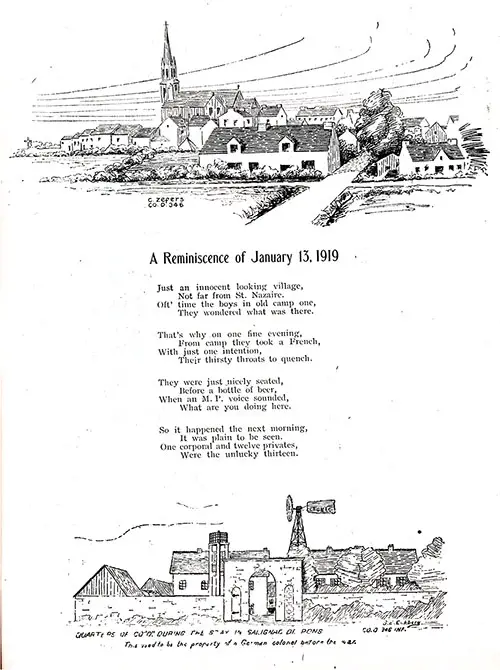 Reminiscence of 13 January 1919, Company "D," 346th Infantry, 87th Division, AEF. GGA Image ID # 134318b528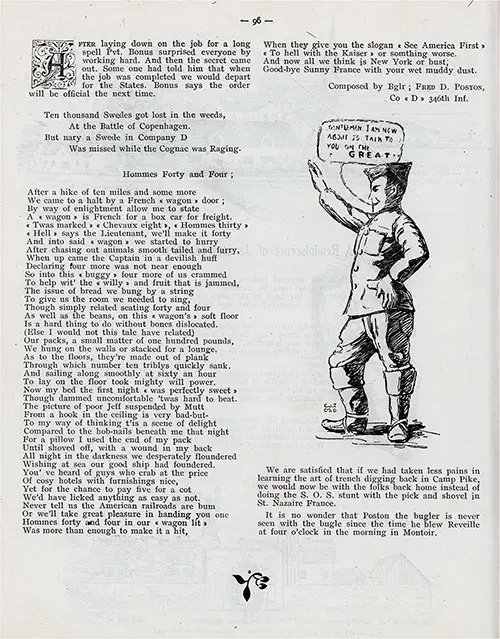 Hommes Forty and Four, Company "D," 346th Infantry, 87th Division, AEF. GGA Image ID # 13431e440f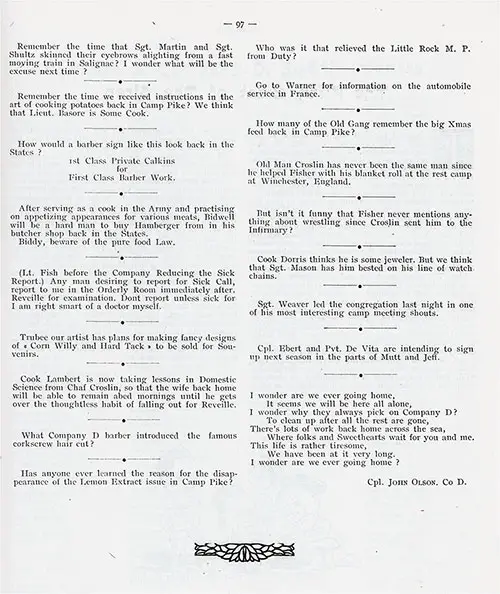 Other Remarks, Company "D," 346th Infantry, 87th Division, AEF. GGA Image ID # 1343371de8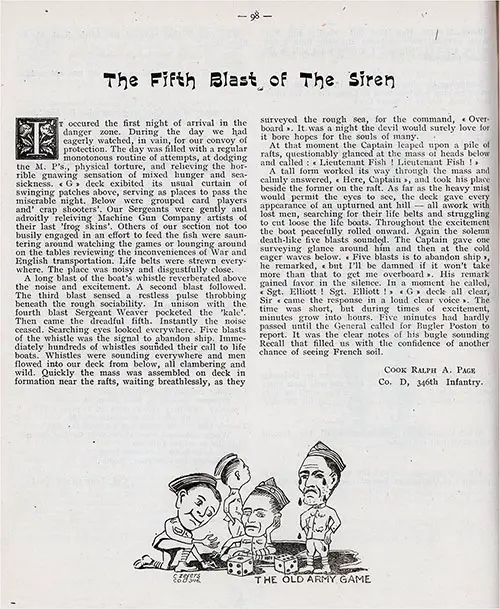 The Fifth Blast of the Siren, Company "D," 346th Infantry, 87th Division, AEF. GGA Image ID # 13436a4980