History of Company "F" 346th Infantry AEF - 1919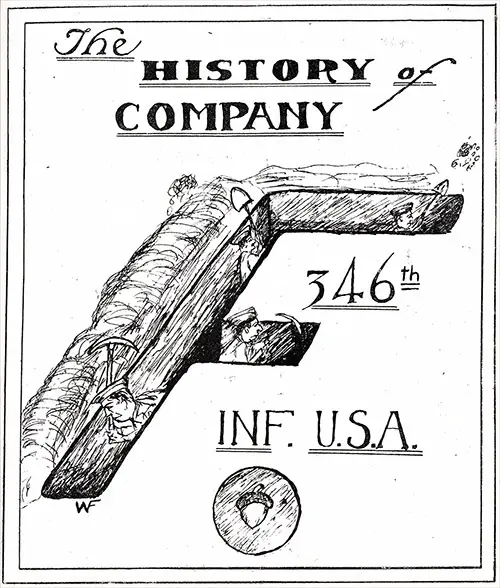 Emblem for History of Company "F" of the 346th Infantry, 87th Division, AEF. GGA Image ID # 134f04db16
TRAVELS
Company "F" dates back coincident with the origin of the National Army. From the first contingents of the draft there was formed the 5th Provisional Company, Camp Pike, Arkansas. This organization was formally organized as Company "F" 346th Infantry October 18th , 1917.
In the early part of the following month, these men, "now in trim", were sent to various organizations for overseas service. To refill the gaps in Camp Pike, recruits were brought from Northern camps the middle of November, Company "F'" being idled to war strength with men from Camp Dodge, Iowa, and Camp Taylor, Kentucky.
There was found at Pike to organize the newcomers, Captain Peay as company commander, Lieutenants Council, Carroll, Cline, Blaine, Gamble, and Tillery, Company Clerk Vanderford, and Sergeant Bolls.
Puzzling with those early days at Camp Pike, a wonder to the officers if they could ever make soldiers out of the Medical recruits who then had no ambition to be doughboys and a wonder to the men of the continuous quarantine.
But with all of these obstacles the new organization was perfected, and all settled down to the business of soldiering. Stripes began to blossom out on the sleeves of the assigned and soon Company "F" proved itself to be a regular company.
The week before Christmas brought the notification that we were free of quarantine and all began planning of their Christmas dinner at home. But woe to these plans when a few days later a more rigid quarantine caught us, and we were doomed to spend our first Christmas in the army confined to the barracks.
However, it was not such a doom for we were served a typical Christmas dinner in our mess hall and with the obliging parents of our captain to play Santa Claus it proved to be a very happy season after all.
The early part of the year brought more changes in the Company Lieutenants Cline and Gamble left to go to the Supply Company and Lieutenant Blaine became the Adjutant of the Second battalion.
Lieutenants Faulkner and Phillips joined our Company to fill the existing vacancies. Several men transferred to the Officers training school, and from time to time we were called upon to fill the ranks of other divisions our fore-runners to France. In turn our ranks were filled with men from the casual companies at Camp Pike.
During all these days, regular routine of drill was being carried on, men being drilled in close and open order, bayonet work, trench warfare, etc. The day if not too stormy, found the company out at squads right and left or feigning an attack upon the unseen enemy; and if stormy, doing the famous push and pull and aiming exercises in the barracks.
The evenings were filled with happy times together, then again came morning, to peep out above the snow covered blankets and warm up to a new days routine.
The last of February brought the end of the long continued quarantine and work on the rifle range. After completing the work on the range and spending a few nights in the trenches at Camp Pike, the organization was considered as fit for overseas service.
But we cannot leave the thoughts of Camp Pike without mentioning the remarkable transformation of the camp. The infancy of Company "F" was also the infancy of the camp. Then the barracks appeared scattered throughout the wilderness, with boulders hither and thither over the ground. With the growth of efficiency of the organization developed the perfection of the camp.
The timber-covered knolls were cleared to drill Fields, the rocks were gathered together and formed into rock fences and exceptional pieces of masonry, antique porches were added to the buildings and lawns here and there set oil the appearance of the camp.
This we realized we must leave to get to a thicker part of the fray. The spring lever was to us overseas lever. We must be on our way. But lo to our disappointment the last of May brought orders stripping tue organization all of its Privates, transferring them to other Divisions. So on the evening of June the 8th  the Company gathered together for a farewell reception.
A feed, lady friends of the Company, and a dance with music furnished by our Regimental band filled an evening long to be remembered by all of the hoys. The morning of June the 8th our  "Private" friends bade us farewell and on the 15th the skeleton Company of officers and Non-coms began their journey eastward.
The trip was made via Missouri Pacific and Pennsylvania Railways until on the evening of the 17th we detrained in Camp Dix, New Jersey. Finding no guides to direct us we began our search for the barracks.
Led by our Regimental hand we marched under our packs to our new quarters in the farthest end of the Camp. The "Rookie" band in measured tread furnished not a little amusement for the members of the depot brigade welcoming us into Camp.
In Camp Dix the Company was recruited to overseas strength with men from New Jersey and New York, the time was spent in intensive training and. equipping the men.
In the meantime, Captain Peay was promoted to rank of Major and First Lieutenant T. H. Faulkner was made Captain and our Company commander.
We passed in review, for the last time at Camp Dix, on the afternoon of August the 22nd, and on August 23rd, alter placing a few placards on our old barracks, we hiked under full pack to the railroad station.
Heading to Europe
After riding a few hours, we reached Jersey City and from there we ferried across to Pier forty two on the Hudson River from which we embarked on His Majesty's Ship the "Zealandia".
Our trip across the Atlantic was one of various interests. On first boarding the ship we were introduced to our compartments finding hammocks provided for our bunks. Our first night we spent in the harbor. On the morning of August 24th, we set sail bidding a fond farewell to the statue of Liberty as the last sight of America passed from view.
Thirteen days of seasickness, sunshine and rain, meals and mutton and jack rabbit brought sight of land. That morning we awoke to see in the distance the great sight of the hills of Ireland on one side and the vales of Scotland on the other with the sun just rising, casting its ray over the ocean. It made a sight that was beautiful to behold.
Reaching England
From this scene we steamed into Liverpool and debarked on foreign soil, the first that most of us had ever seen. Leaving the docks we were marched through columns of interested civilians who cheered our every step to the railroad station.
After being greeted with a message from the King and being given coffee and cakes by the English Red Cross we boarded a train that was made up of twenty cars, each car having six compartments, each compartment holding a squad of eight men.
On this we traveled across England, which trip gave us a good view of the rural life and of some of the big cities of the country. Late in the evening we arrived at Winchester and were taken to our first English rest camp remaining there for three days.
Heading to France
Leaving Winchester we arrived at Southampton September the 8th. Here the Company was divided and an advance guard of loo men under the command of Lieutenant Faulkner, proceeded to be followed a few days later by the rest of the organization, bidding goodbye to England we then made the wildest ride any of us had ever experienced — that of crossing the English Channel September the 10th.
We debarked at Le Havre the morning of the 11th and after marching in a pouring rain for four hours we reached another rest camp where we ate dinner — an English lunch —and after a few hours rest we were hustled back to the station where we boarded our first side door Pullmans marked "40 Hommes and 8 Chevaux".
Thus in the evening of the same day we arrived in Le Havre we started for another trip with hard tack and bully beef for rations, this time a sightseeing trip across France. We arrived at Montils, France, on September, 13th, 1918 and here Camp N° 1, was organized by our detachment.
Our Time in France
We being the first American soldiers that these natives had ever seen, we were given a royal welcome on our arrival and were made as comfortable as possible as long as we remained with them. Montils being a small village in the heart of the vintage regions of Southern France, gave Company "F" a chance to taste the grapes from which the wines of sunny France are made (as well as sampling the wine).
After a few days of drilling we left Montils in the early morning of September 23rd and marching with full packs overland for a distance of about nine miles we arrived in Pons, France, in the middle of a heavy rainstorm, and alter being directed to our box ears, we once more entrained and this time for St. Nazaire.
After riding two nights and all one day we reached Montoir on the morning of the 24th and after a hurried supper our cots were made in one of the many warehouses in this section. After a good night's sleep we started once more and this time for Camp 3 where we remained until after the Armistice was signed doing guard duty and receiving the final touches of our training.
The Armistice being signed before Company "F" could get the opportunity to show its true worth in the front line trenches, we were moved to Camp one. Here anticipating an early leave from France we found before us months of construction labor perfecting the embarkation camps. So here at last we found our trench work (Sewer) and wonder if it is not a contest with the Marines rather than the Boche.
Undaunted by all its trials Company "F" has lived up to the good name and shown the good spirit characteristic of such an organization. Tried and tested frequently it has stood the supreme test and eagerly awaits the Perfect day when we shall turn our faces toward home and to come into Our Own.
My General Orders Are
To lake charge of these spuds and all gravy in view.
To watch my plate in a military manner, keeping always on the alert for any stray sauce that comes within sight, smell or hearing.
To report to mess sergeant any food properly cooked.
To repeat all seconds immediately.
To quit the table only when satisfied there is nothing left to eat.
To receive, but not pass on to the next man any meat, cabbage or beans left by the officers, non-coms, buck privates or K-P's in the mess hall only.
To talk to no one with a mouthful of soup.
In case of fire in the mess hall to grab all eatables left by others in their escape.
To allow no one to eat on or near my plate faster than myself.
In case anything is left unlocked to allow anyone to steal everything in the line of grub.
To salute all beefsteak, chicken, pork chops and liver not cased.
To be especially watchful at the table and during the time for eating to challenge anyone who gets more prunes than myself.
Pvt. Merle G. Niles
Co. "F" 346th Inf.
What do You Think of That?

It all happened on the ship crossing the English Channel. The night was pitch
dark and very stormy. The ship was rolling and plunging as if it were a Bucking Broncho. The rain kept the benches on deck very wet, almost everyone on board was sick, but those that were able to do so remained on deck.
Corporal Sparks found a small piece of lumber, laved it on the deck and sat down on it. Shortly afterwards another man came along and attempted to sit down on the same piece of lumber just then the ship lunged throwing him against Corporal Sparks who immediately growled: "Who in the hell do you think you are"...
The second man said:  "Well who in the hell are you"...
And was answered as follows : "I'm Corporal M. E. Sparks Company "F" 346th Infantry, what do you think of that ! ! ! !"
"I'm Sergeant Major Burns I'll see about that"...
Intense silence then ensued.
Poem About Company "F"
There is a certain Corporal in "F" Company that I have in mind
When associating with ladies is very kind.
He is the sort of fellow that goes to town,
And will hook up with the first girl that comes around.
And after that he could never be seen.
But that was the caused-by-a certain Marine,
The name of this Corporal I haven't mentioned yet.
But I will later on if I don't forget.
This Corporal don't care just as long as he is in St. Nazaire,
It won't be long until he will be on the bum
Unless he lays off of that Stuff called "Rum".
After he drinks to his heart's content, he starts back to camp h... bent,
He has a hard time finding his bunk,
For by that time he is very drunk,
He staggers in and goes to bed,
And lays there as if he were dead,
It's just trips like this that makes a bum.
But he don't care as long as there is rum,
He went to sleep and woke up at six.
And found himself in an awful fix,
He had no money and was actually broke,
So he decided army life was no joke.
He says when he gets out and gets on his feet
He is going to be a man "Toot-Sweet"
He never was cut out for a soldier or sailor,
And this said Corporal is Some Tailor.
I've slept in barns.
I've slept in sheds.
I've slept in tents.
Where there were no beds.
I've slept outdoors.
Under the stars.
I've slept in the rain
And old box cars.
I've slept in straw
I've slept on the floor
With the rats and mice
Till my hips got sore.
I've slept on the ground.
And I've slept in the cold.
But I hope I'll next sleep
In my bed of old.
COMPANY "F" DAILY SQUAD RIGHT
They send us over here to light
The cause for which we came was right,
But they put us to digging ditches
And we're digging them every day.
They sent us over here to light
And if given a chance we'd show our right.
But they put us to digging ditches,
And we're digging them every day.
Tit-Bits.
Private Walker had a spell that nearly cost his skin.
A dog took a piece of out of his   
Well you must ask him.
Paterson and Entriken bunking side by side
One has it all to say, the other must abide.
65 Above in St. Nazaire
Several men stood around in the barracks bulling as to whether they could endure the cold weather in the states at this time. Private Drown spoke up "I could stand it allright".
Private Smith came right back at him, "and how far have you been away from home before getting into the army" ?
Private Brown replied "I live in" Syracuse and went to Utica and stood it there all right.
The "charge of quarters" brought the Morning Report over for the Captain's signature one morning at 7:00 O'clock. When awakened the Captain steeply said "Oh Hell let Cocky sign it".
Famous Sayings
That's me all over  - Sgt. Johnson,
I Know your name you can't kid me - Cpl. Scharfbillig,
Corporal Sparks of "F" Co., What do you think of that - Cpl. Sparks,
You owe me two franks, don't you? -  Ck. Ciernia,
Oh, Aint it nice -  Cpl. Houck,
If  I help you are due for a raise -  Cpl. Berry,
Give me a cigarette - Bugler Kesten,
Hit and Take  -  Cpl. Anderson,
First things in the .A. M. Guess what I've got- "Sgt. Walker,
The mystery of November 'nth still remains unsolved   - Sgt.  Yonan,
"Sarg gimme da pass de Cap want da egg                   Pvt.   Nanni,
Your uniform protects a lot of you bums  Cpl. Gaby,
I'm not a "Stevedore -  Pvt. Brown,
"Sir... I'm not in the habit of Being  -  Cpl. Taylor,
It is not what I used to be it is what I am today -  Cpl. Smith,
Norway was no place like this -  Cpl. Monson,
Correct that irregularity in the step -  Sgt. Pospichal,
When in" St. Nazaire stop a Baker's hotel -  Cook Baker,
What for you finish me... Marie - Mec. Bishop,
I know it all - Sgt. Olson,
That's not the way it is in the book - Cpl. Asay,
I will always remember her  - Cpl. Adams,
If I were only back on Potatoe hill -  Cpl. Showalter,
Back in Civil life I was a boxing instructor -  Pvt. "Schaefer,
Bann is 20 cents a doze - Cpl. Sabbatine,
It's a rough sea Van - Cpl. Hamre,
Oh Mildred thou art many miles away - Cpl. Sparks,
Trapping is not my occupation - Pvt. F. Miller,
Let's go over to the "Y" – Cook Martin,
What time is it - Pvt. Raab,
It we'ent that way in Williamson - Bugler Peterham,
Thems all there are - Cook Bolin,
Now let me tell you something - Sgt. Vanderford,
Pork is my favorite dish - Pvt. Pitlick,
My vocabulary needs re-charging - Pvt. Peterson,
In the morning we will have Mursh - Sgt. Glossop,
I want to go back to my native state-Africa - Pvt. Shagla,
I am a longshoreman by trade - Pvt. Palmer,
I still have the first fitly cents I ever made - Sgt. Duplantis,
Are you going to the K. C. in the morning - Cpl. Ryan,
I'm a decorator - Sgt. Gates,
By God you can't pull that stuff on me - Sgt. Morris,
Sure I used to help cut meat - Cpl. Hirt,
Images of Company "F"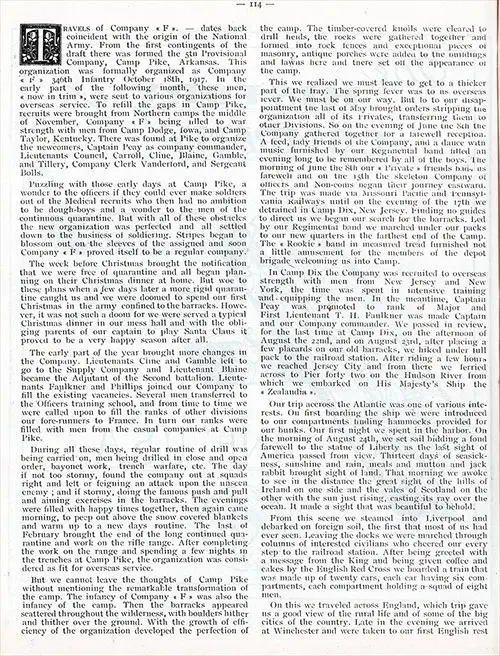 Page 1 of 4, History of Company "F" of the 346th Infantry, 87th Division, AEF. GGA Image ID # 134f952b05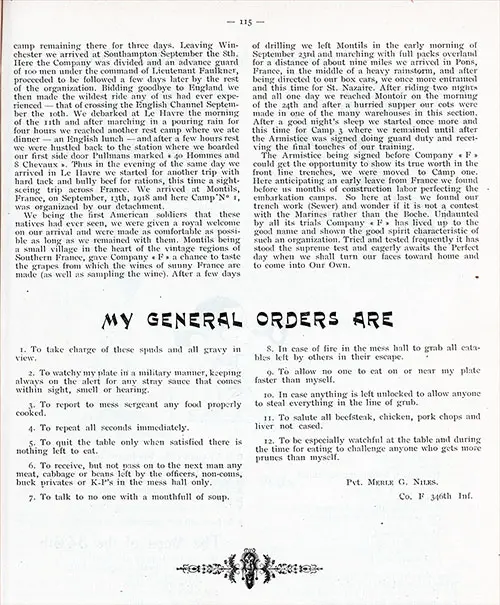 Page 2 of 4, History of Company "F" of the 346th Infantry, 87th Division, AEF. GGA Image ID # 134f99ba4d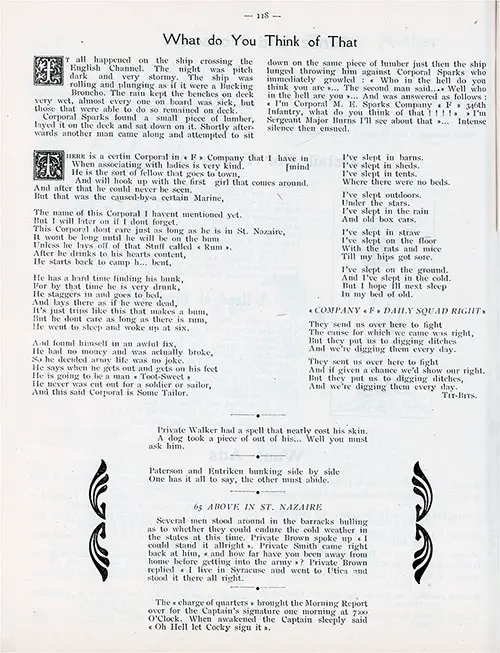 Page 3 of 4, History of Company "F" of the 346th Infantry, 87th Division, AEF. GGA Image ID # 13500c1d0c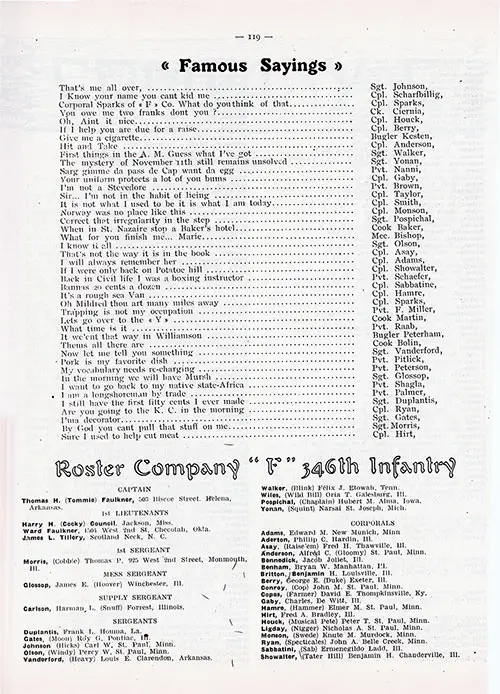 Page 4 of 4, History of Company "F" of the 346th Infantry, 87th Division, AEF. Page 1 of 2, Roster of Company "F," 346th Infantry. GGA Image ID # 13500f0182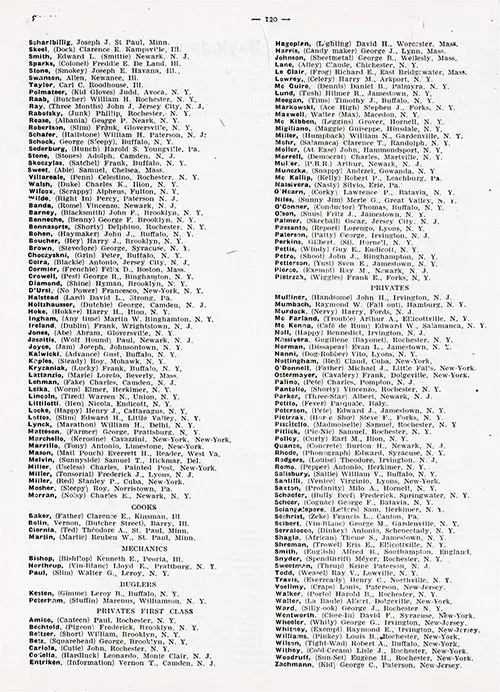 Page 2 of 2 Roster of Company "F," 346th Infantry. GGA Image ID # 13500f1c9f