History of Company "C" 346th Infantry AEF - 1919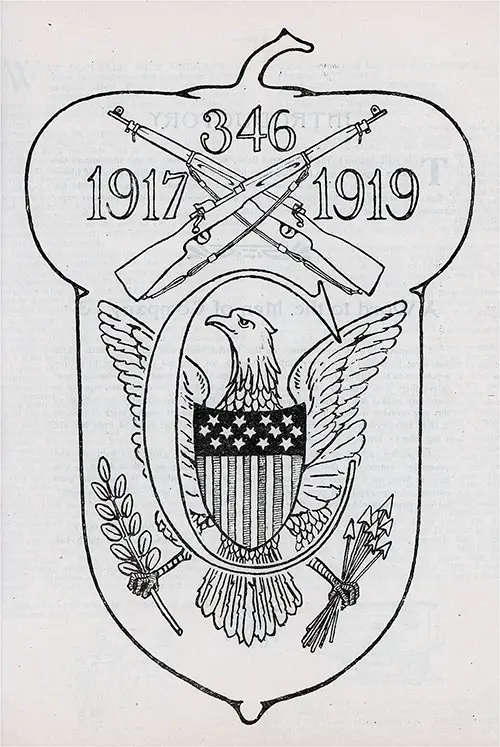 Emblem of Company C, 346th Infantry, 87th Division, AEF - 1919. GGA Image ID # 133fb60452
History of Company C, 346th Infantry American Expeditionary Forces, 20 January 1919 - Trained at Camp Pike, Arkansas, Pre-Deployment at Camp Dix and Deployment to the Port of Saint Nazaire, France.
This contribution to the Regimental Book, with the story of the travels and the duties imposed upon Company "C" together with a few illustrations of humorous incidents occurring since our departure from home camps, represents the efforts of members of this Company to portray the reader an insight into our experiences as soldiers of the A. E. F. in France.
A Word to the Men of Company
I congratulate you most warmly on the thoroughness and efficiency with which you have performed your every duty. Although we were not called upon to occupy a position in the Firing Line, Y have no doubt but that we would have acquitted ourselves there with honor. 
Furthermore, our work behind the lines has been equally as important as that of any other organization at the Front. Consequently, no one of us has any occasion to hang his head because of having been, through a trick of fate, an S. O. S. Infantryman. Rest assured that we would have had our crack at Fritz had the "Big Show" lasted a little longer.
I wish for each of you, in your future civilian life, the greatest of happiness and prosperity; but be sure that you serve your country equally as well in Peace as you have in War, for I sincerely hope and believe that you will all be quite as good citizens of a peaceful and prosperous America as you have been Soldiers of a powerful and pugnacious America.
JAMES E. BRAMLETT,
Capt. Co. " C " 346th Inf.
Unit History - 346th Infantry, Company C
WAR DECLARED WITH GERMANY. —Were the headlines that awakened America early in April. Events occurred in rapid succession, Pershing's Crusaders arrived overseas, Officer's Training Camp were making and breaking the men that were to train the National Army.
The evening of September 19th, 10,000 civilians, eager to do their hit, reported to Camp Pike, Ark. to take up their new life and learn the great game of soldiering. On October 2nd., Special Order No. 1 Hdqts 346th. Inf. assigned the following officers to Co. "C": Captain Stephen T. Ronan; 1st Lieut. Leighton E. Worthley; 2nd Lieuts. Robert C. Marsh, Robert A. Jordan; 2nd Lieuts. attached Wilfred A. Geisenberger and Thomas F. Faulkner.
After several weeks of hard work, an order was issued which transferred all the men of Co. "C" , to another southern cantonment, with one exception of Walter Ballew, Company cook.
Then the huskies from Camps Dodge and Taylor, fresh from the Minnesota prairies and Illinois coal mines, reported to "C" company to enjoy the mild winter of Arkansas-was it mild? Well ask some of the old originals whose ears froze while walking their post or whose fingers became numb while waiting for that dreaded inspection on Saturday morning by the Major.
"C" company's Château was situated in the bottom of what was once a beautiful Arkansas ravine, where many a "Hill Billy" has chased rabbits and hunted Possum. When it rained, our barracks acted as a sort of a dam to this active little river.
During the long winter, when we were not in quarantine or learning to chase Heinies they had us rutting-down and carrying the scrubby Southern oak for firewood. When we started to crowd around the stove, some sergeant would come up and chase us away to let the heat or out in the room and then stand by the fire and warm himself.
The quarantine didn't stop work, but it stopped most of them from going home to town. We would go through fourteen days cooped up and then be let out for a couple of days or hours when some unfortunate would turn up with that rash and the medico would give fourteen more.
Our greatest bug was the Saturday inspections. "Out of luck" was the rookie who had a spot of dust on his rifle or a pair of socks or a towel under his bed-tick. How we used to scrub and wash the barracks! Matt Kavianski "the bootlegger" drew latrine orderly on account of his six toes. He knew his business and knew that he knew it. 
The Major found some slight fault one morning; Matt dug down in his pocket and said: "Major, I bet you a dollar you can't make it any cleaner". They got him out for rifle inspection one morning when the Major was inspecting. He finished the inspection and came back to Matt and got this remark: "What's the matter Major, take second time rifle".
Men who were with the Company at this time will remember such commands as:
" Come out on that line, you can't see me "
" Platoons right about "
" Laugh and show your ignorance "
" Don't anticipate them commands "
" At ease hell, I'll give them at ease "
" Prepare for inspection, march "
Parade came off several times a week usually at retreat time. Bawling out were passed from the highest, through all grades, to the buck.
After training seven months together, we lost all our men as oversea casuals, and moved as a skeleton division of officers and non-coins to Camp Dix in the ultra-civilized East. 
Some of the four weeks D. B. veterans had lots of fun kidding us, "Just wait till you get that second shot, you won't feel so gay" and "You had better take them stripes off before the M.P. catches you". They soon learned what the stripes were for. We filled up the Division with these same D. Bs.
In the big division maneuvers, they began to think they had run onto a pretty big proposition after all. We took some more steam out of them marching to and from the rifle range. Most of us were used to the rifle from boyhood, so beat them easily.
While at Camp Dix, we lost Captain Ronan, Lieutenant Jordan to the 1st Battalion Intelligence and Lieutenant Geisenberger, now 1st Battalion Adjutant and Lieutenant Faulkner, now Captain Co. "F". We got new officers Captain Bramlett, Lieutenant Ferguson and Lieutenant Bolin.
One morning, after having had our clothes inspected every day for a couple of weeks, we got on the train, which left us at Hoboken. We got on the old Ceramic, the biggest single stacker afloat, and fed on English grub and fell out for the three whistles every once in a while.
In spite of the fact that a good many will claim that they weren't a bit scared, they will never forget the five blasts of the big ship whistle. Such a thing as a table was a small hindrance and a weasel couldn't have wiggled through the crowd in the stairway.
One brought his hard-tack and canteen along. He wouldn't miss his eats anyhow. We landed in Liverpool, got on the train to Winchester and hiked to camp and ate some more English stew and had Tommies telling us "You can't do this" and "Out of bounds".
This was called a rest camp. After that we went to Southampton. From there we got on the Yale, a little U. S. coast steamer. We were packed-in like sardines, and it was pretty top-heavy, so it rolled almost to the mast and dived under the big waves. But it sure could plow along. It ought to pay to go fishing in the old channel because they ought to be extra fat, the stuff they get to eat. We landed at Le Havre France and had some more rest and then got our first experience riding their famous "Side Door Pullmans" with the familiar sign, Hommes 40, Chevaux 8.
We spent a short vacation in Salignac, getting used to the combination of French houses and barns. One went out and yelled, "Sergeant Slett., bringa de candle private felt something on his face just after lights queek, something grabba me byade neck." It was only a rat.
From there, they hiked us through a steady rain for about 20 kilos right along the tracks with trains and empty cars rolling by. When we finally hit the old side door Frogs again, they sure looked good. We were sure going to the Front that time, but no, the first thing we saw was a big bunch of tin sheds. We had arrived in the Base Section near St. Nazaire.
The rest of the time here, we have been eating goldfish and beans, doing detail, and waiting to go home. Now and then, we had a little fun dodging M.P.s and going to Rose and Pont Chateau, and as Ole says, "I have two M.P.s to knock them out of now". It was here that we cultivated our great love for the Q. M. Corps who have been more than brothers to us.
The armistice was signed, and the 87th Division booked to go home. So far, we are still here.
THE BATTLE OF MONTOIR
It was a damp, drizzly morning some hours before daylight two kilos from Montoir town when the first gun sounded the first call. We were camped in tents, each tent an island surrounded by a mixture of clay and ooze about the consistency of newly made mortar. Each tent containing a stove (?) which stove contained the only great thing in the tent. There being no wood, there was little likelihood of the heat being intense. 
Some of the boys were still suffering from their wounds received in The Battle of Cognac the night before, a very spirited battle, in which their slogan was "Down with Rum", and during which several of our boys were bottled up and were not to return to us till noon guided by M. Ps. Private Freddie Borgstede, who sleeps longest (six foot four) fell out and sleepily inquired, "Say Livergood, has sick call sounded yet?"
At reveille, the first sergeant made the following announcement: "All those wishing to make donations to our comrades in the Army of Occupation will bring their watermelons to the orderly room so they can feed the soldiers on the Rhine".
After reveille, we made a counter-attack in the mess-hall, bringing home the bacon in Swift manner. After breakfast, our forces dispersed, and it was only after much persuasion, many promises, and dire threats that they were again assembled. 
One sergeant and sixty men were detailed to help the engineers; the sergeant was Aiken to go. Sergeant Hughes and a few squads were detailed to the Medical Corps, where a number of cases were to be handled. Handling cases of hypodermic needles, many men in this detail got stuck on the job. Sergeant Aiken led his detail to a tool storehouse of shovels and axes where every man was ordered to take his pick and dig in.
Back in the Company area, sick call had sounded. The sick formed and marched to the infirmary in the following formation: Right Guide Our Freddie, Left Guide John Selbert with Mess Corporal Prince conspicuously prominent by his limp.
The first name called was Mess Corporal Gordon Prince, uncrowned, but wait:
The Doctor: "What's the matter Prince?"
Prince: "I stuck a nail in my foot, Sir."
The Doctor: "Take off your boot."
Prince, complying: "Yes, Sir."
The Doctor: "Take off our sock."
The Clown Prince: "It did not go through my sock, Sir. 
The Doctor: "Castor Oil, Duty."
And Prince still limps, the Doctor does not mind, he has lots of Patience.
Next came a few boys who had been away on pass.
Doctor: " Where have you been boys, I have missed you."
The Boys: "On pass, Sir, the last six days."
The Doctor: "A little Week, Quarters X."
And they needed it.
The Doctor: "Next man. What's the matter what. you?"
Private: "At Co. a B ."
The Doctor: "Try Co. "C", that's where Iodine." 
At noon the details sent runners back for Ration with the report that all was going well. There being no ham on hand, Great Gobs of Goldfish or Deep Sea Turkey were immediately dispatched with a quantity of beans as a change from the regular army food. Salmon is good, but if the scales are left on, they could get AWAY with more of it.
Orders were that no wood was to be brought in by the details on their return to camp. One man loaded down with a barn door passed by a guard who hesitated to order him to drop it fearing he might take offense.
At 5: 30, the detail from the Medical Corps, not at twilight, or moonlight but at flashlight, hungry, tired and dirty, came in. Soon after came in other details and we were again a happy family.
After supper, the officer's orderly brought in the Chicago Tribune containing another rumor that the 87th would embark soon, but we cannot ascertain what the word soon means. Officer's orderlies bear watching; they are the Root of all evil.
All buvettes being closed, the Battle of Cognac has been fought for the last time and as taps sounds, we are ready to bunk.
No casualties for the day. 
 And so it goes day after day.
No more army for mine, 
No more army for mine,
I've been away from home 
For a hell of a time.
Just like a fellow 
Being in jail. 
He falls out every morning 
With the old detail, 
For I haven't seen home 
For the last six months, 
Wading 'round in mud 
And eating goldfish for lunch. 
If I ever get back 
To the U. S. A. 
No more army for mine.
By Ima Crabb.
Images from Company C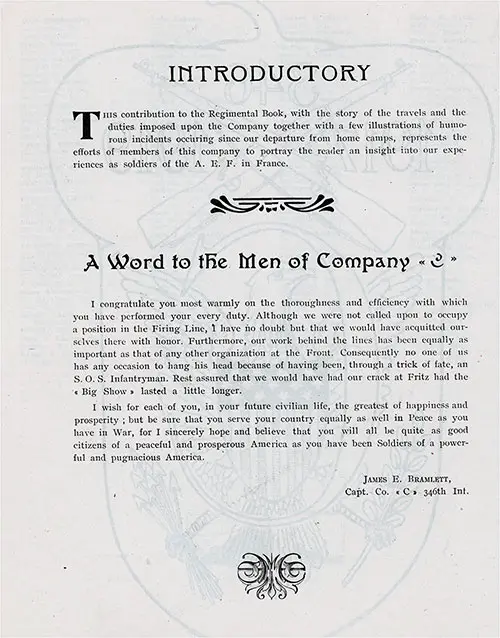 Introduction and a Word to the Men of Company "C" by Captain James E. Bramlett. GGA Image ID # 133fde2b2b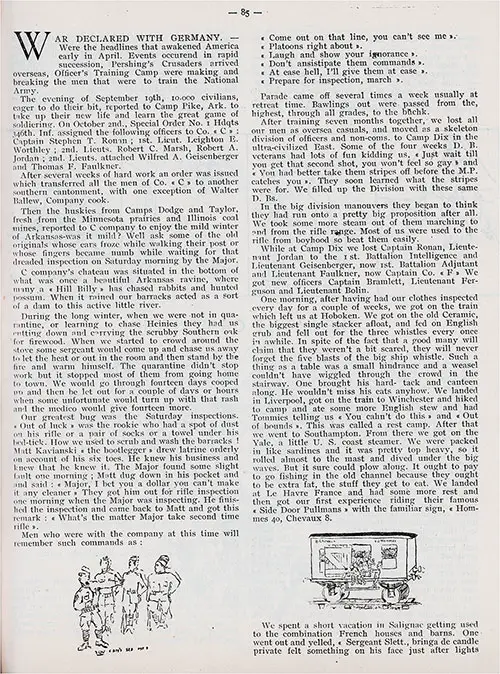 History of Company "C," First Battalion, 346th Infantry, 87th Division of the American Expeditionary Force (A.E.F.). GGA Image ID # 13407f0d1f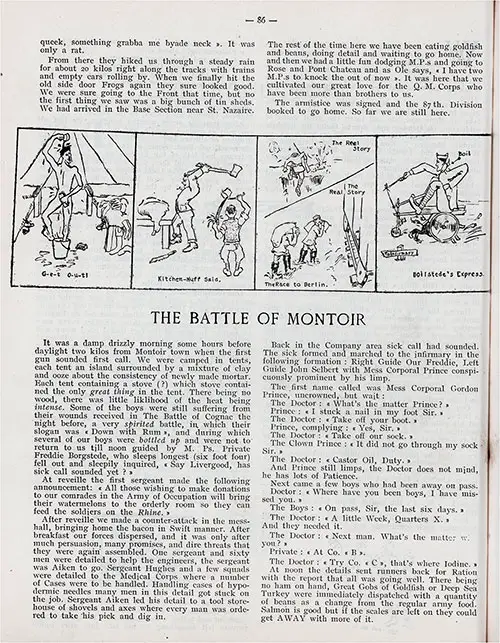 Battle of Montoir, Company C, 346th Infantry, Part 1 of 2. GGA Image ID #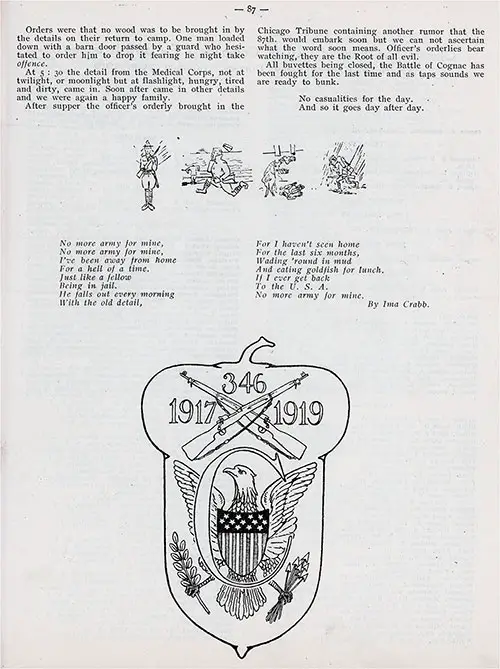 Battle of Montoir, Company C, 346th Infantry, Part 2 of 2. GGA Image ID # 1340bbe21f
Source: The 346th Infantry Historical Notes, 1917-1919. Privately Published 1919, Pages 84-87. From the WWI Library of the Gjenvick-Gjønvik Archives.