History of Company "A" 346th Infantry AEF - 1919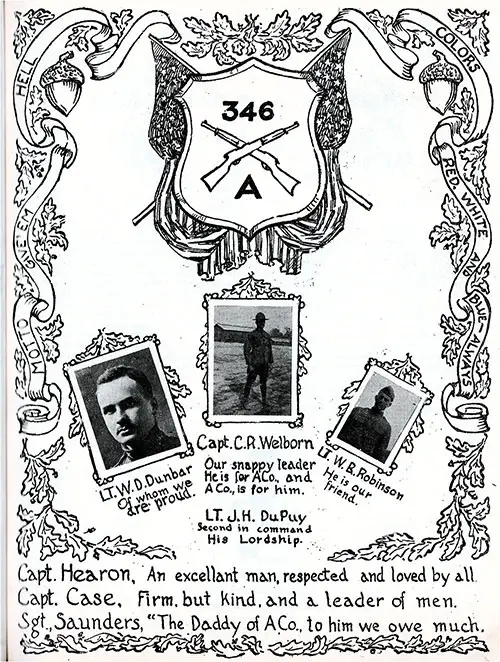 Title Page for the Section on Company A, 346th Infantry, 87th Division of the AEF - 1919. GGA Image ID # 133d41a380
From the cotton fields of the south and the lumber camps of the north, from offices and factories and shops, we came. Green, awkward and timid but eager to take our part in the big show.
Over the rock-ribbed hills of Arkansas, we drilled and skirmished. Long weary hours we
jabbed and slashed the unresisting dummies, and jumped the ditches and clambered or fell over the obstacles. The long hikes to the rifle-range where we held strenuous rifle practice are still fresh in our memory.
During our leisure hours, we were read the Articles of War, and we listened to drawn-out lectures on "Nomenclature and care of the feet", and other subjects equally as dry. Then we approached the state of trained soldiers; we thought we were at last to get a chance to show our worth.
But no, -our men were taken from us, and the remaining skeleton of our once proud organization was cast in gloom. However, we took fresh hope and courage when we went to Camp Dix. Here we were again filled up with recruits, and the work of training them began in earnest. The same old "stuff," "squads east and west," skirmishing and bayonet work, were covered in a short time. WE SAILED FOR FRANCE.
Now, our chance had come. The discomforts of our trip across the sea and through England were forgotten in anticipation of battle. "Box-car Pullmans" and "Bully-beef and biscuits" meant but the realization of our dreams. But — the salty, mushy, muddy swamps of St. Nazaire is where we landed. Ours the thankless, luckless lot, empty of all glory; we a fighting outfit in the S. O.S.
But no one can say our work was in vain, as we sent the supplies to our fighting "Buddies" at the front, and we feel proud that we were able to do our bit for our glorious land of the free.
The Life of Company "A" 346th Infantry
September 19th, 1917 dawned upon the world bright and clear, a fitting day for the birth of a real outfit. We were not very large or strong at first and were called "First Provisional Company, 346th. Infantry", the first company to be organized in the regiment. And it stands as first in personnel, first in morale and first in everything. It has always been our aim to hold that position.
Captain C. R. Welborn, 1st. Lieutenants T. R. Hearon, L. H. Radcliffe, and 2nd. Lieutenants W. B. Robinson, T. B. Gray, W. D. Dunbar, and C. G. Smith with 142 enlisted men made up our company. Many changes have taken place since then.
On October 4th, 1917, we were formally assigned to company "A," 346th. Infantry. All the officers were remaining with us except Lieutenant Radcliffe, who was made Battalion Adjutant. Our work began in earnest about this time, and we pounded away at everything from recruit drill to the final assault from an entrenched position upon the enemy's trenches. It was all play warfare, but we went at it with a determination to be ready for the real thing when it came. It never came.
All the different outfits seemed to realize that we were a good outfit as they were always calling upon us to furnish men. On October 14th, two weeks after becoming Company "A," we transferred 40 men to the different companies in the regiment, and then in November, the regiment was called upon to furnish a certain number of men to different divisions. Company "A," November 12th., transferred In Camp Beaureguard 107 men and on November 15th.,18 men to Camp Jackson.
To take the place of these men and the others that were either discharged or transferred, there were in all 247 men assigned to the company at different times in November. The largest number of these men came from Camp Taylor and Camp Dodge. 125 men came from Taylor on November 17th, 21 men from Camp Dodge on November 21st, and 50 men on November 27th.
We hoped that we could keep these men, but the fates were against us. We were continually being called upon to transfer some here and some there. 32 men went to Camp Green March 18th, 1918, 40 to Camp Green on April 18th, and on May 18th, Camp Lee took 8, 162nd Depot Brigade 6, and Camp Merrit 65.
Again on June 18th, we transferred 12 to 162nd Depot Brigade. These with all the others that had gone left us so depleted that when on June 15th, we left Camp Pike for Camp Dix, we had only 39 N.C.O.s and 10 privates.
We arrived at Dix at about 2.00 A.M. on June 18th and were told that we could sleep as late as we chose. That would have been very nice if their bugle and drum corps could have been induced to keep quiet. But they couldn't.
Our life there was a continual change. The 153rd. Depot Brigade would send us some men, and because they were too fat, couldn't read or write, were not physically or mentally fit, or some other reason, we would send about half of them back. Camp Upton sent us some; we sent a few of them on to the D.B., and thus it went, we received and transferred men, worked on the Camp Dix rifle range, swallowed sand on the drill ground, tried to equip for overseas and did innumerable other things in order that we might kill a few "HUNS". We never killed any.
We left Camp Dix on August 23rd, 1918, and went aboard the White Star Liner "Ceramic" at Pier 58, Hoboken, N. J. the same day. At. 7:00 A.M. on August 24th, we bade the Statue of Liberty good-bye and enjoyed a little trip to Liverpool, landing there on September 5th, leaving the same day for Winchester where we arrived in the evening.  It is said that some of our men heard the rumble and saw the flashes from cannons on the "Western Front" while sitting by their tents that night.  Who knows?
We left Winchester in the morning and arrived in Southampton in the evening of September 8th, stayed overnight there (some would have liked to stay there longer); and left there the next morning on the S.S Nirvana for Havre, landing there September 10th; left Havre September 11th and arrived at Breves September 13th, where we drilled like mad, until September 23rd when we left for Camp Montoir, arriving there on September 24th, 1918. We have been here ever since and have stevedored with the best of them.
Our officer personnel has changed greatly. Lieutenant Gray soon left us. Lieutenant Smith went to Headquarters Company, December 1917. Lieutenant Dupuy and Mc Whorther came to us the same month, and Lieutenant Case was assigned to the company in January. About this time, Lieutenant Mc Whorther was transferred to Company "B."
In August 1918, Lieutenants Hearon and Case were made Captains and sent to the 73rd and 74th Infantry, respectively, at Camp Devens. Lieutenants Robinson and Dunbar took their places. Lieutenant Dunbar was put on embarkation duty just before we left Camp Dix and was stationed in Southampton, rejoining the company in December 1918. Lieutenant Afflick joined us early in October and left us the last of November 1918.
Resides those who were transferred and who were killed in action, we have lost but two men by death. Lieutenant T.B. Gray was killed November 12th, 1917, when a truck on which he was riding slid over an embankment. Private Bristow died at the Base Hospital Camp Pike, December 1917.
We pride ourselves that in all the men who have been in our company, about 750 in all, only two have shown that they were yellow. One deserted and another on August 22nd, 1918, one of our old Corporals, developed a serious disease, being afflicted with cold pedal extremities and drooping of the SPINE. A wide amber streak appeared on his back.
Special physicians were called in, and they pronounced him suffering from acute  "LACK OF COURAGE" so he was left behind by his comrades. He is now safe from all harm with his MOTHER. The one that deserted has since been caught and probably by this time is in Federal prison. We are not proud of them.
Despite all the misfortunes and disappointments that have befallen us, we are perfectly certain that we could have held our own against any Hun outfit that ever existed had we been given a chance, and when we are mustered out we shall go feeling that we have done our duty and shall always be proud to say we were members of Company  "A", 346th Infantry.
Images from Company "A"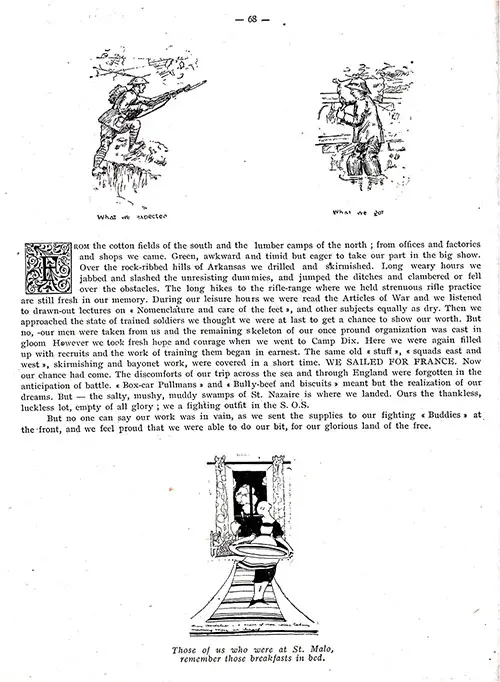 Page 1 of 3: Life and History of Company "A" of the 346th Infantry, 87th Division, AEF, 1919. GGA Image ID # 133e537c79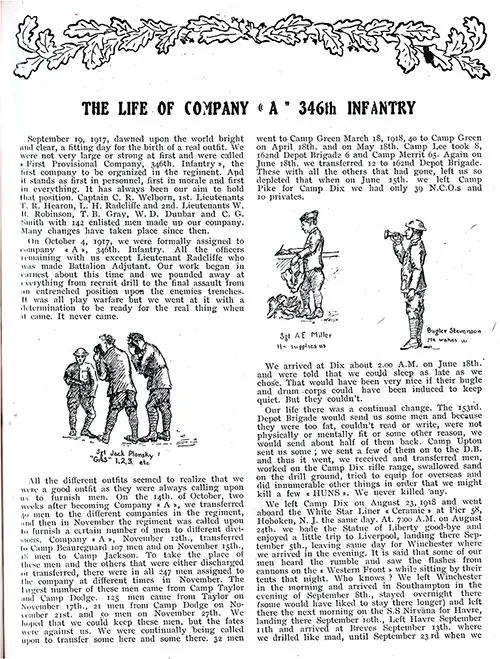 Page 2 of 3: Life and History of Company "A" of the 346th Infantry, 87th Division, AEF, 1919. GGA Image ID # 133f08c230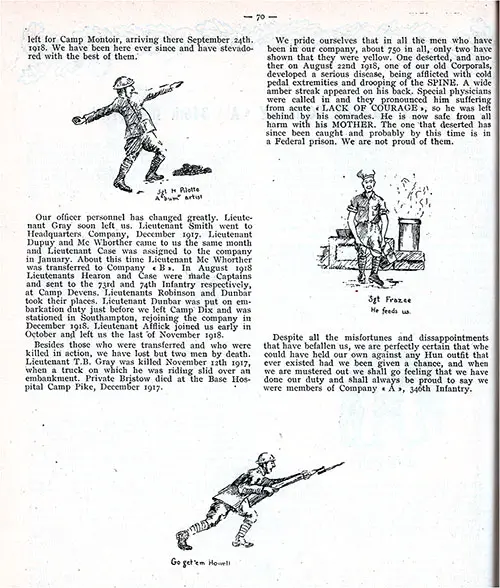 Page 3 of 3: Life and History of Company "A" of the 346th Infantry, 87th Division, AEF, 1919. GGA Image ID # 133f58e344