History of Company "H" 346th Infantry AEF - 1919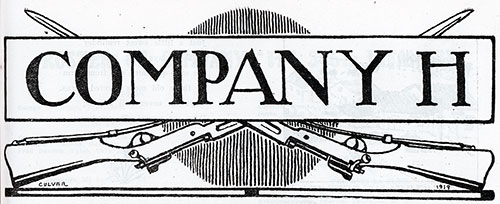 Banner of Company "H," 346th Infantry, 87th Division, AEF. GGA Image ID # 13766d75cc
The company left Camp Pike, Arkansas, June 15th, 1918 with a strength of five officers and 55 enlisted men, all of whom were non-commissioned officers, and arrived at Camp Dix, New Jersey, June 17th, 1918.
Effective October 1st, 1917, Company "H", 346th Infantry was organized per General Order 1, Headquarters 346th Infantry at Camp Pike, Arkansas with the following officers assigned :
Captain George C. Briggs commanding
1st Lieut. Miles P. Kernaghan
2nd Lieut. Sam O. Kimberlin
2nd Lieut. Fred Daniel
2nd Lieut. John M. Golden
2nd Lieut. William P. Smith.
On October 17th, 1917, 150 Arkansas men were assigned to the company.
Sergeant Claude Jennings was made First Sergeant of the company, which place he has held continuously to the present.
Sergeant Grady H. Templeton was made first Mess Sergeant. He was succeeded by Sergeant Thompson Sergeant Thompson was succeeded by Sergeant Fencken and Sergeant Fencken was succeeded by Sergeant Steinsick who has held the place continuously since.
Sergeant Ernest L. Carey was made the first Supplly Sergeant and has remained the same ever since.
Corporal George A. Mc Claury was made the first Company Clerk and has filled this place to the present, with the exception of a period of two months when he was on special duty at school.
121 men were transferred, November 14th, 1917, to the 39th National Guard Division, Camp Beauregard, La.
101 men were received, November 18th, 1917, from Camp Zachary Taylor, Louisville, Ky.
44 men were received on November 20th; 50 men on November 22nd and 50 men on November 27th, 1917, from Camp Dodge, Iowa. These men were from the States of Illinois and Minnesota.
On December 15th, 1917, First Lieut. Keith T. Stackhouse was assigned to the company. He was promoted to Captain, June 1st, 1918 and assigned to the command of Headquarters Company, 346th Infantry.
From March 9th, 1918 to June 15th, 1918 the company furnished 124 men for Oversea Service. The men took part in practically all of the drives of the American Army and, from reports, conducted themselves splendidly under fire proving themselves more than a match for the veteran Prussians.
The company left Camp Pike, Arkansas, June 15th, 1918 with a strength of five officers and 55 enlisted men, all of whom were non-commissioned officers, and arrived at Camp Dix, New Jersey, June 17th, 1918. While at Camp Dix, 179 men were assigned to the company who were from the states of New York and New Jersey. The company left Camp Dix, August 23rd, 1918 with a strength of four officers and 234 enlisted men, arrived at New York the same day and went aboard H. M. S. Alsatian.
On August 24th, 1918 it sailed overseas and landed at Liverpool, England, Sept. 5th, 1918, arriving at Camp Winnal Down, Winchester, England, Sept. 6th, remaining there three days.
Arrived in Southampton, England, Sept, 9th, 1918 and went aboard the steamship Archangel; had a stormy trip across the English Channel and landed at Le Havre, France Sept, 10th, It left Le Havre on Sept. 12th and arrived at Pons. Sept. 14th where it started on a hike of a few miles and by night of the same date, together with Company "G", was snugly billeted for a short stay in the quaint old village of St. Seurin de Pallene.
Sept. 24th the company hiked back to Pons, entrained, and arrived at Montoir, Sept. 25th. Left Montoir and arrived at Camp 3, St. Nazaire Sept. 26th. Moved to Camp 2, October 21st and from there to Camp 1 on November 16th.Since it arrived in Base Section 1, the company has been on labor and guard detail. It expects to be relieved on January 30th and sail for home.
Company "H" has always maintained a good record for efficiency. It received special mention for its work on the combat range at Camp Pike. While the company was never fortunate enough to take part in any operations against the enemy, it has since it's organization trained 574 men, many of whom have taken an active part in some of the largest engagements of the war, notably Château Thierry, Verdun Front and the Argonne Forest.
Deaths from Pneumonia
Since the company arrived in France the following members have died from pneumonia, and are buried in the American Cemetery at St. Nazaire :
Private Patrick F. Loftus Died October 14th, 1918
Private Robert L. Koch Died October 26th, 1918
Cook August E. Roepke Died October 30th, 1918
Private George L. Hoch Died November 8th, 1918.
The present officers and enlisted personnel of the company, whose names are given below, hereby express their profound sorrow at the loss of the above men whose records as American soldiers and men were perfect, and wish to extend to the friends and relatives of these men their heartfelt sympathy.
Just a little sweet reminder
Of those days at St. Seurin.
We were quartered safe from harm
In those old moss covered barns.
Days we never will forget;
Days we never will regret.
To Captain Briggs with his company on Camp Pike combat range:
Honor the charge he made
Hope for the briers he slayed
Honor the battle he fought
Search for the whistle he lost.
(Apologes to Tennyson).
Recent Publications
"When we go home". By Corporals Hackley and Weatherly.       
"How to be happy though married" (Almost) Clias. B. Day.
"The Lost Squad". Corporal Bombassaro.
"My Quaker Maid". By Sergeant Lentz (Very good).
"How to acquire French in a week". Facinelli.
"Clipping the shekels". Mimmie K-Poop.
"From a sentence of 90/90 to Corporal". Thomas G. Jones.
"In France without pants". Mike Schneider.
"Mustache cultivation". Lieut. Kimberlin.
"The Soul Kiss". By Sergeant Lasher.
"Keeping Kasuals out of Kans". Mc Nellis.
"Would a Regimental parade be legal without my company". By Captain Briggs.
"Anybody here seen Kelly". By Company "H" Moncoms. 
What care we for storms or snow,
For dashing rain or winds that blow.
A gains such things we're weather proof.
We've William Ruyle to hold the roof.
William P. Smith, Attorney and Counselor at Law
Office hours, any time of the day (or night).
Soldiers' claims adjusted quickly. Have had experience as Judge Advocate (only one conviction declared null and void). See me before going elsewhere. Satisfaction guaranteed.
Our Supply Sergeant
Company H can boast of an energetic and hustling Supply Sergeant. He can be found early any morning doing everything in his power to find proper clothing and equipment, for us. The only time he cannot be found is when the company goes for a bath.
Famous Sayings
Perry at Lake Erie, "Don't give up the ship".
Lieut Daniels on the English Channel, "Let 'er sink".
"Edison hasn't a thing on me, I have worked too". Eide.
Lessons in Blackjack
Owing to the recent popularity of "Blackjack" 1st Sergeant Claude Jennings has consented to accede to the desires of his friends and open a class for a select few. No charges, for he will get your money anyhow.
Images from Company "H"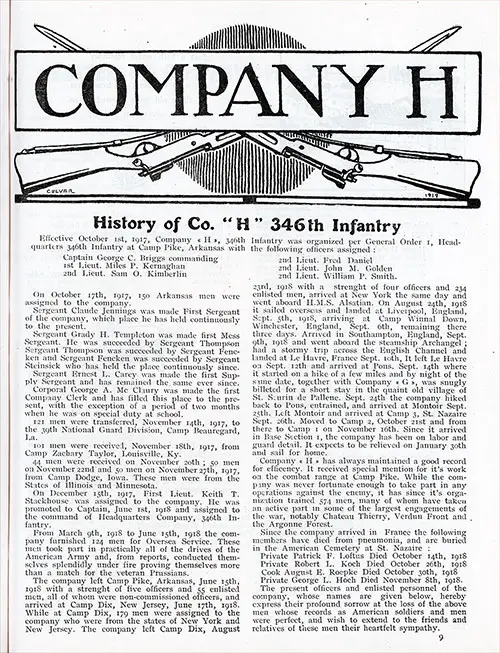 History of Company "H," 346th Infantry, 87th Division, AEF. GGA Image ID # 1376f5fc78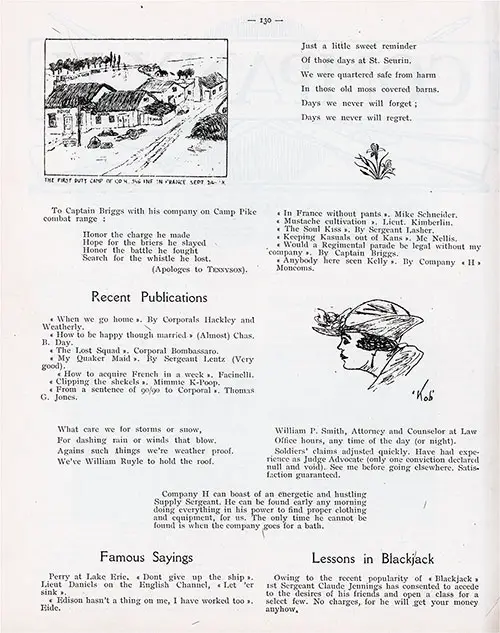 Anecdotes from the men of Company "H," 346th Infantry, 87th Division, AEF. GGA Image ID # 13770013fe