History of Machine Gun Company - 346th Infantry AEF - 1919

Top Banner (Emblem), Machine Gun Company, 346th Infantry, 87th Division, AEF - 1919. GGA Image ID # 1344226a8b
Trained at Camp Pike, the Machine Gun Company of the 346th Infantry, 87th Division of the AEF, went on to Camp Dix, where after several months were sent to Liverpool on the SS Ceramic. They made their way to Southampton for the trip over to France, landing in Le Havre. Within France, the men of MG Company called Belliant, Château Boyer, Saintes, and Camp Montoir "home."
MACHINE GUN COMPANY
"By Our Company We Shall Be Known"
M is for Major Mc Dowell, our nightmare down at Pike,
A is for his animals, from Modesty to Mike,
C is for Captain Baldwin, the Idol of our heart
H is for the Heartaches, when we all will have to part
I is for the Insects of our dear Ally France
N is for the Nests they build deep down inside our pants.
E is for the Enemy who never had a chance.
G is for the Germans whom we quickly put to rout
U is for our Uncle Sam, who dealt the knockout clout.
N is for our Nation wich turns the best men out.
C is for our Company which proved to be the best
O is for our Officers who can tell you all the rest.
Cpl. D. S. O'Connor.
HISTORICAL SKETCHES
By Pvt. Vin Blanc
Text not transcribed due to style of writing. See images of Pvt. Blanc's article in the Image section below - on this page.
Chronology of M. G. Co. 346th. Infantry
1917
Oct 1st : Assignment of Officers and Cadre Non-Coms
Oct.18th : Assignment of Original Enlisted Company
Nov.14th :Transfer of troops to 39th. Div. Camp Bureaugard, La
Nov. 15th : Arrival of troops from Camp Grant. Ill
Nov. 25th : Arrival of troops from Camp Dodge, Iowa
Dec. 4th : Transfer of troops from. Organizations of the 346th Inf      
1918
Mar. 9th : First Replacement Troops Leave
Apr. 13th : Second Replacement Troops Leave
May 17th : Captain McDowell Promoted to Major
June 2nd : Captain Baldwin Takes Command
June 16th : Leave Camp Pike, Ark
June 19th : Arrive Camp Dix, NJ
July 13th : Arrival of Troops From Camp Upton NY
Aug. 23rd : Leave Camp Dix, NJ
Aug. 24th : Departure from New York Harbor for Overseas (SS. Ceramic)
Sept. 5th : Arrival and Debarkation at Liverpool, England
Sept.  5-7 : In Camp, Winchester, England
Sept. 8th : Embark at Southampton, England for Le Havre, France
Sept 9th : Desembark at Le Havre, France
Sept. 9-12 : In Rest Camp, Le Havre, France
Sept. 12th : Entrain at Le Havre, France
Sept.13th : Arrive at Belliant, France, Billet, Château Boyer
Sept. 23rd : Leave Château Boyer and Entrain at Saintes, France
Sept. 24th : Arrive at Camp Montoir, France
Dec. 6th : Transfer of Enlisted Men to M. P. Corps. Dept. Crim. Invest       
1919
Images from Machine Gun Company, 346th Infantry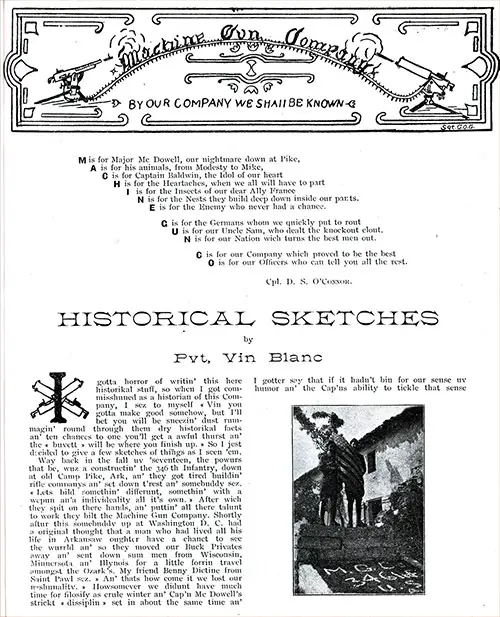 Historical Sketches by Pvt. Vince Blanc of Machine Gun Company, 346th Infantry, P. 1 of 2. GGA Image ID # 1345229a59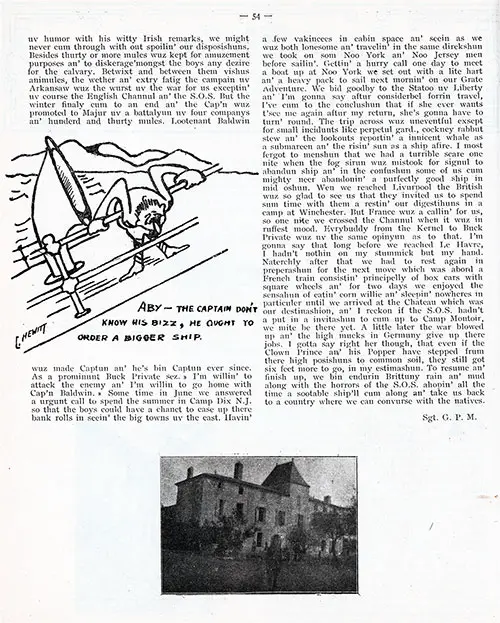 Historical Sketches by Pvt. Vince Blanc of Machine Gun Company, 346th Infantry, P. 2 of 2. GGA Image ID # 134547d1b6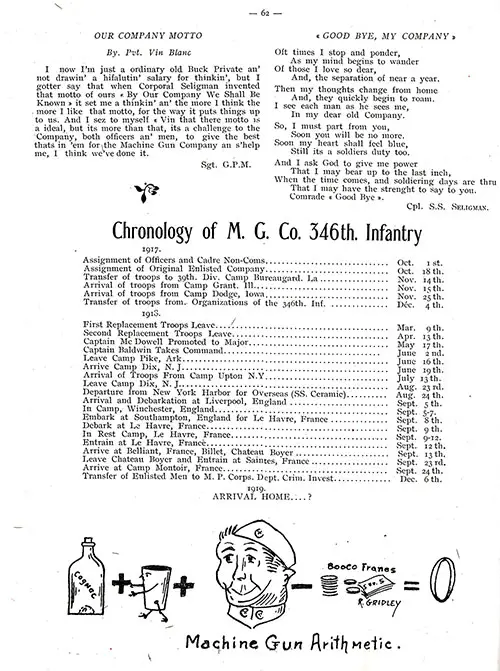 Chronology of Machine Gun Company, 346th Infantry, 87th Division of the AEF. GGA Image ID # 13457f45dd