World War One: 1918 Soldiers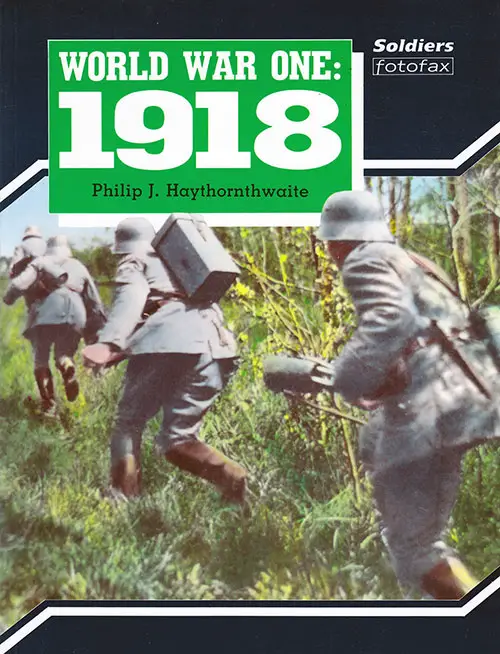 Front Cover, World War One 1918: Soldiers, 1990. GGA Image ID # 17e169390f
Philip J. Haythornthwaite, World War One: 1918, © 1990, Sterling Publishing Co. Inc., New York, Soft cover, 48 Pages, 1-85409-052-6.
Pictorial works for the year 1918 covering World War I. Part 5 of 5 in a series issued for each year of the Great War (1914-1918).
The softcover first edition of this book offers a photographic record of World War I for war activities in Europe in 1918. It was published in the series by Arms and Armour.
Each title features a carefully selected set of photographs plus a data section of facts and figures on each topic covered. Every volume represents a concise and valuable study of World War One.
At the beginning of 1918, the military situation was critical for both Allied and Central Powers. The Allies' hopes for 1917 had been unfulfilled.
Despite significant successes against Turkey, Britain, France, and Allied Forces, had achieved little progress on the Western Front.
Excerpt from Introduction
As in the previous Fotofax titles, the Central Data Section includes a brief chronology, organizational data of armies not covered in previous titles, and organizational developments as a result of campaign experience. Another development in the later stages of the war was the use of formation insignia, which have now become universal in the world's armies.
Originating in the British Army - early examples are illustrated in the Data Section - the practice spread to the Americans in 1918, beginning that nation's most prolific and most colorful use of such insignia.
Some of the images of 1918 are considerably different from those of 1914, the eagerness and militaristic fervor being replaced by resignation.
Wilfred Owen's 'drawing-down of blinds' in Anthem for Doomed Youth is an appropriate analogy for the war, which drew down the blinds of the old order and changed completely the course of history.
The greatest tragedy of a tragic war, however, is perhaps the fact that the 'Great War for Civilization' was followed less than 21 years later by the outbreak of a war equally terrible as that ended by the Armistice of November 1918.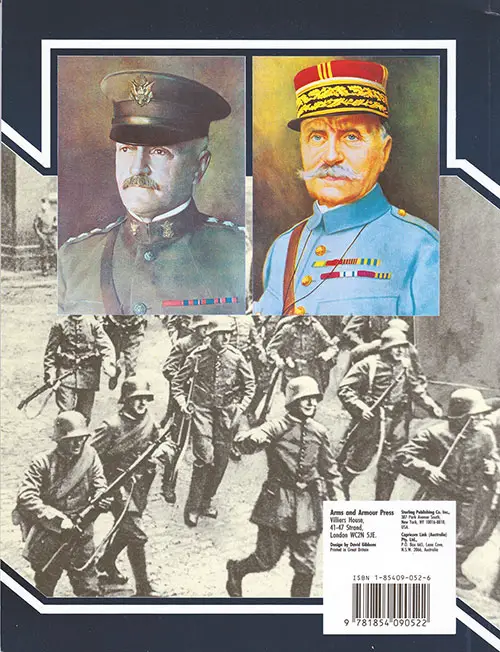 Back Cover, World War One 1918: Soldiers, 1990. GGA Image ID # 1820c5c4f4
Library of Congress Catalog Listing
LC Control No.: 91181675
Type of Material: Book (Print, Microform, Electronic, etc.)
Personal Name: Haythornthwaite, Philip J.
Main Title: World War One : 1918 / Philip J. Haythornthwaite.
Published/Created: London : Arms and Armour Press; New York, NY : Distributed in the USA by Sterling Pub. Co, c1990.
Related Titles: World War I. 1918. Nineteen eighteen.
Description: 1 v. (unpaged) : chiefly ill.; 26 cm.
ISBN: 1854090526
Subjects: World War, 1914-1918 --Pictorial works.
Series: Soldiers fotofax
LC Classification: D522 .H395 1990
Dewey Class No.: 940.3 20