Churchill 1914-1918 War Leader Book No. 23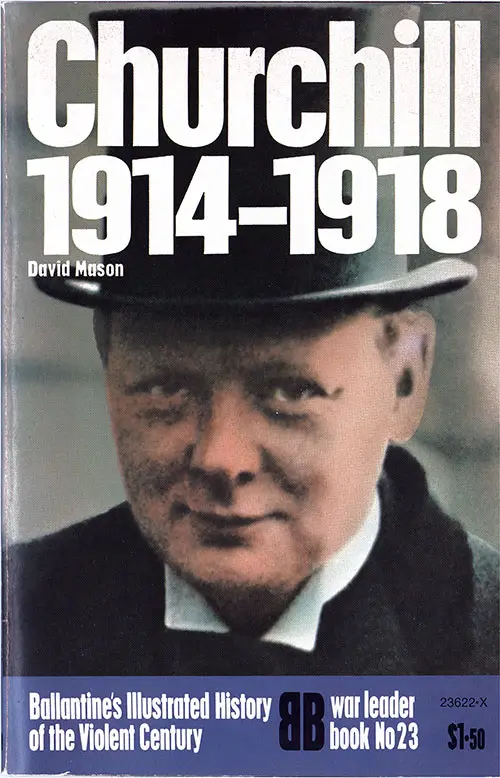 Front Cover, Churchill 1914-1918, Ballantine's Illustrated History of the Violent Century, War Leader Book No. 23, 1973. GGA Image ID # 1811960f71
David Mason, Churchill 1914-1918: Ballantine's Illustrated History of the Violent Century, War Leader Book No. 23, First Printing: November 1973. New York: Ballantine Books, Inc. 940.40092, History and Geography > Europe > Europe > Military History Of World War I.
Synopsis
Churchill spent three days preparing for his departure, then crossed to France to take up his post on the Western Front. He was no longer First Lord of the Admiralty, no longer a key figure in the central direction of the war. He was Major Winston Churchill, of the Oxfordshire Hussars.
Excerpt from the Introduction
It is said that it is better to be born lucky than rich. By the standards of ninety-nine per cent of humanity, of course, Winston Churchill was born both lucky and rich but his luck was certainly more important than his wealth, and probably the most important piece of his luck was biological. His was an extremely tough physique - tough in the real sense meaning resilient and durable, not just muscular - and even more important it throbbed with life. According to many who knew him, Churchill in his younger days shone with vitality; it was as though, in Dame Rebecca West's words, vitality 'had been sluiced over him from a bucket.'
This is the second book about Churchill which David Mason has written, and he has brought to it the same understanding and sympathy which distinguished the first (on Churchill's role in the Second World War) coupled with that element of cool skepticism which is the hallmark of the best of the younger school of historians. It is a tribute to David Mason's perception as well as to his subject's stature, that at the end of the book, the reader feels that he has learned more about a very great, but very human, being.

Contents
Introduction
The Admiralty
War
The Dardanelles
The Front
Bibliography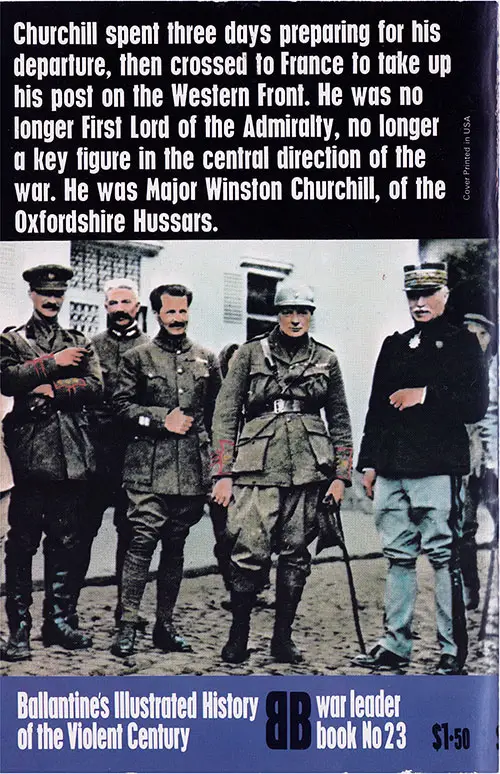 Back Cover, Churchill 1914-1918, Ballantine's Illustrated History of the Violent Century, War Leader Book No. 23, 1973. GGA Image ID # 1811b1c5b7